| | |
| --- | --- |
| Location: | Asia |
| Possibility to return: | Yes, within 14 days to warehouse in USA / UK or EU |
| Length of warranty | 12 months |
| Warranty Extension: | At promotional terms, up to 24 months (during checkout) |
| Processing time for warranty service from | 6 weeks |
| Processing time for warranty repair to | 12 weeks |
Other variants / accessories
Keep track of the price drops on this item. Simply enter your email here and we will send you an email alert.
Invalid email
Watch it
You will get $ 0.97 in reward when purchase 1 of this product. The reward can be used to pay for your next orders, or converted into voucher code.
Frequently Asked Questions
Welcome to Bludiode.com
We are mobile electronics marketplace seller since 2014, we offer mostly smartphones, tablets and accessories. Our customers have right to return product locally (USA, UK, EU) and execute warranty up to 24 months. All products sold on our website are coming straight from the producers, are genuine and they are subject to the warranty. To learn more click "About us" in the website footer.
Check also these products available at local stock:
Sensational Sound
An extra-large driver unit, CD-standard HD transmission and 3 stereo sound effects create audio quality that is designed to wow.
Enriched Experience
A powerful array of features, like Slide Control and Find My TWS Neo, will boost your wireless listening experience.
88ms Low Latency
Reduced latency of just 88ms, plus a super-stable wireless connection create an experience more smooth and delightful than you ever imagined possible.
Weightless Design
So light and comfortable, you'll forget it's there.

14.2mm Large Driver Unit
The diameter of the driver unit is a critical indicator of an earphone's 'lung capacity'. The diameter in TWS Neo is stretched to 14.2mm, and further supported by a bio-fiber composite diaphragm and a pure copper voice coil from Daikoku Japan. Together, they produce sound to impress – from mellow vocals and high frequencies, to vibrant low frequencies. Dynamic range is also extended to enrich the musical feast. From rock and roll to live concerts, every note sounds just perfect.
Bio-fiber Composite DiaphragmMellow vocals and high frequencies
Pure Copper Voice Coil
from Daikoku JapanVibrant low frequencies
aptX Adaptive for
Authentic CD-Standard Music
This audio coding technology preserves 1.5x more sound data than traditional wireless earphones. It retains even the tiniest details, and is engineered to enhance audio performance of standard content as well as rich, high-quality music.
DeepX Stereo Sound Effects
Years of dedicated research by vivo's world-class acoustics team resulted in DeepX - a sound system specifically designed for true wireless earphones. It offers three sound effects - Mega Bass, Clear Voice and Clear High Pitch - and supports most audio apps. Listen to music in your preferred style, without any compromise on definition.
Mega Bass
Enhance lower sounds for
a deep audio style
Clear Voice
Richer vocal details for
the full audio impact
Clear High Pitch
Enjoy melodies without
harsh sounds

SUPER LOW LATENCY
PURE ENJOYMENT
88ms Low Latency
When you are in the heat of battle, even 0.01 seconds can turn the tide. vivo sets a new standard for wireless earphones with Dual Channel Transmission 2.0, system-level channel optimization, and latency low as 88ms. When you fire weapons or make a killing move, there's almost no delay between action and audio. You will also instantly know when and where you are being attacked, giving you more time to dodge. Enjoy ultimate gaming fun, with visual, audio and action all in full sync.

AI Dynamic Low Latency
Fast and Stable
The codec is supported by AI and automatically adjusts to provide optimum latency, based on the external environment. Even in complex and noisy environments like the airport or subway, you get stable transmission and connection, automatically. It is real intelligence. You won't feel it, but it's there taking care of you.
Bluetooth 5.2
Follows Your Every Step
Stay mobile with a smooth and reliable Bluetooth 5.2 connection, and keep the music playing, even when you get up to get a cup of coffee or jog outdoors.

FEATURES FOR A RICHER EXPERIENCE
Easy Slide
Full Control
Our new Slide Control is easier to operate than ever. The Slide Bar (on the stem) is designed like a runway for your fingertips, helping you identify touch zones easily and precisely, without having to look.
Double Tap

Google Assistant / Phone call /
Music control

Press and Hold

Reject call / Hang up
Never Search Again
with Find My TWS Neo
This thoughtful feature lets TWS Neo call for your attention when you've lost it. Find My TWS Neo remembers where your Neo last was and will make it beep through your phone once it comes in range.
Battery Life up to 22.5 Hours
Super long-lasting battery power is achieved via a new Qualcomm low-power wireless chip, an excellent power management system, and the new high-performance TI power supply chip. Once fully charged, TWS Neo can play for up to 4.5 hours - the duration of two feature films. When paired with a charging case, it can keep going for 22.5 hours to satisfy avert audio users.
4.5 hours

Max. time playing with AAC standard-quality
Listening time with a single charge

22.5 hours

Max. listening time with charging case
Perfectly in Tune
with Instant Connection
TWS Neo has an operating system fully compatible with your phone. Open the charging case to pair them with just one easy click. After pairing, TWS Neo will turn itself on every time it is taken out of the case – easy and effortless.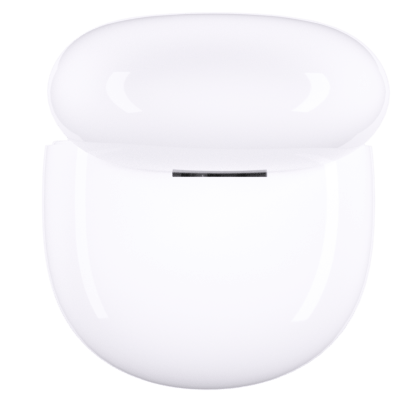 AI Noise Cancelling
Cut out the Noise
Enjoy crystal clear calls even in noisy surroundings, thanks to TWS Neo's intelligent noise cancellation algorithm and two microphones. The new aerodynamic duct also effectively alleviates wind noise, to help you enjoy pure true sound, even when running or cycling.

4.7g
Light as a Cloud
The TWS Neo design is based on feedback from thousands of users, and optimized for the best possible fit. It sits halfway in your ear, and can be worn comfortably all day. The earbud and stem join in an elegant G3 curve, which conforms so naturally to your ear you'll hardly feel it.
Intelligent Ear Detection
With two built-in captive sensors, TWS Neo can sense when they're in your ears, and automatically pause when you take them out. Enjoy every beat, intuitively, without having to touch your phone.
Shine Like a Gem
Carrying on vivo's signature aesthetic, the charging case has an inviting finish reminiscent of jade. Both Moonlight White and Starry Blue are works of art to behold. Their slim compact size also means they rest easily in your hand or pocket.
More Surprise
Compatible with
Multiple Platforms

Dual-Channel Transmission 2.0 supports Android, iOS and other operating system devices.

Touch Control
Customization

Personalize touch commands for your favorite features.

IP54 Waterproof

The earphones are IP54 waterproof; a level of protection sufficient for most sports and daily commutes.
Disclaimer:
1. The sample rate for aptX Adaptive is increased to 48KHz/24bit; higher than the standard CD format at 44.1KHz/16bit.
2. Traditional wireless earphones are those with AAC/SBC codec.
3. Low-latency gaming, aptX Adaptive, and AI dynamic low latency only work with vivo X50 series. Contact our official customer service centers for detailed information.
4. Latency data is based on vivo laboratory tests when paired with vivo X50Pro, and 88ms refers to the full link latency of the earphones and mobile phone.
5. 4.5 hours is based on tests in vivo laboratories at room temperature, with the earphones and charging case both 100% charged, playing AAC standard-quality mp3 format audio on loop at 50% volume with all sound effects turned off - until the earphones' power was reduced to zero. Actual results may vary depending on test environment, software version, and user habits.
*Playing music with aptX Adaptive up to 2.9 hours (at 50% volume).
6. 22.5 hours is based on tests in vivo laboratories at room temperature, with the earphones and charging case both 100% charged, playing AAC standard-quality mp3 format audio on loop at 50% volume with all sound effects turned off - until the earphones' power was reduced to zero. Earphones were then charged to 100% with the charging case, and audio was played to the aforementioned conditions until the power was again reduced to zero. Repeat testing - until both the earphones and charging case were out of power – produced a total playtime of 22.5 hours. Actual results may vary depending on test environment, software version, and user habits.
7. Standard sound quality with AAC codec and high sound quality with aptX Adaptive codec.
8. Customized features such as DeepX sound effects, Instant Connection, Touch Control Customization and Find My TWS Neo work only with compatible vivo phones. More phone models will be supported on an on-going basis. Upgrades will be sent through OTA. Contact our official customer service centers for detailed information. Other Android phone users may be able to use some customized features by installing the vivo Earphone App (scan the code included in the manual found inside the product package). The earphones are IP54 waterproof. Avoid using during especially vigorous exercise, or overly-humid environments to prevent damage caused by the permeation of sweat. First batch of compatible phones: iQOO 3/NEX 3/NEX Dual Display/NEX/X50Pro/X50/V19/V17(Should be localized based on actual situations. V19 here refers to PD1969F_EX and V17 refers to PD1948F_EX)
9. The product pictures and features shown are for reference only. Please take actual products as standard.
10. True wireless earphones are Bluetooth earphones that are truly wireless and realize stereo audio signal transmission via wireless connections. This is as opposed to traditional Bluetooth earphones, with left and right channels connected by wire, as well as mono-ear mono-channel Bluetooth earphones.
11. All data is based on laboratory test results in standard test environments. Actual performance may vary depending on software version and specific test environment.
12. Some specifications, parameters, or parts of the product may vary due to supplier change or different production batches, vivo may update the descriptions on this page accordingly. Please read this page carefully before use.
No customer reviews for the moment.
Questions
(0)
No customer questions for the moment.
Only registered user can ask a question.
Login