Xiaomi Black Shark 4 Pro 12GB+256GB Mirror Black
| | |
| --- | --- |
| Location: | Asia |
| Possibility to return: | Yes, within 14 days to warehouse in USA / UK or EU |
| Length of warranty | 12 months |
| Dual Sim | Yes |
| 5G | Yes |
| Rom: | Chinese (English + Chinese languages, possible Google Apps) |
| Processing time for warranty service from | 6 weeks |
| Processing time for warranty repair to | 12 weeks |
Other variants / accessories
Keep track of the price drops on this item. Simply enter your email here and we will send you an email alert.
Invalid email
Watch it
You will get $ 3.45 in reward when purchase 1 of this product. The reward can be used to pay for your next orders, or converted into voucher code.
Frequently Asked Questions
Welcome to Bludiode.com
We are mobile electronics marketplace seller since 2014, we offer mostly smartphones, tablets and accessories. Our customers have right to return product locally (USA, UK, EU) and execute warranty up to 24 months. All products sold on our website are coming straight from the producers, are genuine and they are subject to the warranty. To learn more click "About us" in the website footer.
Check also these products available at local stock:
Not bound by "definition", not restricted by "unknown".
In 2021, the Black Shark super flagship mobile phone, the Black Shark 4Pro breaks through the traditional cognition, pushing the game attributes and flagship experience to a whole new level.
Snapdragon 888 processor releases strong performance; 120W ultra-fast flash charging provides plenty of firepower;
brand-new magnetic-powered shoulder keys for professional control; and an enhanced version of UFS3.1+SSD disk array, which brings revolutionary changes to mobile phone storage systems.
Continuous breakthroughs are to achieve a better self. The brand new Black Shark 4 series, a breakthrough in combat power.
Magnetic power lifting shoulder button
one-key free lifting, professional control experience
The whole series is equipped with the second generation mechanical button system-magnetic power lifting shoulder button. Using a newly designed multi-stage magnet drive, with a
light touch, the button will rise and fall extremely fast. Built-in professional micro-switches, with a crisp feel and quick response, bringing a full-
fledged fingertip gaming experience.
More usage scenarios
In non-game scenes, you can also enable one-click to open the health code, flashlight,
clear memory, record, take screenshot, record screen, scan code, pay QR code, etc.
120W
ultra- fast charging 4500mAh dual gaming battery
Charge 100% <15 minutes
Brand new customized stacked multi-stage ear dual battery cell, 4500mAh large capacity, charge to 50% in 5 minutes, and charge to 100% in less than 15 minutes*.
The whole system comes standard with 120W charger
and 6A data cable
It can also provide fast charging for Apple and Android devices that comply with the agreement.
Snapdragon 888 processor is
fully evolved in the 5nm era
Performance is 25% faster, rendering is 35% faster, and AI computing power is 70% faster*. The brand-new 5nm process technology has achieved comprehensive breakthroughs in performance and
reduced power consumption simultaneously*. Experience the performance of the 2021 new generation of super flagships.
All-scene X-antenna
intelligent switching system
SA/NSA dual-mode 5G, WiFi6 full-scene antenna intelligent switching ensures that the
network signal is not blocked by hands in various scenarios, and the strength and stability of the network signal are guaranteed to the greatest extent.
A new generation of "sandwich" liquid cooling system with true, three-dimensional
true and direct contact heat source
The whole series has customized two super large area liquid cooling units and multiple direct contact alloy units,
using Black Shark's patented new metal welding technology to cover all the heat sources on the upper and lower sides of the motherboard.
The heat dissipation capacity is increased by 30%, and the CPU temperature is reduced by 18 degrees*.
The new generation of E4 flagship gaming screen
brings unprecedented super-sensing visual effects
The whole system uses a brand new 6.67-inch Samsung AMOLED screen. The new-generation E4 luminous material
improves brightness while also having better color performance, which is more power-efficient than E3 material*. The 2.76mm ultra-small hole,
primary color screen, and MEMC motion compensation all make this screen pleasing to the eye.
144Hz smooth sliding
720Hz fast operation
dual-zone screen pressure-sensitive stereo control
It supports a maximum screen refresh rate of 144Hz, bringing a silky and smooth realistic effect, multi-finger 720Hz touch sampling rate,
as low as 8.3ms touch response time*, making the game operation more rapid. Continuation of the black shark dual-zone screen pressure sensing function, easier to get started.
So empty black
Prism Gray
Mohai Black
Simplified and concentrating
reshaping the aesthetics of game phone design
Shape, the newly carved one-piece glass back panel, the beauty of simplicity is integrated.
Light, the flow of light with different surface textures, gives the mobile phone a variety of personalities.
Flagship audio system to
feel the cinema experience on mobile phones
The Black Shark 4 Pro is equipped with a new high-quality dual-speaker system, using powerful audio hardware specifications,
and integrating the deep polishing and training of Black Shark and multiple acoustic teams. It has passed the DTS Ultra X surround sound technology certification and
obtained DXOMARK The excellent result of the first place in the total audio score*.
64 million rear high-definition triple camera
Black Shark 4 Pro is equipped with a 64 million high-resolution main camera, which can output images with ultra-rich details.
The 120° ultra-wide-angle camera records the wonderful world with a wider field of view. 5 million pixel macro lens,
exploring the beauty of microcosm. A number of interesting shooting functions are built-in, showing the powerful charm of computational photography.
Magic Change
The sky can change freely,
sunny and rainy, you have the final say
Vlog artifact
Automatic transition, easy to get stuck,
shoot cool Vlog video with one click
HDR10+ video shooting
Easily shoot high-quality HDR videos to
see more color details
Game mobile phone
flagship experience
both life and games
The new JOYUI12.5 based on MIUI12 improves the basic experience, adds full-featured NFC and multiple game auxiliary functions,
allowing players to get an excellent experience in all scenarios in life and games.
Black Shark 4 Pro
Qualcomm Xiaolong 888 processor,
an enhanced version of UFS3.1 + SSD disk array system
of high-quality dual speakers, DXOMARK audio scores the first
full-line 120W dual speed flash charge + 4500mAh battery Gaming
magnetic power lifting shoulder button
144Hz Samsung E4 screen
720Hz The touch sampling rate is
based on MIUI's JOYUI12.5 operating system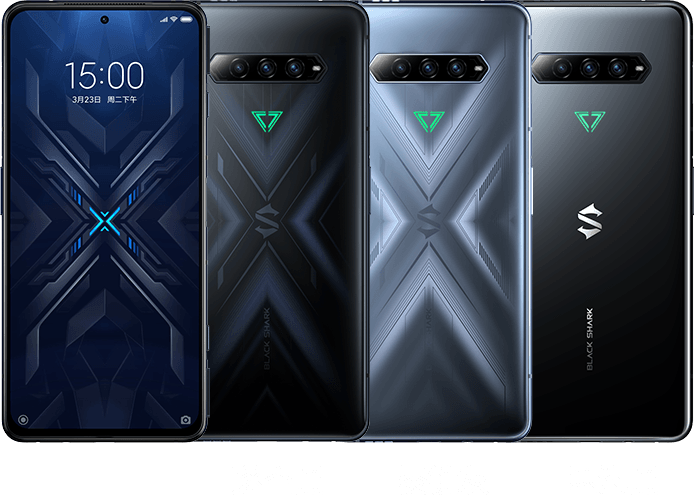 Processor and memory
Snapdragon 888
Adreno™ 660 graphics processor
LPDDR5 6400MHz
enhanced UFS3.1 + SSD disk array system
physical dimension
Height: 163.83mm
Width: 76.35mm
Thickness: 9.9mm
Weight: 220g (Note: Affected by product configuration and manufacturing process, the actual body weight may vary, please refer to the actual product)
Battery life and fast charge
4500mAh(typ)
mobile phone supports QC, PD fast charge protocol, 120W super fast flash charge, standard 120W charger
Photo and video
rear camera
Master camera 64M 0.7μm | Aperture: f / 1.79 large aperture | 6 chip lens | LED flash | support PDAF phase focusing
support dim enhancement technique | the HDR high dynamic range adjustment techniques | Document Mode | portrait mode | Motion Picture | panorama mode
AI Camera | Super Night Scene
Front camera, FF (fixed focus)
20M 0.8μm 4in1 | Aperture: f / 2.45 large aperture | 5-piece lens | intelligent beauty, real-time selfie beauty | Countdown selfie
portrait mode | 4K video capture, 60fps | vlog video capture | HDR10 + video capture | 1080p video capture, 60fps
slow motion 1080P@120fps , 1080P@240fps , 1080P@960fps
Sub camera 1-8M 1.12µm, FF (fixed focus)
Aperture | 8M 1.12μm, FF (fixed focus) - secondary camera 1: f / 2.2 aperture |. 5 chip lens 120 ° wide-angle lens
sub-camera 2 - 5M 1.12μm, AF Macro (2cm-10cm) | aperture: f /2.4 aperture | 3-element lens
screen
6.67-inch AMOLED
series standard Samsung E4 luminescent material
peak brightness: 1300nit
1080*2400 resolution
DCI-P3 111% TYP
supports eye protection mode, SGS eye protection certification
supports MEMC motion compensation technology
supports screen pressure sensitivity
up to 144Hz, refresh rate
up to 720Hz Touch sampling rate Dual SIM and mobile network
Full Netcom
dual Nano-SIM card slot, support dual-card blind insertion
factory default card 1-bit main card, you can switch between the main and secondary cards by setting the
main card supports 5G NR SA&NSA/TD LTE/FDD LTE/WCDMA/CDMA/GSM
secondary card 5G NR SA & NSA / TD LTE / FDD LTE / WCDMA / CDMA / GSM
primary and secondary cards can not CDMA
supports 802.11a / b / g / n / ac / ax dual-band wireless network
supports 4 X 4 MIMO technology; WI-FI support 2 X 2 MIMO
supports WIFI Display, WIFI Direct, WIFI hotspot
supports Bluetooth 5.2 wireless technology, supports aptX & aptX HD & aptX Adaptive & LDAC & LHDC high-definition music transmission
Support frequency band
5G (Band: N1/N3/N8/N28/N41/N77/N78/N79)
FDD LTE (Band B1/B2/B3/B4/B5/B7/B8/B18/B19/B20/B26/B28)
TDD LTE (Band B34/B38/B39/B40/B41)
WCDMA (band B1/2/4/5/6/8/9/19)
GSM (band B2, B3, B5, B8)
CDMA/EVDO (band BC0)
Fingerprint button and recognition
Virtual buttons: multi-tasking, HOME, return
support full-screen gestures, support changeable small windows, etc.
Support simultaneous pressing of two shoulder buttons, or simultaneous pressing to enter the game space
Support Alipay, WeChat fingerprint payment
Navigation and positioning
GPS, Galileo, GLONASS, Beidou, QZSS, A-GPS assisted positioning
sensor
Gyroscope, geomagnetism, gravity sensor, distance sensor, ambient light sensor, side fingerprint, pressure sensor
Lighting effect
Support Shark eye rear lighting effect
NFC
Support full-featured NFC
packing list
Mobile phone host / power adapter / USB Type-C data cable / pin / protective shell / Logo sticker / manual / warranty card
*The mobile phone appearance diagram, mobile phone structure diagram and product effects on the
page are for reference only, please refer to the actual product. *The data and parameters involved in the page are from the test results of the Black Shark Laboratory. The software version and individual differences are slightly different. Please refer to the actual situation.
*The relevant data on CPU performance, image rendering performance, AI computing power, and memory performance comes from Qualcomm official promotional materials
. Relevant data comes from Black Shark Lab
*WiFi 6 enhanced version data comes from Black Shark Lab, due to different test environments, specific data will be slightly different, subject to actual conditions
*The heat dissipation capacity related data is compared to the previous generation Tencent Black Shark Game phone 3, the relevant data comes from Black Shark Lab
* E4 material consumes 15% less power than the previous generation E3 material * Touch response time data comes from Black Shark Lab
* JOYUI 12.5 Some functions need to be experienced after the first boot up and upgrade. MIUI 12.5 requires follow-up OTA upgrade support
*RAMDISK technology only supports 12GB and 16GB versions, 8GB version does not support RAMDISK technology
No customer reviews for the moment.
Questions
(1)
From
Mohamed
|
2021-07-02 17:50:49
Can l please see the phone and check if it's fake or not
Also l need to see if it's the global version or a Chinese version
administrator
Dear, this phone is original, factory unlocked, should work in your country. It might be wise to compare it's LTE/5G frequencies with the LTE/5G frequencies of your network to confirm coverage compatibility (they are listed in the product description).

It's Chinese Version, it contains English and Chinese languages.

Only registered user can ask a question.
Login