VIVO IQOO 12 Pro 16GB+256GB Black
| | |
| --- | --- |
| Location: | Asia |
| Possibility to return: | Yes, within 14 days to warehouse in USA / UK or EU |
| Length of warranty | 12 months |
| Warranty Extension: | At promotional terms, up to 24 months (during checkout) |
| Dual Sim | Yes |
| Water resistance | No |
| 5G | Yes |
| Rom: | Original China Multilanguage (possible Google Apps) |
| Processing time for warranty service from | 6 weeks |
| Processing time for warranty repair to | 12 weeks |
Other variants / accessories
Available delivery options:
Keep track of the price drops on this item. Simply enter your email here and we will send you an email alert.
Invalid email
Watch it
You will get $ 5.97 in reward when purchase 1 of this product. The reward can be used to pay for your next orders, or converted into voucher code.
Frequently Asked Questions
Welcome to Bludiode.com
We are mobile electronics marketplace seller since 2014, we offer mostly smartphones, tablets and accessories. Our customers have right to return product locally (USA, UK, EU) and execute warranty up to 24 months. All products sold on our website are coming straight from the producers, are genuine and they are subject to the warranty. To learn more click "About us" in the website footer.
Check also these products available at local stock:
Break through the canyon
The courage and belief to go straight to the sky
Powerful platform
3rd Gen Snapdragon 8
Self-developed strength
Self-developed gaming chip Q1
Self-developed e-sports engine
Image jumps
1/1.3-inch main camera
High quality and good screen
2K E7 144Hz full-sense screen15
Full temperature control
Full-time four-zone cooling system
Full of energy
Super graphite battery
Experience upgrades
Smooth and easy to use, smart and wonderful
Through the hatch, you can see thousands of miles
Miles porthole
It is the "eye" that looks at the world

A "partner" to experience the world

A "window" to explore the world

Through the porthole, the astronaut looks into space,

Explorers gaze at the bottom of the sea,

Off-road riders looking out over the mountains...

Insight into new possibilities in the unknown and uncertainty,

With full faith, in the exploration,

Get out of the wider world.
Dustproof and waterproof IP683
Thousands of miles of exploration, elegance
Legendary Edition
The enamel textured glass design, pure white with legendary tricolor pattern, enjoys the control in
speed and passion.
Track Edition
If the power of thunder cars are speeding on the track. Fluorite AG glass, silky and delicate to the touch,
shining with the sun, cold and deep.
Burning
The new textured rubbing process forms a unique wind-printed texture, telling the adventurer's journey of chasing the unknown,
even if the dust is fluttering and the road is muddy.
A journey of thousands of miles, the core is driven to it
Hi, this is the Snapdragon core, and there is a self-developed core.
TSMC's new 4nm process is built, with a large core architecture, early preparation for high loads, high, medium and low all-attack, and more stable performance.
GPU performance will be improved, graphics processing performance will be more powerful, and large-scale games will be more enjoyable while also having a lower power consumption experience.
20%

CPU energy efficiency improvements

Adreno 750

GPU graphics processor

The LPDDR5X of the
performance iron triangle
The app is loaded alive and then upgraded.
8533Mbps

Theoretical rate

33%

Improved over LPDDR59
Based on the long-term research and judgment of Kuke's needs and more than 100 mainstream game features, image quality, frame rate, power consumption and other modules, 135+ games suitable for improving image quality through frame insertion were finally selected
. At the same time, pull through the display hardware manufacturers to carry out cooperative device research to ensure
that the display effect is accurate and consistent. Through the debugging of high-quality parameters by the chip development team, and then through the continuous
improvement of chip design optimization and self-developed algorithms, it finally brings the experience of the front-end game visual effects in this industry.
Low-latency interpolation|Super-frame and super-resolution dual-engine concurrency
up to 2K game super-resolution10Up to 144 frames11
The self-developed e-sports engine
opens up new potential for visual effects
Up to 2K gaming super-scores10

Friends who like Naruto, you can also tryout the gorgeous ninjutsu fighting under 2K super score in the Naruto mobile game! Whether it's flying orclone, from the costume to the background, it has never been so clear!

Self-developed frame perception technology

"Frame-by-frame" recognition and load calculation of game scenes to achieve accurate scaling, reduce power consumption, and improve frame stability. Head games are more timely for cold start/loading.

Self-developed superframe technology

The frame rate is improved with guaranteed energy efficiency, and many mainstream games are customized and optimized.
Top 100 games enter the 144 frame era11。
Go and have the future gaming flagship iQOO 12 Pro
Thousands of miles of stars are elegantly picked
Flagship images can be bright or dark, near or far.

People or scenes, black and white or color, are frozen in an instant, and thousands of records are wonderful.
Wanli light chasing image system
with three cameras and five focal lengths,A new chapter in flagship imaging
The 1/1.3-inch light-chasing main camera
is in charge, and the night is over
Equipped with iQOO's most powerful 50-million-pixel VCS OV50H in history, with a 1/1.3-inch large sole,
it brings an 80.3% increase in light intake13。 Equipped with vivo's self-developed bionic spectrum VCS 2.0 technology, the color
is more restored and the image quality is more delicate. Dark-light details are clearer, and night scenes are purer. Capture can also be produced steadily.
Holding the starry sky | 23mm
The glamorous starry sky is reachable
You can shoot the starry sky without a tripod. The powerful main camera sensor brings plenty of light in, the self-developed OIS 2.0 technology greatly improves the image stabilization performance, and the exclusive Bionic Night Sky Enhancement technology intelligently optimizes the starry sky. Holding it for a few seconds, the starry sky is easily formed.
At this moment, slow down the tasting
Motion Photos has been upgraded to play back the highlights of the shutter press in slow motion.
The periscope telephoto
is more far-sighted than imagined
The 1/2-inch periscope module is used to change the propagation path of light and increase the length of the light path. The NICE Neural Image Computing Engine takes
clarity to the next level. It supports 3x optical zoom, 10x HD zoom, and up to 100x digital zoom, from the near micro to the moon in the distance.
The subtleties are the protagonists
Hardware-level macro shooting ability, clear and delicate subtle textures, superimposed with professional macro bokeh algorithms, the subject is prominent, and the texture is full. Far and near, virtual and real, are under control.
Telephoto portrait | 70mm
Bow your head and admire the moon in the sky14
The perfect combination of the landscape and the moon restores the current moonlight in memory.
Thousands of miles of chasing light images, helping to explore the eye, enjoy and meet the beautiful unexpectedly. Textured color, personalized film color and atmosphere of the tone expression, the
image adds a sense of luxury. Master black and white, high contrast contrast and delicate black, white and gray excessive, the master atmosphere is nothing more than that. There is also a new national tide watermark, a glimpse of the national color style, the legendary three-color watermark, and the classic image quality...
2K E7 144Hz full-sense display15
Welcome to New Horizons
The curved screen is good, and the game/video is clear and refreshed

2K resolution

1440 x 3200 fine display

More light and shade, better energy efficiency

Local peak brightness of the screen

Touch has low latency, which is more handy

A new generation
of ultra-sensory touch

Low blue light eye protection, easy to play and watch for a long time

1440Hz

High-frequency PWM dimming

Anti-fatigue brightness
adjustment 2.0

Bionic brightness
adjustment speed

Optimized brightness adjustment in landscape scenes

Visuals comparable to the member
experience

Super-frame super-resolution dual-engine concurrency

Adapt to mainstream video platforms
to unlock higher frame rates and streams
Full-time four-zone heat dissipation controls the heat
source to stabilize the field control
Adjust the position of the chip to improve the core heat source, optimize the fixed point to solve the heat source of the screen, improve the temperature rise of the palm of the hand, and play more comfortably, and the large VC vapor chamber ensures heat dissipation. There is also an intelligent temperature control strategy to improve the thermal experience and make it more efficient and intelligent.
Nearly all-domain, efficient heat dissipation
5705mm² large area VC vapor chamber
Equivalent to 5100mAh16 Super graphite battery
medium cup volume, large cup capacity
It's fast, it's good, it's convenient, and it's reliable for urgent use
120W

Charging package comes standard17

50W

Wireless flash charging18

About 1600 times

The
battery capacity is still ≥ to 80% after a full charge cycle20

UFCS

Support converged fast charging19

Zero-power start-up21

The iQOO logo lights up in as little as 3 seconds
This is where the audio-visual and touch innovations
begin to shake up
War Drum Master Speaker
The volume of the speaker cavity is further improved, bringing
better low frequency, and everyone can have "golden ears". The sound of the game's battles, the roar of driving, and the
sound of full music are in your ears.
A new generation of ultra-sensory touch
The release of 5 optimizations is fast, accurate, and stable. Ultra-low touch latency, from click to display touch optimization, release precise strikes, one step faster, break touch optimization, hand sweat touch
optimization
to improve operation stability, edge anti-mistouch, slip error correction to improve control stability, more easy operation, more accurate response.
Ultra-wide vibration motor
The vibration sense is suitable for a large number of game characters, and players and characters resonate at the same frequency, feeling a
powerful and delicate vibration experience.
560mm3

volume

1.2Grms

Steady-state vibration

13.1ms

Steady-state vibration start time

85Hz

bandwidth
Released the full map ray tracing of "Dark Zone Breakout".
Experience real-world light and shadow for a high-quality gaming experience.
The Internet is fast and stable,No network back to the network is strong
Download fast22

With four networks concurrent, the average download speed of 500M Wi-Fi has been increased by 68%, and the average
download
time has been shortened by 41%.

The partition wall is fast

Wi-Fi through-the-wall performance is improved.

The game is stable23

The number of stuttering rounds decreased by 61.69% and the number of stuttering rounds
decreased by 39%.

Stable switching

The gaming low-latency engine enables seamless switching between Wi-Fi
and cellular.

The return to the network is strong

Scenarios without network and
2/3G such as basements, subways, and elevators have strong network returns.
The all-new original system 4 polishes every detail
Create a smooth, easy-to-use, and smart system experience
The new branded custom font vivo Sans brings clearer and more comfortable text display. Situational wallpapers shuttle from the screen off to the home screen desktop through visual animations, which is beautiful and smooth. Diversified screen off and lock screen customization to create your own digital space. Provide simpler and more efficient solutions for the three key scenarios of travel, office and health. The exclusive personal assistant "Blue Heart V" is developed based on vivo AI innovative technology, bringing a cross-generational system intelligence experience. In addition, kernel-level underlying performance innovations, virtual graphics cards, unfair scheduling 2.0, memory fusion 4.0, heterogeneous computing space and other technical optimizations make the system run more lightly and smoothly.
Blue Heart Little V
Dedicated personal assistant
Based on vivo AI technology, the first global intelligent assistance, the Blue Heart V*, has become more powerful and intelligent, and its capabilities have leaped exponentially. Through the five superpowers of super semantic search, super question and answer, super writing, super creative mapping, and super intelligent interaction, users can enjoy smart and convenient exclusive personal assistant services.
*Some of the functions of Blue Heart V are being improved, and will be launched in the original system in the future, and will be opened after OTA upgrade, so stay tuned. Please consult customer service for detailed functions of Blue Heart V.
*The above is only a creative illustration, please refer to the actual use case.
For more detailed and comprehensive OriginOS 4, please visit the vivo OriginOS official website.
A new layout for the game box
With one click, you can open a small window to open common applications, and every second counts inside and outside the valley.
Outbound navigation optimization24
After the gate is opened, the mobile phone navigation route is quickly
refreshed.
vivo Office Suite
You can search for photos from your phone
across devices on your computer.
End-to-end conference assistant
During online courses/meetings, voice can be converted to
text in real time.
Home Care Component
The health of your family is at a glance on your desktop.
The all-new vivo Sans
The new brand-customized font
can be displayed in a comfortable and clear font in a variety of scenarios.
Scam playbook identification
Based on the capabilities of Qianjing Trusted Engine +, it intelligently identifies typical fraud scripts to protect
the
safety of family members.
Situational wallpapers
From the screen off to the main screen, it is silky and elegant, jumping on the
screen.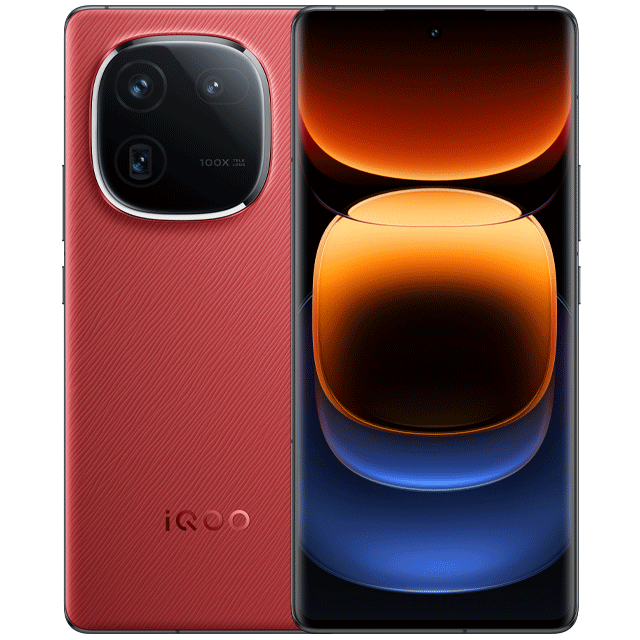 Burning
Track Edition
Legendary Edition
Height: 164.63mm
Width: 75.4mm
Thickness: Track/Legendary: 8.58mm Fuel: 8.75mm
Weight: Track/Legendary: 210g Fuel: 205g
CPU model
The third-generation Snapdragon 8 mobile platform
Number of CPU cores
Octa-core processor
CPU frequency
3.3GHz×1+3.0GHz×2+3.2GHz×3+2.3GHz×2
Number of CPU bits
64 bits
GPU (Graphics Processing Unit) model
Running Memory (RAM)
16GB (the actual storage space is less than 16GB due to the mobile phone system and pre-installed programs occupying part of the storage space)
In-Body Storage (ROM)
256GB/512GB/1TB (less than 256GB/512GB/1TB of available storage space due to the phone system and pre-installed programs taking up part of the storage space)
RAM type
LPDDR5X Four-channel
ROM type
Battery capacity
2550mAh (7.82V), equivalent to 5100mAh (3.91V).
Typical Energy: 19.95Wh
Rated Capacity: 2490mAh (7.82V), equivalent to 4980mAh (3.91V).
Rated energy: 19.48Wh
Charging specifications
120W ultra-fast flash charging, support the maximum input charging specification of 20V/6A, compatible with 20V/4A, 20V/3.3A, 11V/6A, 11V/5A, 11V/4A, 11V/3A, 9V/2A or 5V/3A
50W wireless flash charging
Battery type
lithium battery
OTG reverse charging
Yes
Theoretical standby time
*This product adopts a dual-cell series design: Typical capacity:
Theoretical 4G single SIM standby time: up to 16.2 days
Theoretical 4G Volte call time: up to 17.7 hours
Note: The data is the test result of our laboratory in the standard environment, and the actual standby time varies depending on the actual local network conditions and usage habits.
Screen-to-body ratio
92.42%
Screen color
1.07 billion colors, P3 color gamut
HDR technology
Yes
touch screen
Capacitive multi-touch
Refresh rate
It supports up to 144Hz
Camera
Front-facing camera pixels
16 million pixels
Front camera aperture
f/2.45
Number of rear cameras
Three shots
Rear camera pixels
50 million pixels, 1/1.3 inch, light chasing main camera + 64 million pixels, periscope telephoto, 100X digital zoom + 50 million pixels, ultra-wide angle lens
Rear camera aperture
f/1.68 (rear main camera), f/2.57 (rear periscope), f/2.0 (rear wide)
Type of stabilization
The rear main camera and rear periscope support OIS stabilization, and the rear three cameras all support video stabilization
Autofocus
The rear three cameras all support AF
Zoom mode
Up to 100x digital zoom on the rear
Shooting mode
Front: Portrait, Photo, Video, Micro Film
Video recording format
Rear: Capture, Night Scene, Portrait, Photo, Video, Micro Film, High Pixel, Panorama, Ultra-HD Document, Slow Motion, Time Lapse, Time Slow Door, Super Moon, Starry Sky, Tilt Shift, Professional, Fisheye
The rear supports up to 8K video shooting, and the rear slow motion supports up to 1080P
The type of network
Dual-SIM dual-standby full Netcom Note: 5G dual-SIM dual-pass only supports some frequency band combinations and depends on the operator's SA and VoNR deployment, and the SA and VoNR support capabilities depend on the available network and software version
Network Frequency Bands
2G GSM:850/900/1800/1900MHz
2G CDMA:BC0/BC1
3G WCDMA:B1/B2/B4/B5/B8/B6/B19
4G TD-LTE:B34/B38/B39/B40/B41/B42
4G FDD-LTE:B1/B2/B3/B4/B5/B7/B8/B12/B17/B18/B19/B20/B25/B26/B28/B66
5G:n1/n2/n3/n5/n7/n8/n12/n20/n25/n26/n28/n66/n38/n40/n41/n77/n7
Instructions for use of Dual SIM
1. Card slots 1 and 2 can be switched to data cards at will;
2. Support SA/NSA dual-mode 5G;
3. If the data card is a mobile/China Unicom/radio and television card, the non-data card supports "mobile 5G/4G/2G, radio and television 5G/4G, China Unicom 5G/4G/3G/2G, telecom 5G/4G";
4. If the data card is a telecom card, the non-data card supports "mobile 5G/4G/2G, radio and television 5G/4G, China Unicom 5G/4G/3G/2G, and China Telecom 5G/4G (VoLTE service needs to be activated, and the network cannot be registered when the VoLTE service is not activated)".
Music player
AAC、AMR、MIDI、OGG、FLAC、WMA、WAV、APE、MP3
Ultrasonic fingerprint of the screen
Face Wake facial recognition
OriginOS 4 based on Android 14
Support voice, suggestions, scanning, and other functions
WLAN
Support WLAN 2.4G, WLAN 5.1G, WLAN 5.8G frequency; Wi-Fi 6 support; Wi-Fi 7。 (Note: Some Wi-Fi 7 functions need to be paired with a router that supports the Wi-Fi 7 protocol, and Wi-Fi 7 related functions need to be opened after OTA upgrade, and the specific time needs to be pushed after the approval of the relevant regulatory authorities.) )
Bluetooth audio specifications
SBC; AAC; aptX; aptX HD; aptX Adaptive; aptX Lossless; LDAC; LHDC
navigation
Support GPS: L1+L5, Beidou: B1C+B1I+B2a, GLONASS: G1, Galileo: E1+E5a, QZSS: L1+L5
support AGPS, cellular network positioning, wireless LAN positioning, geofencing
Accelerometers
Ambient light sensor
Proximity sensor
gyroscope
Electronic compass
Other sensors
Solid gyroscope
Infrared remote control, Flicker sensor, color temperature sensor, ultra-wide vibration sensing X-axis linear motor
socializing
Film and television music
Commonly used tools
life
Built-in app notes
Weibo
Kuaishou, Douyin, Youku video
App Store, iMusic, iTheme, iManager, File Management, Game Center, Cloud Service, Mutual Transfer, eBook
Baidu, Alipay, JD.com
The above list of built-in applications is for reference only, please refer to the actual built-in applications.
Network access information
How to view
Authenticity check
This model has obtained the telecommunications equipment access license, access to the network license mark is presented in an electronic display mode, please check in the mobile phone, view method: Settings - about the mobile phone - legal information - certification information * *
Due to the difference in the viewing path of different models, you can also search for "certification information" through the search function of the mobile phone, you can quickly query the electronic access license mark built into the mobile phone.
You can click on the "Authenticity Query" link on the government service platform (https://jwxk.miit.gov.cn) of the Ministry of Industry
remark
The appearance diagram, structure diagram and product effect of the mobile phone on the page are for reference only, please refer to the actual product.
The data and parameters on the above page are the test results of our laboratory standard environment, and the actual use may be different due to individual differences in products, usage habits and environmental factors, please refer to the actual use.
This model is not a professional waterproof phone, it is splash-proof, water-resistant and dust-proof under normal use, and its effect has reached IP68 under GB/T 4208-2017 (domestic) / IEC60529 (overseas) standards after testing under controlled laboratory conditions. Splash, water and dust resistance is not permanent, and protection may be degraded due to daily wear and tear. Do not charge your phone when wet, please refer to your phone's built-in instructions for cleaning and drying. Damage caused by immersion in liquids is not covered by the warranty. IP68 waterproof conditions are (1), no flowing clear water, water depth of 1.5 meters; (2), test time 30 minutes; (3) The difference between the water temperature and the product temperature is not more than 5 degrees Celsius.
The CPU and GPU data are all from Qualcomm's official website, and they are compared with the theoretical values of the second-generation Snapdragon 8.
The UFS 4.0 read and write data comes from Samsung's official website, which is a theoretical increase in speed compared to the previous generation UFS 3.1 overclocked version.
The 2GB large file copy data comes from our laboratory, and the time when a 2G zip file is copied from one directory in the mobile phone to another directory in the mobile phone in the file management.
Due to the space required by the system and underlying software, the actual storage space available to the user will be less than 1TB, and the condition for 1500 videos is that the 4K 60FPS video is 3 minutes long, and the size of a single video is about 674MB.
The Deep Defragmentation 4.0 data is from our laboratory and is based on the test of the aging scenario. The 256GB version is a speed increase compared to the non-defragmentation scenario. This feature is only supported in the 256GB and 512GB versions, and the data of the new generation Turbo Write comes from our lab, which uses the 256GB version compared to the previous generation Turbo Write. This feature is only supported in the 256GB and 512GB versions.
LPDDR5X data is a comparison to the previous generation LPDDR5.
iQOO 12 Pro supports up to 2K gaming super-resolution, which requires OTA upgrades, please refer to the actual gaming experience.
More than 100 games support frame insertion to 144 frames, and some of them will be updated via OTA.
The ultra-wide angle is 119° (109° after distortion correction), and the pixels may vary depending on the shooting mode.
The increase in light intake is a comparison with the iQOO 11S.
The Landscape Moon can be entered from the [Camera – More – Supermoon] path to achieve 1X, 2X, and 3X Landscape Moon effects.
The screen supports up to 144Hz refresh rate and only works in some supported gaming scenarios, and 1440Hz high-frequency PWM dimming takes effect in low-brightness scenes, and the screen can support up to 1440Hz high-frequency PWM dimming.
This product adopts a dual-cell series design: typical capacity: 2550mAh (7.82V), equivalent to 5100mAh (3.91V), typical energy: 19.95Wh. Rated capacity: 2490mAh (7.82V), equivalent to 4980mAh (3.91V), rated energy: 19.48Wh.
With the official standard charger + data cable of the product, it can support up to 120W ultra-fast flash charging, and the actual charging power will be dynamically adjusted with the change of the scene, please refer to the actual usage.
With the official wireless charging dock + standard charger + data cable, it can support up to 50W wireless flash charging, and the actual charging power will be dynamically adjusted with the change of the scene, please refer to the actual usage. The wireless charging dock is sold separately.
UFCS requires both a phone and a charger to work.
The remaining capacity is greater than or equal to 80% after 1600 cycles, which comes from the simulated environment of our laboratory and the temperature is 23 ± 2°C full charge and discharge test, which may actually vary due to different test equipment, test environment, personal use methods and habits, etc.
The zero-power start-up data comes from our laboratory, and after the zero-power shutdown, plug in the power supply for a certain period of time, and use the iQOO official power charging device, the screen will light up in as fast as 3 seconds.
Four-network concurrency can achieve up to four networks concurrent download, support this function needs to turn on the application switch, whether it takes effect is related to the network environment you are in and the application you use, if it takes effect, it will consume mobile traffic, which may involve traffic costs, and iQOO 12 and iQOO 12 Pro support frequency bands are different, the trigger scene is different, please refer to the actual experience; 1.77GB).
The data of the number of games is from our laboratory, which is calculated by comparing the number of rounds with at least one >100ms delay in the game of "Honor of Kings" in the game scenario of connecting to dual Wi-Fi compared to connecting to 2.4G Wi-Fi.
At present, the function has supported more than 10 cities and more than 280 parking lots, and more parking lots are being accessed one after another.
Since some specifications, parameters, and parts of the product may change due to supplier changes or production batches, our company will update the description on the page in real time according to the adjustment, please check carefully.
No customer reviews for the moment.
Related Blog Posts
Questions
(0)
No customer questions for the moment.
Only registered user can ask a question.
Login