OPPO PAD 8GB+256GB Purple
| | |
| --- | --- |
| Location: | Asia |
| Possibility to return: | Yes, within 14 days to warehouse in USA / UK or EU |
| Length of warranty | 12 months |
| Warranty Extension: | At promotional terms, up to 24 months (during checkout) |
| Processing time for warranty service from | 6 weeks |
| Processing time for warranty repair to | 12 weeks |
Other variants / accessories
Available delivery options:
Keep track of the price drops on this item. Simply enter your email here and we will send you an email alert.
Invalid email
Watch it
You will get $ 3.37 in reward when purchase 1 of this product. The reward can be used to pay for your next orders, or converted into voucher code.
Frequently Asked Questions
Welcome to Bludiode.com
We are mobile electronics marketplace seller since 2014, we offer mostly smartphones, tablets and accessories. Our customers have right to return product locally (USA, UK, EU) and execute warranty up to 24 months. All products sold on our website are coming straight from the producers, are genuine and they are subject to the warranty. To learn more click "About us" in the website footer.
Check also these products available at local stock:
OPPO Pad
Create a Pad that is easy to meet
120Hz high refresh eye protection screen
Free Star Design
Qualcomm Snapdragon 870 processor
8360mAh large battery
Intelligent multi-window multi-tasking
OPPO Pencil self-developed stylus
study space

Mobile and Tablet Interconnection 1
half technology
half human

Yao Ye Hei, Streamer Crystal Diamond Craft 2
The lens pattern is combined with the streamer crystal drilling process, and the delicate crystals are naturally formed, condensing into tens of billions of stars on the surface, and blooming instantly. Eyes and palms, sharing a dreamlike scene like interstellar travel. Delicate and smooth touch, no need to worry about fingerprints and hand sweat, and feel comfortable when holding hands.
Aurora Purple, double-pattern double-plating process
The purple model innovatively integrates the double-layer texture into the 0.6mm sheet back shell. Through the optical coating process, the light is continuously reflected and refracted between the two layers of diaphragms, so that the color of crystal purple continues to last for the rest of its life and flows with the light and shadow.
*Yaoye black color matching does not use this process
9-layer process design³
Glitter sand outer texture
Composite sheet
Diffuse Texture
Optical Coating
OCA adhesive
PC diaphragm
Large lens texture
Optical Coating
Four-layer cover bottom ink
Lightweight, portable and comfortable to hold
Subtraction designed again and again, blessing the holding experience that you can't put it down.
507 g light weight 4
6.99 mm Slim Thickness 4
The bright sunshine and colorful balloons accompany the clouds, and
the sky and sea are all in one color.
James Jean × OPPO Pad 5 , transforming the artist's imaginative fantasy work "Summer Adventure" on the OPPO Pad with a breakthrough flash sand technology.
Through repeated polishing and sculpting, James Jean perfectly combines the painting with the silver body, presenting a myriad of colors of the beauty of the summer and the light of adventure.
With pure intuition at first sight, ingenuity presents all kinds of dreams. It is "Summer Adventure", and it is the adventure between OPPO Pad and you.
James Jean
A world-renowned artist, illustrator, designer.
DC Comics cover artist, 7-time winner of the most representative comic award in the United States, the "Eisner Award".
Created movie posters for multiple Oscar-winning movies "The Shape of Water" and "Blade Runner 2049".
He has collaborated with Prada, Nike, and Disney, and his works have appeared in The New York Times, Time Magazine, Rolling Stone, etc.
His style is magnificent and advanced, full of rich imagination, full of romantic dreaminess and mythical mood.
OPPO invited James Jean to combine trends with technology to create works of art full of fantasy.
Powerful performance
Productivity Guarantee
Qualcomm Snapdragon™ 870 flagship processor
Stronger, more efficient, faster and calmer
Snapdragon 870 processor, flagship performance, worry-free power consumption. Smart office, efficient learning, audio-visual entertainment, all kinds of scenarios can be easily dealt with. Powerful "core" is the fundamental guarantee of productivity.
27413 mm² total heat dissipation area
Wi-Fi 6 Support Wi-Fi6 high-speed wireless network
The performance is in place, and the game can also be easily dealt with
Under the extreme frame rate and HDR high - definition picture quality of "Peace Elite" 6 , the output is stable and efficient7, and it is easy to control competitive games.
Shocking Bass Atmos
The tablet industry's first AAC second-generation super-linear flat-panel speaker, 2.0cc super-large sound cavity, high-amplitude design, and a group of leading hardware "sound" come from you to create OPPO's flagship bass effect. Dolby Atmos Dolby Atmos, 360° stereo sound, brings a wonderful sense of immersion.
Through Hi-Res certification, restore the "fever-grade" sound details.
Super-sensing color screen that can't go back at a glance
2.5K ultra-high definition + 120Hz high refresh rate, high-standard rendering of original picture-level colors, and fine details of movement and stillness; 7mm ultra-narrow bezel design, 86.3% screen
ratio 8 , what you see is what you want to see; O1 super-sensing image quality engine, SDR Efficiently convert to HDR, even ordinary video has bright visual enjoyment.
2.5 K Ultra clear full screen
120 Hz High refresh rate9
11 inch screen 10
7mm Very narrow bezel
2.5K Ultra clear full screen
120Hz high refresh rate
P3 wide color gamut
1 billion color display
Ambient color adaptation
HDR 10 certified
O1 super-sensing image quality engine
Anti-blue light eye protection
OPPO × Frame Enjoy 120 FPS Content Zone¹¹
OPPO Pad has passed FrameShare Ultra HD certification. In conjunction with Youku, it brings a new generation of ultra-high-definition audio-visual experience.
Meet the electricity required for a day's work¹³
33 W Super Flash Charge
8360 mAh Large battery 12
18 hours of continuous WPS file processing
9 hours of continuous video conference
16.5 hours of movie watching
ColorOS for Pad
Everything is more efficient
bigger screen, bigger field of view
Horizontal screen optimization 14 , one screen shows more details, and the application control experience is more smooth and light.
Parallel windows, multi-level pages can be done in one screen
Supports the simultaneous display of two-level pages in an application, the left directory, the right content, quick access, and efficient reply.
Two-finger split screen, multitasking15
Swipe down with two fingers to instantly split the screen, and open two apps for split-screen browsing at the same time, which satisfies the efficient collaboration of office and instant communication scenarios.
Four-finger pinch, free floating window 16
In addition to split screen, multi-window display is also supported, and document windows can be dragged freely. Simplify more complex tasks.
OPPO mutual transfer, efficient file sharing
Mobile files and tablets can be quickly transferred to each other, and photos/videos can be forwarded with one click; after shooting on the phone, they can be easily transferred to the tablet for editing and beautification, and you can create proud works anytime, anywhere.
Easy cross-screen interconnection
Pull down the settings and tap, quickly identify and connect, and cast the screen of the mobile phone desktop to the OPPO Pad. Edit the documents on the mobile phone with the keyboard, and expand the small screen with the large screen. The smooth input experience is easily available, and the office and study scenes can be switched at will.
*The cross-screen interconnection function only supports some mobile phone models of ColorOS 12.1 and above. The range of supported mobile phone models is subject to the version released by the actual mobile phone.
Smooth system optimization, more efficient and more enjoyable
Quantum Animation Engine 3.0
System animation is synchronized with real physical feedback, in line with your cognition and instinct.
AI Self-Smoothing Engine 2.0
OPPO Pencil
pressure
weight
Incognito touch
Sampling Rate
Exquisite pen body design
After hundreds of times of polishing, the edge of the pen body is straight and straight, making the overall grip more ergonomic.
360° Stealth Touch18
With a flick of a finger, the tools can be changed at will. Double-tap the pen body to switch between brushes and erasers, and easily select tools without on-screen clicks.
Wireless magnetic charging
Adsorb the tablet to quickly charge the stylus. You can write for 20 minutes on a 1-minute charge19 without missing any important notes and sparks of inspiration.
A full charge can write continuously for 11 hours, and the super long working time allows the masterpiece to be completed in one go.
Screenshots 20 , always capture creative inspiration
When the screen is locked, tap the screen with the pen tip to quickly evoke graffiti notes without missing any moment of inspiration.
Lightweight writing, perfect strokes
The nib damping paper is optimized to experience the real writing feel on Yueran paper. 5 grams of pressure 21 can get out of the water, with a little touch, the handwriting is clear and powerful. It has its own pen edge effect adjustment, optimizes the writing edge of the text, and easily writes beautiful handwriting.
understand more
Fluent Handwriting 22
Self-developed stylus SDK, local rendering optimization and self-developed curve fitting strategy enable OPPO Pencil to have an ultra-low latency and sensitive experience in writing. Whether it is writing a full-screen text masterpiece continuously, or quickly erasing the entire screen of graffiti, there is no pause. The smooth handwriting experience allows you to enjoy unlimited creativity.
Mainstream Apps Optimized for OPPO Pencil23
WPS Office
28 days VIP membership benefits
Huion Sketch
OPPO Pencil customization optimization
Yunji
6 months VIP membership benefits
Smart magnetic keyboard 24
protects the tablet and fast input kills two birds with one stone
OPPO Pad+ smart magnetic keyboard, magnetic support, light fit. 1.4mm large key travel, comfortable typing feedback experience. Specially customized function keys and combination keys, one key to wake up the voice assistant.
*The smart magnetic keyboard comes from OPPO Zhimei Life Ecological Selection and is suitable for OPPO Pad.
Smart Magnetic Keyboard
understand more
eye care
Self-contained "Pad"
Adaptive eye protection screen
Hardware-level anti-blue light,
double eye protection certification
Support hardware-level anti-blue light, filter and remove 25% blue light in the 415nm~455nm band that is most harmful to human eyes , and comprehensively protect children's eye health. Obtained dual anti-blue light certification from the German Rhine and the National Eye Center.
Sitting and distance monitoring
Learning Space 26
Immersive learning experience, easy to formulate study plans, quick statistics of learning situation, convenient application management, and support for multi-child mode.
peer study
Together with peers of the same age, you can grow up together through self-study and online exclusive companion reading, cultivate children's concept of independent learning and explore new knowledge, so that children's learning efficiency can be multiplied with half the effort.
Remote parent guardian 27
Parents can remotely check their children's tablet usage on their mobile phones, keep abreast of their children's learning trends, and cultivate their children's study habits.
Multi-window split-screen smart touch
High-efficiency interconnection of mobile phones and tablets
Self-developed engine for smooth handwriting
Crystal diamond craftsmanship to hold the starry sky
6.99mm ultra-thin body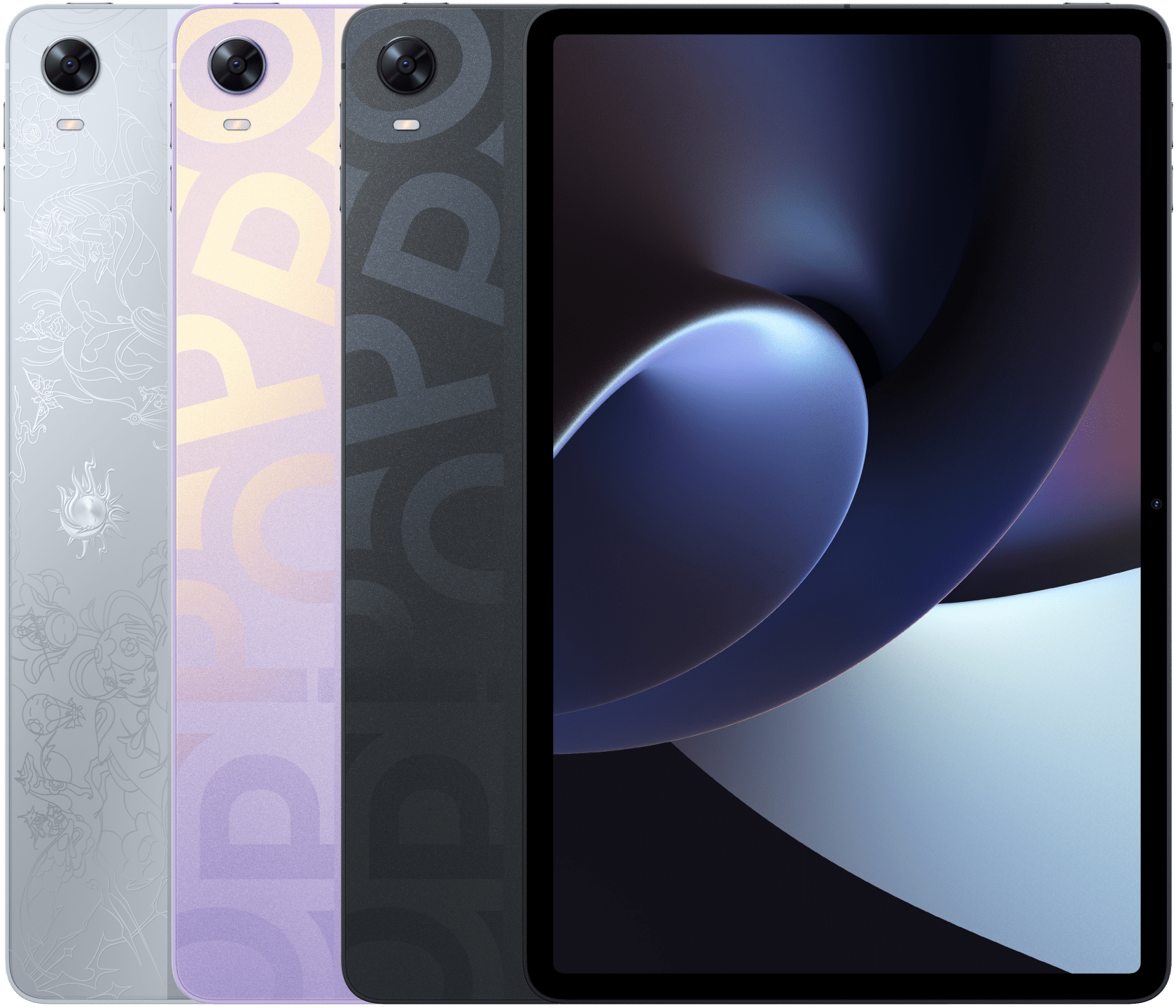 long
About 252.2mm
width
About 163.8mm
thick
Approx. 6.99mm (Black and Silver)
Approx. 7.05mm (Purple)
Weight
About 507g (black and silver)
about 510g (purple)
*Remarks: Dimensions may vary due to configuration, manufacturing process, and measurement methods
RAM capacity + ROM capacity
6GB + 128GB | 6GB + 256GB | 8GB + 256GB
RAM Specifications
LPDDR4x @ 2133MHz 4×16bit
ROM specification
UFS3.1
storage card
not support
OTG data transfer
support
*Actual usable capacity is reduced and varies due to many factors, because the operating system occupies part of the memory (RAM), the actual usable space is less than the indicated memory capacity, because the installation of the operating system and pre-installed programs occupy part of the flash memory (ROM) , the actual available storage space is less than the flash memory capacity.
size
11 inches (diagonal)
Types of
LCD (LTPS)
screen ratio
86.3%
Resolution
2560 × 1600 (WQXGA)
refresh rate
120Hz
Touch sampling rate
120Hz
pixel density
275 PPI
Contrast
1500:1
brightness
480nit (typ.)
rear
13 million (f/2.2); FOV 80°; 5P lens, support AF;
front
8 million (f/2.0); FOV 77°; 4P lens, FF;
Shooting mode
Video, Photo, Panorama*, Time Lapse, Hypertext
*Only supported in portrait scene
rear
720P 30fps
1080P 30fps
4K 30fps
video support zoom
support electronic image stabilization
front
720P 30fps
1080P 30fps*
Front support video image stabilization
Support electronic image stabilization
*The default is 1080P@30fps, and beauty is enabled by default
Qualcomm Snapdragon™ 870 (SDM870)
CPU
8-core, 64-bit processor, 3.2GHz
GPU model
Adreno™ 650 @670MHz
battery capacity
8080mAh/31.27Wh (rated value)
8360mAh/32.35Wh (typical value)
fast charging
Support SUPERVOOC TM , VOOC 3.0, PD (9V/2A), QC (9V/2A) fast charging protocols
face recognition
Support face unlock
Sensor type
Geomagnetic induction, light sensor, acceleration sensor, gravity sensor, gyroscope, color temperature sensor, Hall sensor
WLAN function
Support Wi-Fi 6 (802.11ax), Wi-Fi 5 (802.11ac), 802.11a/b/g/n/;
WLAN 2.4G/WLAN 5.1G/WLAN 5.8G;
support WLAN Display; WLAN tethering; support Network overlay: Wi-Fi 2.4GHz 2×2 + Wi-Fi 5GHz 2×2 concurrently
support 2×2 MIMO; 8 Spatial-stream sounding MU-MIMO
Bluetooth transmission
Bluetooth V5.1, BLE
Bluetooth Audio Specifications
Support SBC, AAC, aptx, aptX HD, LDAC
Data interface
USB Type-C
audio port
Type-C
Transfer Protocol
USB 2.0 Type-C
ColorOS 12.0 based on Android11
Purple and black models:
main unit x 1
data cable x 1
charger x 1
quick start guide x 1
warranty card x 1

silver artist limited set:
OPPO Pad artist limited edition x 1
OPPO Pencil artist limited edition x 1
limited edition tablet case x 1
data cable x 1
charger x 1
quick start guide x 1
warranty card x 1
Optional anti-blue light / anti-glare
full-fit eye protection film28
It can effectively filter out harmful blue light bands, and has passed the GB/T 38120-2019 national standard certification.
*The eye mask is from OPPO Zhimei Life Ecological Selection, suitable for OPPO Pad.
understand more
Remark:
1. [Mobile phone and tablet cross-screen interconnection function] First launched in the Find X5 series, other mobile phone models are as follows: mobile phone system version: ColorOS12.1 version; mobile phone model range: OPPO Find series, Reno series and some OnePlus and Realme series type. Upgrade time: In March, mobile phone models will be upgraded one after another. Due to hardware performance and other reasons, the specific supported model range is subject to the version released by the actual mobile phone; the upgrade time is subject to the ColorOS upgrade announcement.
2. OPPO Pad "Yaoye Black" color matching and "artist joint model" both use the streamer crystal drilling process; "Aurora Purple" color matching uses the more difficult double-pattern double-plating process on the basis of the streamer crystal drilling process. Multi-level reflection structure to express visual uniqueness, to achieve different degrees of golden halo effect at different angles; the final effect of the product may have individual differences, bringing different colors and details, the picture is for reference only, please The actual product shall prevail.
3. The 9-layer process design is the design extension of the double-pattern and double-plating process used in the "Aurora Purple" color matching. The "Yaoye Black" and "Artist Co-branded" versions do not use this process.
4. OPPO Pad "Yiye Black" and "Co-branded Silver" color matching body thickness is 6.99mm and weighs about 507g; OPPO Pad "Aurora Purple" color matching body thickness is 7.05mm and weighs about 510g; body thickness and weight are OPPO Laboratory data, the actual size of the fuselage may vary due to manufacturing processes and measurement methods.
5. The screen printing on the back panel of the OPPO Pad artist limited set comes from James Jean's illustration work "Summer Adventure". The artwork and the artist's signature and other related visual content have been authorized by James Jean himself.
6. The game screens involved in OPPO Pad are all from "Peace Elite".
7. "Peace Elite" runs on OPPO Pad, and the limit frame rate is locked at 60fps under HDR screen; OPPO Pad optimizes the user experience of the product during the game through comprehensive technologies such as software and hardware; OPPO Pad is also suitable for some games 60fps and Different frame rate modes at 120fps. The description of "continuous, stable and efficient output at the limit frame rate" does not mean that it will never freeze. The actual experience may vary due to different network environment, personal usage habits and other factors.
8. The screen ratio measurement data standard is based on the screen display area to the front panel area of ​​the whole machine to calculate the screen ratio, please refer to the actual product. The actual data will be slightly different due to factors such as usage environment, equipment condition, software version, etc. Please refer to the actual data. The data displayed on the entire site are all OPPO laboratory data and are for reference only.
9. The user can select the screen refresh rate in 120Hz or 60Hz mode in the settings. The 120Hz refresh rate display requires the application software or the video content itself to support the 120Hz refresh rate; some applications will still use the 60Hz refresh rate under the 120Hz refresh rate setting due to compatibility issues.
10. The display screen is designed with rounded corners. When measured according to a standard rectangle, the diagonal length of the screen is 11 inches (the actual viewing area is slightly smaller).
11. The 120-frame content area of ​​OPPO tablet is a 120Hz high-brush video source area specially customized for the pre-installed version of OPPO Pad. Users can choose to watch 120Hz customized video content in the frame sharing column of the pre-installed Youku App on OPPO Pad. Other video software that supports 120Hz video source, OPPO Pad can also support playback at 120Hz frame rate. Some videos in the 120-frame content area need to be purchased separately to watch.
12. The equivalent capacity of the OPPO Pad battery is about 8360mAh (typical value) / 8080mAh (rated value). This model supports high-current super flash charging. In order to ensure user safety, the battery has been specially encrypted. Using non-original batteries will affect the normal use of this product, including but not limited to slow charging. If there is a need for battery repair and replacement, please be sure to go to the OPPO official customer service center to repair and replace the genuine battery.
13. The battery life data involved here are all from the OPPO laboratory and supplier test data. The actual situation may vary slightly depending on the test software version, specific test environment, and specific version.
14. Landscape optimization refers to the optimization of the user experience after adapting the horizontal screen to the large tablet screen combined with the software interface compared to the vertical screen of the mobile phone. Including but not limited to the following functions: large-screen games, large-screen movie viewing, large-screen finance, driving mode, and custom input method. The scope of adaptation software will gradually increase through subsequent OTAs.
15. Through the two-finger split screen function, you can open two applications on the home screen at the same time, and support some applications to drag and drop text, pictures, files, etc. to another application. You can also drag the handle in the middle of the screen from the sidebar to adjust the proportion of the screen occupied by the apps on both sides. The scope of adaptation software will gradually increase through subsequent OTAs.
16. In the multi-window state, some applications can drag and drop text, pictures, files, etc. to another application. The scope of adaptation software will gradually increase through subsequent OTAs.
17. OPPO Pad has passed the 36-month five-star anti-aging professional evaluation in the professional testing environment of the Tel Terminal Laboratory; passing the "anti-aging evaluation" means that OPPO Pad has reached the anti-aging evaluation formulated by professional institutions in the above environment The standard does not mean that the product is absolutely not stuck when using it. Due to different network environment, personal usage habits and other factors, the actual experience may vary.
18. The 360° stealth touch means that the stylus can be clicked at any position around the stylus body around the stylus body.
19. The test data of charging and battery life are measured by using OPPO Pad magnetic charging under normal temperature environment of OPPO laboratory. Actual charging and battery life will vary due to different usage environments and individual differences in the stylus.
20. On-screen shorthand When the tablet is turned on and off-screen, tap the screen with a stylus to wake up the screen and enter the note interface. This feature needs to be pre-opened in the stylus settings.
21. Clear handwriting can be displayed with a pressure of 5 grams. When the pressure exerted by the tip of the pen touches the tablet screen reaches 5 grams, the relevant application software interface of the tablet will display handwriting. The data are all from the OPPO laboratory and supplier test data. The actual situation may vary slightly depending on the test software version, specific test environment, and specific version.
22.1 OPPO Pencil adopts a new generation of USI protocol and independently develops a stylus SDK. Through partial refresh, erasing, undoing, restoring and other operations that only render the local area of ​​the target, the writing fluency is optimized and the continuous writing and erasing are greatly reduced. In addition to the stuttering problem in the process.
22.2 The curve-fitting optimization algorithm refers to the optimization of the color effects at edges and junctions by superimposing two colors in the handwriting when scribbling on the Pad with the OPPO Pencil. Re-fitted the curve in the picture, optimized the overlay effect, made the handwriting smoother, and supported more layers of overlay.
23. OPPO Pad and WPS, Yunji, Huion Sketck jointly adapt to double-click touch function in handwriting state, such as controlling and switching eraser, brush, etc.; and related writing tuning has been carried out. Membership benefits are only given during the first sale period, the quantity is limited, while stocks last.
24. This product is designed and manufactured by Rapoo Technology and is suitable for OPPO Pad.
25. Obtained the hardware-level low blue light certification of the German Rhine and the National Eye Center. It is not a medical device and has no therapeutic function.
26. This function needs to be enabled in the application of the learning space, and is supported under the learning space interface.
27. This function supports opening the management interface in the WeChat applet of the mobile phone, supports the statistics of the tablet usage time, the remote closing of the application, and the review and management of the application for the usage time on the tablet.
28. This product is designed and manufactured by Fangsheng Optical and is suitable for OPPO pad. Stylus, keyboard and eye mask are not standard and need to be purchased separately.
29. Product pictures are for reference only, please refer to the actual product. Some specifications and descriptions of products may be changed due to supplier replacement, etc. Please refer to the actual product. The data involved here are all from OPPO's design technical parameters, laboratory and supplier test data, and the actual situation will vary slightly depending on the test software version, specific test environment, and specific version.
30. The product interface content (including but not limited to UI and background) displayed on the whole site is only for function display. Each function belongs to different software versions. The launch time and region of different software versions are different. Please use the actual version function. and the interface shall prevail.
31. We will continue to work hard for product function development. Therefore, the product interface content (including but not limited to UI, background), functional characteristics, and functional data displayed on the whole site may change, and the OPPO official website may update all content on the site-wide display page in real time. . In the event of the above situation, we will not make any special notice. The final interpretation right of the above statement belongs to the company.
No customer reviews for the moment.
Questions
(0)
No customer questions for the moment.
Only registered user can ask a question.
Login