OPPO Find X3 Pro 8GB+256GB Blue
| | |
| --- | --- |
| Location: | Asia |
| Possibility to return: | Yes, within 14 days to warehouse in USA / UK or EU |
| Length of warranty | 12 months |
| Warranty Extension: | At promotional terms, up to 24 months (during checkout) |
| Dual Sim | Yes |
| Water resistance | Yes |
| 5G | Yes |
| Rom: | Original China Multilanguage (possible Google Apps) |
| Processing time for warranty service from | 6 weeks |
| Processing time for warranty repair to | 12 weeks |
Other variants / accessories
Keep track of the price drops on this item. Simply enter your email here and we will send you an email alert.
Invalid email
Watch it
You will get PEN 17.10 in reward when purchase 1 of this product. The reward can be used to pay for your next orders, or converted into voucher code.
Frequently Asked Questions
Welcome to Bludiode.com
We are mobile electronics marketplace seller since 2014, we offer mostly smartphones, tablets and accessories. Our customers have right to return product locally (USA, UK, EU) and execute warranty up to 24 months. All products sold on our website are coming straight from the producers, are genuine and they are subject to the warranty. To learn more click "About us" in the website footer.
Check also these products available at local stock:
Capture the colours of the world in their truest form with the revolutionary Find X3 Pro. Rich tones and deep hues combine to illuminate the road to the future
1 Billion Colours Infinite Possibilities1
Dual Primary Cameras A Story in Every Picture
Dive Into the Whole Spectrum
Find X3 Pro's 50MP camera makes shooting the world in true colour easy — so you can capture memories in the moment, store in 10-bit and relive them in spectacular quality later.
Immersive Atmospherics
Find X3 Pro's AI Scene Enhancement intelligently identifies the scene and adjusts colour tones accordingly. Scientific colour theory matches the tone and atmospherics of the scene — so you can revisit the feeling whenever the mood takes you.
You're the Director
Cinematic Mode transforms movies shot on your phone with best-ever artificial colour reproduction — putting the power of pro filmmaking directly into your hands.
Instant Magic
Find X3 Pro's AI Palettes can learn the colour profile of any picture on your phone and turn it into a custom filter. Just open your picture, tap and hold — filter made.
Enrich Life with 1 Billion+ Colours
Discover the limitless potential of colour-rich photography and video. Shoot, save and view in maximum colour vibrancy, and dive into an incredible spectrum of 1.07 billion colours — all right there in the palm of your hand.
JNCD2 ≈ 0.4
Colour accuracy
10-bit colour
Colour depth
100% P3
Colour gamut coverage
Prismatic Colour Under the Skin
Find X3 Pro's 10-bit Full-Path Colour Engine ensures utterly flawless colour transitions, from skin tones to skies and sunsets — so you capture reality in all its radiance.
Partial Loss of Red Colour Vision
After Colour Vision Enhancement
*Simulation effect for reference; actual results may differ slightly.
Colour Vision Enhancement
OPPO used the personalized hue test to develop colour compensation for Find X3 Pro, resulting in heightened colour differentiation and recognition. Find X3 Pro's colour compensation technology allows those with Colour Vision Deficiency (CVD) to see colour-corrective hues and deeper contrast levels for colour differentiation.
1 Billion Colour Display
10-bit Full-Path Colour Engine
Colour Vision Enhancement
Visionary Design
The Future is in Your Hand
Born of our most advanced engineering and sky-high technical craftsmanship, Find X3 Pro effortlessly blends tasteful design with futuristic instincts.
All Eyes on Our Future
In a world that never stands still, OPPO's design studio is always looking to the future. Find X3 Pro's impossibly streamlined curves artfully evoke spacecraft and the technology of tomorrow.
Glass Shaped to Our Vision
The camera module's elegant Gradient Arc Camera neutralises the single-sheet glass rear panel with a fluid curve—rendering the phone's sleek contours a natural complement to your own style.
Discover More
Find X3 Pro is IP68 Water and Dust Resistance4 — designed to withstand splashes, spills and the next adventure, so you can forge your path without restraint.
Ultra-wide
Wide
Microlens
Telephoto
50MP ultra-wide-angle camera
Sony IMX 766 sensor
1/1.56" sensor size
f/2.2 aperture
Native 110.3° field of view
All-Pixel Omni-Directional PDAF
OFF
ON
Expand Your Field of Vision
Find X3 Pro's ultra-wide-angle lens has a 110.3° field of vision, avoiding compromise in image quality or distortion at the edges of the photograph — perfect for group shots or capturing landscapes in their full glory.
Curiosity Amplified
Find X3 Pro's microlens camera offers a closer look at things which can't be seen directly by the naked eye — up to 60x closer. Take it as an invitation to find new perspectives amid the seemingly ordinary.
Discover More
Transcendent Video
AI Highlight Video allows you to enable multiple settings all at once — including FHD resolution , anti-shake stabilisation, night mode, remote audio recording and 8-bit for smoother colour transitions. Whatever the conditions, make cinema to share with the world.
Clarity in Motion
With lightning-fast focus speed, Find X3 Pro's Flash Snapshot makes capturing subjects in motion — like people in a crowded space, or energetic animals — a dream, so you can react as the moment unfolds and shoot candidly with confidence.
Selfie Camera
Moments to Memories
Find X3 Pro's 32MP front selfie camera performs like a main camera, with night mode support — so you and your loved ones can turn the moment into a memory even in the most spontaneous circumstances.
Original picture
*Simulation effect for reference; actual results may differ slightly.
Unlock More with RawPlus
Find X3 Pro captures RawPlus imagery with Expert mode. Photography taken in 10-bit RawPlus usefully frees up space for post-processing and dazzles the eye with rich colour and detail — so you can elevate your creativity to a higher plane.
Discover More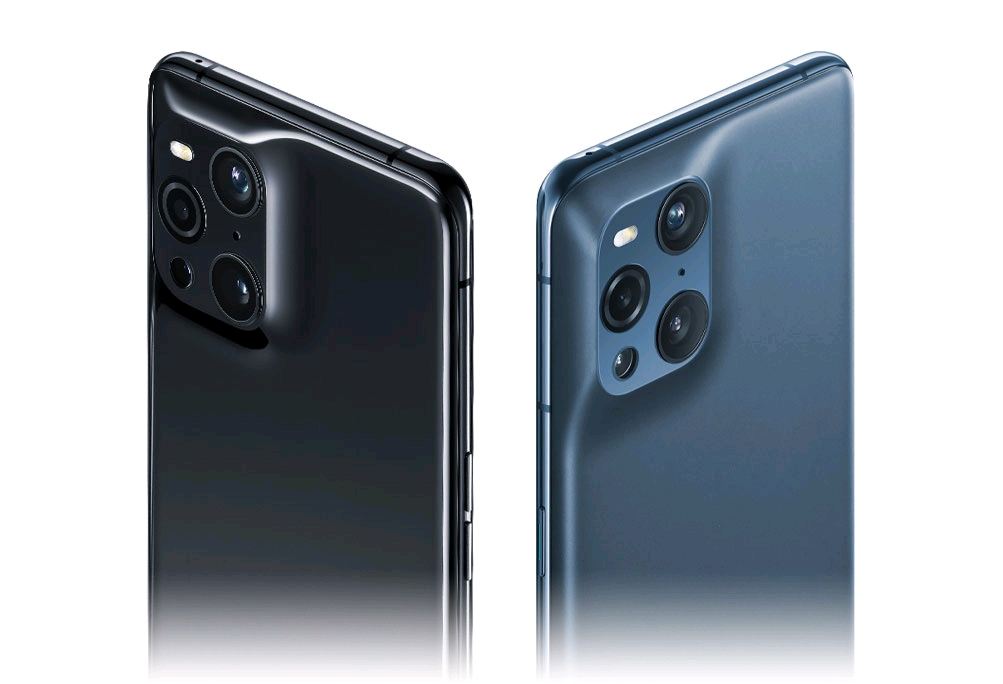 Find your new phone today
Find X3 Pro
Get yours now
120Hz Dynamic Refresh Rate7
Find X3 Pro's display refresh rate seamlessly switches between 5Hz-120Hz depending on your activity — preserving battery power and ensuring stunningly smooth performance, whatever you ask of your phone.
O-Sync Display Hyper Response Engine
8192-Level Natural Brightness
O-SYNC ENABLED
ORDINARY
*Simulation effect for reference; actual results may differ slightly.
Unparalleled Performance
Designed to Make Life Easy
Qualcomm® Snapdragon™ 888
Responsive Immersion
Find X3 Pro runs Qualcomm® Snapdragon™ 888 Mobile Platform, for lower power consumption and extended battery life, and supports 13 5G bands. CPU performance by 25% and graphics rendering speed by 35% — for a faster, more immersive experience.10
65W SuperVOOC Flash Charge
Recharge and Go
Spend less time charging and more time making waves. Find X3 Pro's TÜV safety-certified 65W SuperVOOC Flash Charge can charge the phone to 40% in 10 minutes11, 30W AirVOOC Wireless Flash Charge and Reverse Wireless Charging systems speedily restore the battery to full power without overheating, time and time again.
Focused Gaming
Interruption-Free Thrills
Tune out the rest of the world while you're in the zone — with Find X3 Pro, you can block incoming calls, notifications and floating icons, so you can look to gameplay on your phone for the same no-compromise thrills as dedicated consoles.
ColorOS 11.2
Borderless Design
With ColorOS 11.2, Find X3 Pro renders colour in a way designed to produce tones that appear natural rather than overly saturated, for everyday interaction that satisfies the eye.
Art+ Wallpapers
Choose from a vast library of vibrant wallpapers that combine photographic magnetism and artistic expression to explore the romance and beauty of life.
Sound by Hans Zimmer
Set the tone with alarms and ringtones custom-composed by Hans Zimmer for Find X3 Pro. When browsing in full screen, seamless sound design minimises disturbance with softer notifications.
Fingerprint Quick Launch
You know which apps you need available at a moment's touch. Customise the apps available to you in the Find X3 Pro fingerprint quick launch menu for a fast, pragmatic user experience.
Three-Finger Translate
Powered by Google Lens, OPPO's Three-Finger Translate allows you to capture and instantly translate screengrabs in one swift movement.
Private System
Find X3 Pro allows you to easily manage your data permissions in a transparent way. With Private System, separate work, lifestyle and entertainment apps to keep private data hidden — for total peace of mind.
* Some functions will be available on ColorOS 11.2 via OTA
.
Your purchase is protected by OPPO's International Warranty Service
OPPO Find X3 Pro Specifications
(CPH2173)
1 Billion Colour Dual Primary Cameras
10-bit Full-path Colour Engine
65W SuperVOOC Flash Charge
Qualcomm® Snapdragon™ 888 Mobile Platform
Gloss Black (Glossy glass) | Blue (AG glass)
* Product pictures are for reference only. Please refer to the actual product.
Height: about 163.6mmWidth: about 74.0mmDepth: about 8.26mmWeight: about 193g*Note: Phone weight may vary slightly depending on the product configurations, manufacturing process, and measurement method.
12GB RAM + 256GB ROMRAM Type: LPDDR5 @ 3200 MHz 4 x 16 bitsROM Type: UFS3.1 @ 2Lanes HS-Gear4External Memory: Not supportedUSB Version: USB 3.1USB OTG: Supported* The available internal storage may be smaller as part of the internal storage is occupied by software. Actual memory space may change due to application updates, user operations, and other related factors.
Size: 6.7" (17.02cm)Screen Ratio: 92.7%
Resolution: 3216 x 1440 (QHD+)
Refresh Rate: 120 Hz (Max) or 60 Hz
Touch Sampling Rate: Maximum: 240 Hz (2 fingers) / Default: 120 Hz (10 fingers)
Colour Gamut: Vivid mode: 97% NTSC/100% DCI-P3 (Typical) / Gentle mode: 71% NTSC/100% sRGB (Typical) / Cinematic mode: 97% NTSC/100% DCI-P3 (Typical) / Brilliant mode: 104% NTSC/100% DCI-P3 (Typical)
Pixel Density: 525 PPI
Contrast Ratio: Static contrast ratio (Max): 5,000,000:1 (Typical) / Dynamic contrast ratio (Max): 12,000,000:1 (Typical)
Brightness: Default peak brightness (typical) measured when the full screen is illuminated: 500 nits
Peak brightness (typical) measured with increasing excitation intensity: 800 nits
Peak brightness (typical) measured when only part of the screen is illuminated: 1300 nits
Brightness level (Max): 8192Panel: AMOLED (Soft/LTPO)
Rear
50MP Wide-angle Camera: Sony IMX 766 sensor, 1/1.56" sensor size, f/1.8 aperture, OIS, All Pixel Omni-directional PDAF
50MP Ultra-wide-angle Camera: Sony IMX 766 sensor, 1/1.56" sensor size, f/2.2 aperture, Native 110.3° Field of View, All Pixel Omni-directional PDAF
13MP Telephoto Camera: f/2.4 aperture, 5x hybrid optical zoom, 20x digital zoom
3MP Microlens Camera: 60x magnification, FHD Video Recording, f/3.0 aperture
Front32MP, f/2.4, FOV 81°, 5P lens
Shooting Mode
Rear:
Photo, Night, Video, Portrait, Dual-view video, Slo-motion, Time lapse, Movie, Expert, Panorama, Text scanner, Microscope, Sticker, and Google Lens
Front:
Photo, Video, Portrait, Night, Dual-view video, Time lapse, Panorama, and Sticker
Image Size
Rear:
Maximum size: 6144 x 8192 (50 MP)
Photo sizes in different aspect ratios:
3072 x 4096 (4:3)
3072 x 3072 (1:1)
1834 x 4096 (full screen)
2304 x 4096 (16:9)
Front:
Front camera: 6560 x 4928 (32 MP)
Normal photo mode:
4928 x 6560 (4:3)
4928 x 4928 (1:1)
2940 x 6560 (full screen)
3696 x 6560 (16:9)
Rear
Rear camera: up to 4K (60fps/30fps), 1080P (60fps/30fps), and 720P (60fps/30fps)Video slo-mo: 1080P (240fps), and 720P (480fps)
Video stabilisation: 4K@30/60fps, EIS, 1080P, 720P
Video zoom: 4K (30fps), 1080P (60fps/30fps), 720P (60fps/30fps)
Front
Supports 1080P/720P (30fps) (Default: 1080P (30fps)) (Beautification is turned on by default in some regions.)
Supports video stabilisation at 1080P/720P (30fps)
Does not support zoom or slow motion
CPU: Qualcomm® Snapdragon™ 888 Mobile PlatformCPU Speed: 1 x 2.842 GHz/ 3 x 2.419 GHz/ 4 x 1.786 GHzCPU Cores: 8 cores
GPU Model: Adreno™ 660
2200 mAh/17.02 Wh (min) 2250 mAh/17.41 Wh (typ)* Note:
Two series-connected cells, equivalent to a total capacity of 4500mAh
Fast Charge
SuperVOOC 2.0/SuperVOOC/VOOC 3.0/PD (9 V/2 A)/QC (9 V/2 A)/PPS (30W)
Supports Fingerprint Unlock and Face Recognition Unlock
Geomagnetic sensor
Ambient light sensor
Colour temperature sensor
Proximity sensor
AccelerometerGravity sensor
GyroscopePedometer
SIM 2: Supported
SIM Card Type: Nano-SIM* eSIM support depends on carriers

Regions that do not support dual SIM cards:

Australia (Telstra and Optus), Japan (KDDI)

* Functions available on the live network depend on the situations of carrier's network and related services deployment.
SIM Card 1 & SIM Card 2
2G: GSM, 850/900/1800/1900 MHz
3G: UMTS (WCDMA) bands 1/2/4/5/6/8/194G: TD-LTE bands 34/38/39/40/41(194Mhz: 2496MHz—2690MHz)/42
4G: LTE FDD bands 1/2/3/4/5/7/8/12/13/17/18/19/20/25/26/28/32/66
4G+: TD-LTE: B38C/B39C/B40C/B41C/B42C/B40D/B41D/etc.
4G+: LTE FDD: B1C/B3C/B7C/B1A+B3A/B1A+B3A+B5A/B1A+B5A/B3A+B5A/B1A+B8A/B3A+B8A/B1A+B3C/B3A+B41A/B8A+B41A/etc.
5G NR: n1/n3/n5/n7/n8/n20/n28/n38/n40/n41/n77/n78/n79
WLAN:Wi-Fi 6 (802.11ax), Wi-Fi 5 (802.11ac), 802.11a/b/g/n/, Wi-Fi 2.4G/5.1G/5.8G
Supports Wi-Fi Display, Wi-Fi tethering, and Simultaneous Dual Band (Wi-Fi 2.4 GHz 2×2 + Wi-Fi 5 GHz 2×2); supports Wi-Fi 5 GHz 160 MHzSupports 2×2 MIMO and 8 spatial-stream sounding MU-MIMO
Bluetooth Version: Bluetooth 5.2
Bluetooth Audio Codec: SBC, AAC, APTX HD, LDAC, APTX, APTX TWS+, and LHDC
USB Interface: Type-C
Earphone Jack: Type-CNFC: Supported
ColorOS 11.2 based on Android 11
Built-in GPS, A-GPS, BeiDou Navigation Satellite System, GLONASS, and QZSS positioning systems
Frequency Antenna: GPS: L1 + L5, Galileo: E1 + E5a, BeiDou B1l + B1C + B2A, and QZSS: L1 + L5
Others: Wi-Fi positioning, network-based mobile positioning, and electronic compassMaps: Google Maps and other third-party map apps
Phone x1
Charger x1
Earphone x1
USB Data Cable x1
SIM Ejector Tool x1
Safety Guide x1
Quick Start Guide x1
Protective Case x1
Exclusive Service Card x1
1. A special technology is applied to conceal the proximity sensor on the upper front of OPPO's smartphone for the whole look of simplicity. It may cause abnormality of proximity function if the film or protector covers the proximity sensor area. Refer to OPPO's official layout of protector and film for details.
1. 1 billion colours refer to 10-bit colour depth, the amount of colours that can be displayed is 210 *210 *210, which is about 1.07 billion.
2. Data from DisplayMate report.
3. Videos can be taken with 10-bit when LOG or HDR is turned on under Cinematic Mode, photos can be taken with 10-bit when the "10-bit colour" switch control is turned on under default mode and night mode.
4. Find X3 Pro is splash, water, and dust resistant, and has been tested under controlled laboratory conditions with a rating of IP68 in compliance with GB/T 4208-2017 (China)/IEC 60529 (international). Splash, water, and dust resistance may decrease as a result of normal wear. The IP68 rating means that the product has passed the test under the following conditions: (1) immersed in still fresh water with a depth of 1.5 meters; (2) tested for 30 minutes; (3) no more than 5°C of difference between the water temperature and product temperature. Do not charge a wet phone. There are differences between the living scene and the experimental environment. Do not put the mobile phone completely underwater or expose it to seawater, chlorinated water or liquids such as drinks. Liquid damage is not covered under warranty.
5. Microlens camera magnification refers to the ratio of the size of an object on the screen to its actual size.
6. Compared with Find X2 Pro, in a laboratory environment, the success rate of one-time focus in a low-light environment (5lux) is increased by 7.4%.
7. By default, the screen refresh rate is High mode, the highest refresh rate is 120Hz. You can switch between Standard and High mode in Settings.
8. The O1 Ultra Vision Engine supports Video Image Sharpener and Video Colour Enhancer features, which are implemented only for certain adapted apps. You can turn on or off these features in Settings. The Video Image Sharpener is available for Photos and YouTube, and Video Colour Enhancer is available for YouTube.
9. O-Sync Display Hyper Response Engine reduces the response time from 30 to 40 milliseconds down to 5 to 10 milliseconds. And it currently supports games including League of Legends Mobile, Call of Duty Mobile, PlayerUnknown's Battlegrounds Mobile, etc.
10. The data of performance improvement on the Qualcomm® Snapdragon™ 888 mobile platform is obtained from Qualcomm website.
11. The charging data is obtained from test reports provided by the OPPO laboratory. The actual charging time may vary depending on the operating conditions or individual difference of phones, such as high or low temperature and degrading of battery performance during the use. Tests are performed under a temperature of 25±1°C, relative humidity of 25%-75%, and an atmospheric pressure of 86 kPa to 106 kPa. The tested phone is charged with a standard power adapter while it has 1% of power left, with all the services and features, except the call service, turned off. The screen is off during charging.
12. Product pictures are for reference only. Please refer to the actual product. Certain product specifications and descriptions may change due to reasons like changes in suppliers. The data in the page came from OPPO designed technical parameters, and test data from the laboratories and suppliers. In actual circumstances, the data will differ slightly, depending on the test software version, specific testing environment, and specific version.
No customer reviews for the moment.
Questions
(0)
No customer questions for the moment.
Only registered user can ask a question.
Login