IQOO Neo 7 12GB+512GB Blue
| | |
| --- | --- |
| Location: | Asia |
| Possibility to return: | Yes, within 14 days to warehouse in USA / UK or EU |
| Length of warranty | 12 months |
| Warranty Extension: | At promotional terms, up to 24 months (during checkout) |
| Dual Sim | Yes |
| Water resistance | Yes |
| 5G | Yes |
| Rom: | Original China Multilanguage (possible Google Apps) |
| Processing time for warranty service from | 6 weeks |
| Processing time for warranty repair to | 12 weeks |
Other variants / accessories
Available delivery options:
Keep track of the price drops on this item. Simply enter your email here and we will send you an email alert.
Invalid email
Watch it
You will get $ 4.05 in reward when purchase 1 of this product. The reward can be used to pay for your next orders, or converted into voucher code.
Frequently Asked Questions
Welcome to Bludiode.com
We are mobile electronics marketplace seller since 2014, we offer mostly smartphones, tablets and accessories. Our customers have right to return product locally (USA, UK, EU) and execute warranty up to 24 months. All products sold on our website are coming straight from the producers, are genuine and they are subject to the warranty. To learn more click "About us" in the website footer.
Check also these products available at local stock:
iQOO asdouble core proposer
bring upgrade again
The core is upgraded toDimensity 9000+
The display core is upgraded toIndependent Display Pro+
Defining a New Standard for Performance Gaming Experience
Golden Triangle Game Experience
Dual-core blessing smooth, calm, durable and concurrent
performance game experience a new standard.
Play Honor of Kings continuously for 1 hour4
Average frame rate 118.94 FPS4
Comfortable hand temperature 42.2°C4
Play games with iQOO Neo7
Dual-core performance flagship
Dimensity 9000+
independent display chip Pro+
Flagship performance dual-core upgrade

6.78" E5 flexible straight screen

120W ultra-fast flash charge
equivalent to 5000mAh9 extra large battery

Intelligent Cooling System

4013mm² large area VC vapor chamber

Under-screen dual control pressure sensitivity Two fingers to four fingers

Symmetrical dual X- axis linear motor 4D Game Vibration

OIS optical image stabilization

Custom IMX766V sensor

The official designated machine for the Ninth King of Glory College League
Dual-core upgrade, performance stack buff
Dimensity 9000+
TSMC's 4nm process
"core" has
excellent performance
Using TSMC's 4nm low-power process technology, equipped with a
Cortex-X2 super-large core, the main frequency is as high as 3.2GHz, and the
peak performance experience is more excellent. Computing power, transmission power, and
carrying capacity UP! Provide
full-scenario combat power support for performance, battery life, video, etc. Even for large-scale games, the
performance release is more stable.
1080717 points

Run points up to 5
Independent display chip Pro+
High frame stability, low power consumption
, worthy of your high frame game
Frame Rate Boost Mode

The independent graphics chip has super powerful computing power to supplement frames, and supports multiple games to be upgraded to 90
or 120 frames. The high frame experience is worthy of your high refresh rate.

High frame low power mode

"Glory of the King" 1 hour6
The average frame rate is about 118.94 FPS
performance iron triangle
Tacit understanding and upgrade
Enhanced LPDDR5

The new VMET function is added, and the operation is one step faster.

Overclocked version UFS 3.1

Upgrade the new Solvit controller 7 ,
fast download/copy/install.
Golden Experience Triangle, Hearty Winning
E5 Flexible Straight Screen
Dynamic smooth and pleasing to the eye
practice master eye
With a 6.78-inch 2D flexible straight screen and a new generation of E5 luminescent material, the screen display can be clearer
even under strong light !
Factory-adjusted and
independent display chip color calibration, the color reproduction is real,
delicate and natural.
2400×1080
120Hz
1500nit
8000000 : 1
Screen color calibration
Designer-level screen
color display
deltaE ≈ 0.32

JNCD ≈ 0.28

SGS Eye Care
Display Certification

HDR10+ certified
120W ultra-fast flash charge
is equivalent to 5000mAh 9 large battery
Long battery life and fast blood recovery
Grasp the golden opportunity
It adopts a dual-charge pump + dual-cell architecture with faster charging speed and higher efficiency
, intelligently matches the charging strategy,
returns to the , and is full of blood super fast. Let you quickly prepare for the battle before the game, and fight
without worry!

coming soon

9 minutes 8

Charge to 50%
Equivalent to 5000mAh 9
ultra- long battery life
During the fierce battle, you don't need to pit your teammates because of lack of electricity.
One grid of electricity can carry the whole audience.
Be a good teammate!
Play "Honor of Kings" with 100% battery power 9

7.2 hours
Intelligent Cooling System enlarged to 4013mm 2
A ruthless fingertip
It adopts the largest VC vapor chamber in the history of iQOO Neo,
with efficient heat dissipation materials and a more intelligent temperature detection and adjustment scheme.
Combination of software and hardware, fast cooling, stable heat dissipation, accurate temperature control.
4013mm² VC vapor chamber

167 %

The area reaches that of
iQOO Neo6

1283 roots

Internal capillary structure copper wire braid (approx.) for
faster thermal cycling

Multi-layer graphite heat dissipation

It fits closely with the heat source, which speeds up the heat conduction.

9 pieces

NTC high precision temperature sensor coverage

The algorithm can better diagnose abnormal heating of mobile phones.
How to control, start a game to see the real trick
The 9th Glory of Kings College League
official designated machine
Triple double blessing more immersive
control experience Fast, accurate and ruthless
This upgrade to a symmetrical dual X-axis linear motor
improves the sense of output feedback balance. With 4D game vibration
and directional skill vibration adjustment 10 , the vibration sense is more directional, and the operation is more vivid and real.
Under-screen
dual control pressure sensitivity
Press the left and right screens at the same time, and the two-finger control will change to
four-finger linkage in seconds, so you can open the mirror and shoot in one go!
Symmetrical
dual X-axis linear motor
Balanced left and right vibration, more accurate azimuth discrimination, and
a more realistic battlefield experience!
Closed three-
dimensional double lift
Surrounding stereo sound effect, hear the sound and move, and the bullets are flawless!
Game Visual Enhancement11

Support the original painting mode, the details are more real;
the general filter mode, so that the opponent has
nowhere to hide in the dark.

game voice changer

Add cute baby, warm boy, and electronic sound effects to
add more fun outside the game.

Somatosensory manipulation

6 kinds of somatosensory operation schemes,
raise hand, rotate, backward...
experience the manipulation like a magic hand.

touch control

With 2000Hz instantaneous touch
sampling rate, it is one step faster to recognize fingertips, and you can control all
your moves.

control settings11


It supports the customization of parameters such as click sensitivity, sliding and chirality, and micro-operation accuracy. There
are also parameters for professional players to refer
to.
Customized IMX766V
OIS optical image stabilization system 12
Give voice to geek images
Be a light and shadow geek, measure "my" universe
Sony
IMX766V
Sony's specially customized IMX766V sensor
escorts clear geek images.
1/1.56 inch super outsole
Sony's second-generation
color filter array technology
α anti-reflection process
Increased light transmittance
4.6 %
Compared to ordinary IMX766 12
The city or the outdoors
will be the home of "I"
OIS optical image stabilization
Desire to chase the light
in the dark
Dim face? Background glare? Noisy? Poor clarity?
The main camera is equipped with OIS optical image stabilization. In the night scene mode,
the complementary information between multiple frames of images is used to achieve
noise removal in dark light scenes, demonstrating the night scene imaging capabilities, with details in dark places
and no exposure in bright places.
motion stabilization
Willful swaying enthusiasm
highlights are still stable
The high-focus performance of the main camera, with OIS optical image stabilization,
superimposed motion_deblur technology, captures wonderful
sports moments and records peak moments!
ROI Remosaic Technology
Rescue waste film
immediate action
The main camera is equipped with ROI Remosaic technology, which is not afraid of long-distance
troubles, and the zoom is still super clear.
super wide angle
Put on a
big scene
Microfilm 2.0
Easy to learn
Vlog shooting
Classics never go out of date, accommodate future imagination
infinite geometry
When geometric figures collide with classic pixel memory,
infinite changes are produced in a limited space,
connecting the virtual digital world and the real physical world,
in the feelings of the past and the future, look forward to it!
film cloud
Pixel feelings
Contrasting leather
pop orange
impression blue
geometric black
orange
bold and edgy
stance
blue

The spirit of challenge and breakthrough
black
concise
and beating language
Good details, every aspect
Infrared remote control
The mobile phone is the "remote control" - it supports most commonly used electrical appliances such as TV, projector, air conditioner, etc.
, making life more convenient.
Full scene NFC
The mobile phone is also an electronic card holder - it supports most bank cards, transportation cards,
access control cards, and electronic ID cards, making it safe and worry-free to go out.
AI subtitles
Online real-time voice automatic subtitles, English, Japanese, Korean "raw meat"
new episodes to watch first.
Privacy and Security
The screen of a specific application is fixed , and the mobile phone is lent to
others without worrying about privacy leakage.
Privacy and Security
Remotely lock the card immediately after the phone is lost to protect
your account, property, and data security.
Thickness:
Geometric Black: 8.5mm
Pop Orange, Impression Blue: 8.85mm
Weight:
Geometric Black: 202g
Pop Orange, Impression Blue: 197g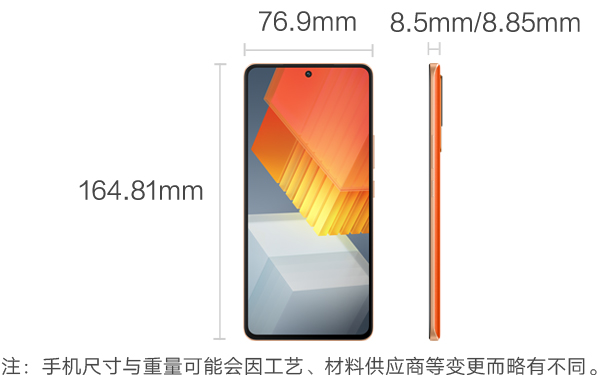 GPU (graphics processing unit) model
3.2GHz × 1+ 2.85GHz × 3 + 1.8GHz × 4
8GB/12GB (because the mobile phone system and pre-installed programs occupy part of the storage space, the actual storage space is less than 8GB/12GB)
128GB/256GB/512GB (because the mobile phone system and pre-installed programs occupy part of the storage space, the available storage space is less than 128GB/256GB/512GB)
*This product adopts double-cell series design:
typical capacity: 2500mAh (7.78V), equivalent to 5000mAh (3.89V).
Typical energy: 19.45Wh
Rated capacity: 2440mAh (7.78V), equivalent to 4880mAh (3.89V).
Rated energy: 18.98Wh
120W ultra-fast flash charging
Theoretical 4G single-card standby time: the 8GB storage version machine can reach up to 506.4 hours; the 12GB storage version machine can reach up to 482.4 hours.
Theoretical 4G Volte talk time: up to 17.2 hours for the 8GB storage version; up to 17 hours for the 12GB storage version.
Remarks: The data are the test results under the standard environment of our laboratory, and the actual standby time may vary depending on the actual local network conditions and usage habits.
16.7 million colors, P3 color gamut
No customer reviews for the moment.
Questions
(0)
No customer questions for the moment.
Only registered user can ask a question.
Login