| | |
| --- | --- |
| Location: | Asia |
| Possibility to return: | Yes, within 14 days to warehouse in USA / UK or EU |
| Length of warranty | 12 months |
| Warranty Extension: | At promotional terms, up to 24 months (during checkout) |
| Dual Sim | Yes |
| 5G | Yes |
| Rom: | Original China Multilanguage (possible Google Apps) |
| Processing time for warranty service from | 6 weeks |
| Processing time for warranty repair to | 12 weeks |
Other variants / accessories
Keep track of the price drops on this item. Simply enter your email here and we will send you an email alert.
Invalid email
Watch it
You will get $ 3.07 in reward when purchase 1 of this product. The reward can be used to pay for your next orders, or converted into voucher code.
Frequently Asked Questions
Welcome to Bludiode.com
We are mobile electronics marketplace seller since 2014, we offer mostly smartphones, tablets and accessories. Our customers have right to return product locally (USA, UK, EU) and execute warranty up to 24 months. All products sold on our website are coming straight from the producers, are genuine and they are subject to the warranty. To learn more click "About us" in the website footer.
Check also these products available at local stock:
Please enjoy the new colors , "Resurrection" masterpiece
Joined forces
X60 series equipped with Zeiss co-vivo imaging system, equipped with Zeiss optics, so
get product photography features more powerful. While reproduction of the primitive beauty of the scene, playing
build custom class professional image.
Second-generation micro-head
The micro pan-tilt can stabilize the shooting picture through the reverse motion compensation of the camera lens; the 48 million main camera is used to
easily capture wonderful moments.
Full scene super night view
Black Light Night Vision 2.0
never understand the darkness of night
The new AI noise reduction model is used for high-precision noise processing, even if the surroundings are dark, it can still take bright pictures in hand.
Super backlit night portrait
Your beauty is day and night. You must be C in the night. Portrait night scene optimization, so that your beauty can be easily focused even in the dark.
Super night view
Ultra wide-angle night view
Panoramic night view as far as the
eye can see, package all
120 ° wide-angle shooting 2 , can easily create large night scene, a hand mirror. Wide
angle is not enough? Panoramic night view is offered.
Sports shooting
No matter how
fast you run the multi-focal motion capture , the
lens will catch up
Record the "beauty" moment of growth
Child-specific sports portrait mode, instantly take beautiful children's photos, remembering every moment.
Full scene
smart image
Record, the true and brilliant you
Equivalent to a 50mm professional portrait lens, realizes fine adjustment of the face and retains the real texture. Zeiss Biotar more people
like style, reproduction fantasy lens rotation blur effects.
Pick up, happy past
Old, fuzzy photos, one-click renovation, black and white portrait photos, instantly restore colors.
5nm flagship chip
Hush! Don't scream
The X60 series adopts the industry's first batch of 5nm process chips, and the new A78+G78 architecture is powerful and needless to say.
Support dual-mode 5G 3 , always online, enjoyable experience.
The pleasure of 8+3GB storage
8GB memory on the X60 4 based on the use of fusion memory 5 ,
may invoke 3GB memory on the memory space to be used immediately shared
by memory on 8 + 3GB of pleasure. While achieving the kernel-level reconstruction, beat
creation of nature consistent and smooth dynamic effect.
Under heavy application scenariosImproved system background keep-alive capabilityImproved storage efficiency
58%37%
Ultra-fast flash memory UFS 3.1
large files, second reading
Ultra-high-definition movies, videos, and large files can all be read quickly,
easily satisfying everyone's running and storage needs, and providing a smoother
running experience.
95%

Sequential reading speed increased by 7

411%

Sequential write speed increased by 7
120Hz high refresh rate +240Hz high sampling rate 7
eyesight, all smooth
Refresh rate 60Hz
Refresh rate 120Hz
LTM Sunshine Screen
No matter whether it is bright or dark, it always looks good
The LTM sun screen developed by vivo in cooperation with Samsung uses HDR 10+ technology and E3 luminescent materials, and the screen
is still clear and comfortable to see under strong light.
Gaming gaming, cool enough to fight
HD game screen and smooth, Hawkeye mode 2.0 and 2.0 games eye to protect the quality of the game body
at the same time experience, even if the long game, still effectively relieve eye fatigue.
If not paying attention, it is full
Let your phone quickly return to blood, and enjoy an unstoppable life.
parallel world
OriginOS is full of exploratory spirit, we retain
compatibility with tradition while innovating . Now, you can freely shuttle between the two worlds of exploration and classics.
Behavior Wallpaper
We will concentrate as a flower blooming process a few seconds, the way encourage this healthy form
became the physical world and the digital world is a wonderful connection.
Deformer
Without a round trip each System Settings page, a new push
out of the deformities in a WYSIWYG manner
style, make you able to do anything on the main screen
desktop effects DIY, easy self-expression.
Camera Mix
The highlight moments
are in place at any time.
Integration of the camera lens and camera, the usual mirror
head all income, is ready to use. Use horizontal swipe gestures to
call up the card package, and choose the payment card package or lens package at will.
Specifications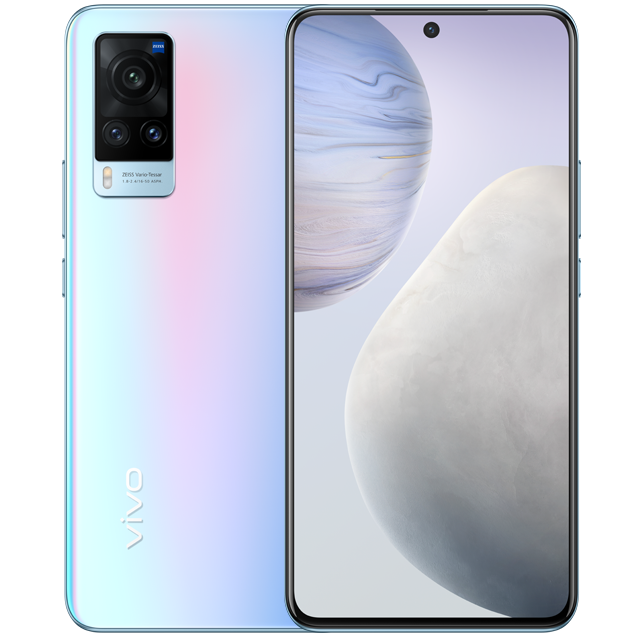 Height: 159.63mm
Width: 75.01mm
Thickness: Force 7.36mm, shimmer, Huacai 7.4mm
Weight: Original Force 175.6g, Shimmer, Huacai 176.2g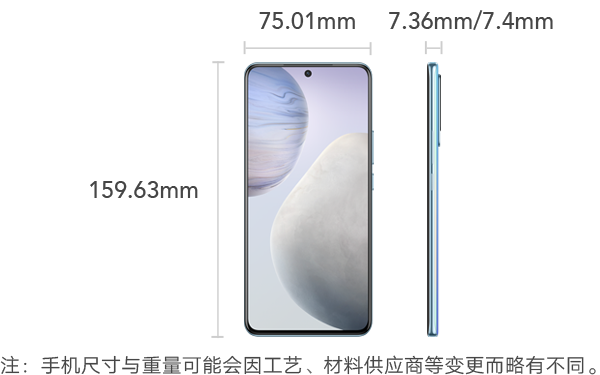 CPU core number
Eight-core processor
CPU frequency
2.8GHz*1+2.6GHz*3+2.0GHz*4
GPU (graphics processing unit) model
Operating memory (RAM)
8GB/12GB (Because the mobile phone system and pre-installed programs occupy part of the storage space, the actual storage space is less than 8GB/12GB)
Body storage (ROM)
128GB/256GB (Because the mobile phone system and pre-installed programs occupy part of the storage space, the available storage space is less than 128GB/256GB)
RAM type
LPDDR4X four channels
ROM type
battery capacity
4300mAh (typical value)
Charging specifications
33W flash charge
type of battery
lithium battery
OTG reverse charging
Screen-to-body ratio
92.76%
Screen color
16 million colors, P3 color gamut
HDR technology
Support HDR10 and HDR10+
touch screen
Front camera pixels
32 million pixels
Front camera aperture
f/2.45
Number of rear cameras
Rear camera pixels
48-megapixel micro-head camera (4-axis OIS anti-shake, closed-loop motor)
Rear camera aperture
f/1.79 (rear main camera), f/2.2 (rear wide-angle), f/2.46 (rear portrait)
Rear flash
Yes
sensor
Anti-shake type
auto focus
Zoom mode
13-megapixel wide-angle camera (120° super wide angle of view, 108° wide angle after turning on distortion correction.)
13-megapixel portrait camera (50mm equivalent focal length )
Shooting mode
Video recording format
Support UHD, FHD, HD recording
Video recording
Yes
The rear main camera supports micro-panel anti-shake, and the rear supports video anti-shake
The rear three cameras all support AF autofocus
Rear support digital zoom
Front: night scene, portrait, photo, video, panorama, dynamic photo, short video, AR cute shooting
Rear: night scene, portrait, photo, video, panorama, dynamic photo, slow motion, short video, high pixel, professional mode, Time-lapse photography, AR cute shooting, document correction, sports capture, starry sky
MP4
Network Type
Support mobile/Unicom/Telecom 5G/4G and other networks, SA & NSA 5G dual mode
Network frequency band
2G GSM: 850/900/1800/1900MHz;
2G CDMA: BC0;
3G WCDMA: B1/B2/B4/B5/B8;
3G CDMA2000: BC0;
4G TDD-LTE: B34/B38/B39/B40/B41;
4G FDD-LTE: B1/B2/B3/B4/B5/B7/B8/B28A;
5G: n1/n3/n28A/n41/n77/n78/n79.
SIM card type
Dual card instructions
Note: SA support capability depends on the available network and software version.

Note: Networks and frequency bands in different regions may be different. Depends on the local operator and your location.
You can manually switch the data network through settings, and set Card 1 and Card 2 as Internet access cards at will; if two telecom cards are used at the same time, the secondary card (non-data card) must be activated and activated VoLTE high-definition calls on mobile phones require the operator's network to support 4G VoLTE services to use dual telecom cards. Supports 5G + 4G, but only supports data card 5G (5G services require the support of the operator's network to be used)
AAC, AMR, MIDI, OGG, FLAC, WMA, WAV, APE, MP3
Face Wake facial recognition
Yes
operating system
OriginOS 1.0 developed based on Android 11.0
Support Jovi voice, Jovi homepage, smart vision and other functions
data links
WLAN
Support WLAN 2.4G, WLAN 5.1G, WLAN 5.8G frequency; support Wi-Fi6 enhanced version, Wi-Fi5 standard; support WLAN Display function.
WLAN hotspot
Yes
Bluetooth transmission
Yes, Support Bluetooth 5.1
Bluetooth audio specifications
Yes
USB interface type
Type-C
Headphone jack standard
Type-C
navigation
Support (including Beidou/GPS/GLONASS/Galileo/QZSS)
cloud service
Color temperature sensor
Yes
Remarks:
1. The original force of the X60 standard version weighs about 175.6g and is about 7.36mm thick. The shimmer, Huacai weighs about 176.2g and is about 7.4mm thick.
2. After turning on the distortion correction, the wide angle is 108°.
3. The 5G network of this product supports SA & NSA mode. The SA support capability depends on the available network and software version; the specific networking situation and network coverage of the 5G network are subject to the actual deployment of the operator.
4. As the mobile phone system and pre-installed programs occupy part of the storage space, the actual storage space is less than 8GB. There is also a 12GB version.
5. Powered by Multi-Turbo.
6. Compared with the previous generation X50, the X60 sequential read speed increased by 95%, and the sequential write speed increased by 411%. The data will vary due to different storage configurations.
7. The screen refresh rate defaults to smart switching. The refresh rate is automatically switched according to the scene to reduce power consumption. You can go to the system settings to choose smart switching, 60Hz, 120Hz mode; some game scenes support up to 240Hz sampling rate, different applications or In the game interface, the screen refresh rate and touch sampling rate may be slightly different, please refer to the actual situation.
8. X60 is equipped with vivo's official standard charger (Flash charging source adapter 11V/3A), which can support up to 33W flash charging; the actual charging power will be dynamically adjusted according to the change of the scene, please refer to the actual usage.
9. The appearance diagram, internal structure diagram, and product effects of the mobile phone on the page are for reference only. Actually, there may be differences in details such as colors and silk screens due to different lighting conditions and production batches. Please refer to the actual product.
10. The data and parameters on the above page are the test results under the standard environment of our laboratory, and some of the data are peak data. The actual conditions of the data and parameters will vary slightly due to the test environment and test software.
11. The pixels of different shooting modes may be different, please refer to the actual situation. Part of the sample size has been cropped for reference only, please refer to the actual shooting effect.
12. As some specifications, parameters, parts and appearance details of the product (for example, whether there is a silk screen on the battery cover) may change due to supplier replacement or production batches, vivo will update the description on the page in real time according to adjustments. Please check carefully.
13. The use of a third-party film on X60 will affect the screen fingerprint recognition effect, please be sure to use the "vivo screen fingerprint official custom film". Please note that the micro-seam of the handset cannot be covered when pasting the film. When using glue for pasting the 3D toughened film, do not flow into the micro-seam of the receiver and the side buttons.
14. The screen size is the length of the right-angle diagonal of the screen measured in accordance with a standard rectangle, and the actual viewing area is slightly smaller.
15. ZEISS, the ZEISS logo, is a registered trademark of Carl Zeiss.
No customer reviews for the moment.
Questions
(0)
No customer questions for the moment.
Only registered user can ask a question.
Login