VIVO X Fold Plus + 12GB + 256GB Blue
| | |
| --- | --- |
| Location: | Asia |
| Possibility to return: | No |
| Length of warranty | 12 months |
| Warranty Extension: | No |
| Dual Sim | Yes |
| 5G | Yes |
| Rom: | Original China Multilanguage (possible Google Apps) |
| Processing time for warranty service from | 6 weeks |
| Processing time for warranty repair to | 12 weeks |
Other variants / accessories
Available delivery options:
Keep track of the price drops on this item. Simply enter your email here and we will send you an email alert.
Invalid email
Watch it
You will get $ 9.04 in reward when purchase 1 of this product. The reward can be used to pay for your next orders, or converted into voucher code.
Frequently Asked Questions
Welcome to Bludiode.com
We are mobile electronics marketplace seller since 2014, we offer mostly smartphones, tablets and accessories. Our customers have right to return product locally (USA, UK, EU) and execute warranty up to 24 months. All products sold on our website are coming straight from the producers, are genuine and they are subject to the warranty. To learn more click "About us" in the website footer.
Check also these products available at local stock:
Vivo X Fold
2K+ 120Hz excellent screen
2K+ E5 super-sensing folding giant screen, 120Hz refresh rate inside and outside.
Aerospace-grade worry-free hinge, worry-free folding. 3D Ultrasound Dual Screen Fingerprint.
Snapdragon 8+, stronger core
Upgrade Snapdragon 8+ flagship processor, TSMC 4nm process,
dual 5G dual card dual pass. SPU chip-level privacy security guard.
80W fast charge evolution
80W dual battery flash charge + PD dual port charger,
50W wireless flash charge, equivalent to 4730mAh large voyage battery.
Folding ecological upgrade
It supports the compatibility of TOP 5000+ APPs, and the
key adaptation of 200+ APPs. Among them, high-frequency APPs such as WPS and WeChat reading have
achieved deep adaptation. It can meet 90% of the user's daily
use time.
ZEISS Professional Imaging
Zeiss T* optical lens, four shots at all focal lengths,
master image.
Round and round
The square-
shaped canvas and the ring embellished with the faint golden ring are integrated with the
continuous surface craftsmanship. The oriental artistic conception interprets the beauty of science and technology.
Self-contained aesthetic realm
The profound background that runs through the Chinese civilization symbolizes the
nation's hope, self-confidence and forge ahead.
this one"Huaxia Red"The color matching also represents vivo's tribute to the Chinese civilization's forge ahead, pioneering and innovative.
Physical mute button
One-click mute, focus on the moment and
avoid interruptions.
Sunny Mountain Blue

Huaxia Red

Sycamore Ash
Peerless screen
more than big
The external screen adopts a 6.53-inch 2 ,
120Hz E5 super-sensitive micro-curved screen.
The inner screen adopts 8.03-inch 2 4:3.55 golden
ratio , 2K+ 120Hz E5 LTPO super-sensing folding
giant screen, ultra-high display effect and color accuracy.
32.4 % Reduced power consumption
UTG super tough glass

High light transmission, strong pressure resistance

LTPO Adaptive Refresh 3

Intelligently adjust the refresh rate according to the scene

FrameShare Ultra HD Certification

Full of details, great to see

HDR10+ certified

High dynamic range, the picture is more gorgeous
Superconducting antireflection coating 4
Clearer under complex light sources .
70 %
Enhanced effect
Superconducting anti-reflective coating

First-class in the industry
3D ultrasound
Dual screen fingerprint
Breaking through the bottleneck of the industry, the industry-leading folding screen fingerprint technology enables the
new upgrade of vivo X Fold+. Say goodbye to side
restraints, reduce accidental touches, and be comfortable and convenient. Flagship unlocked, as it
should be.
Hassle-free folding
Flatten like a mirror
First-class in the industry
aerospace grade
Hassle-free hinge
With the six-layer aerospace material, there is more UTG super tough glass, high rebound torque, better screen recovery, shallower and narrower "invisible crease" 5 , more durable bending life, more smooth and easy opening and closing feel.
Zirconium alloy floating middle plate
Zirconium alloy floating middle plate, one rise and one fall, greatly improve the crease, and the crease
depth is less than 0.12mm. 6 The screen floats up to support the screen when unfolded, sinks to avoid squeezing when folded, and the inner screen is reliably protected between floating.
Crease depth
Six heavy
aerospace grade materials
01

Liquid metal zirconium alloy

02

Titanium alloy

03

301 hand tearing steel sheet

04

FS53 Aviation Steel

05

carbon fiber

06

18Ni250
Fold without compromise
Breakthrough in performance

a strong core

Folding true flagship, Snapdragon 8+ flagship chip,
stronger performance and lower power consumption.
4nm
TSMC process technology

GPU|CPU
Snapdragon 8+ mobile platform
Snapdragon 8 Mobile Platform
30 %
Reduced power consumption8
GPU|CPU
Snapdragon 8+ mobile platform
Snapdragon 8 Mobile Platform
10 %
Comprehensive boost 8
AnTuTu 7

1.1 million

Flagship benchmark

Arm
Cortex-X2

3.2GHz super core

Dual 5G Dual SIM Dual Pass

Improved communication capabilities
Folding screen debut
dual 5G dual card dual pass 9
Continuous talk, continuous network, no missed connection
Dual 5G Dual SIM Dual Pass

Dual 5G dual-card dual-pass, online calls are correct, and dual-card incoming calls are not missed.
Important calls and text messages are not missed; games and files are continuously transferred to the Internet, and the
signal is high-speed and stable at critical moments.

Full scene signal AI enhancement

Effective identification of weak signal scenarios, special optimization enhancements, and
smooth communication on elevators, subways and high-speed trains.
privacy security
Full privacy protection
Re-create excellence
On top of the performance explosion, it also cooperates with Qualcomm to customize the development of the
SPU security processing unit, giving the product hardware-level
security protection capabilities.
Qualcomm SPU
chip-level security guard
Qualcomm Snapdragon 8+ has a built-in SPU security processing unit
to provide hardware-level protection for privacy.
incognito mode
Turn off the camera, microphone and positioning with one click
to prevent privacy leakage.
Atomic Privacy System
The atomic privacy system has
four features: local storage, incognito browsing, data isolation, and background protection.
Qianjing
Security Architecture
Based on the Qianjing security architecture, it
provides security protection for chips, kernels, systems and applications at all levels, and the entire link is strictly guarded and always at ease.
Dual battery
Endurance strength
beyond imagination
80W 10

Dual battery flash charge

50W

11

Wireless Flash Charge

Charge to 70% in as fast as 18 minutes


and 100% in 35 minutes 12

Equivalent 4730mAh 13


voyage large battery

Independent protection circuit x 4
Gallium Nitride PD Dual Port Charger14
Charge two devices at the same time
Wide-area superconducting nano-cooling system
The heat dissipation system covers the main heat sources such as the screen, CPU, and battery compartment in an all-round way, creating an extraordinary heat dissipation
effect, achieving long battery life and high performance.
Gundam
27217 mm 2
Cooling area
Fold and enjoy
Innovation keeps on hover
Multi-angle hover 15
Innovative experience
Hover up the vivo X Fold+ to free
your hands: watch videos, exercise with tutorials, and
take with new poses.
Hover experience
Hover video call upgrade

During corporate WeChat, QQ, DingTalk, etc.* video calls, the phone is folded into a
hovering state and placed in a quiet place, the upper half of the screen can display the video call content, and
the lower half of the screen can be clicked to control mute, share (not supported by QQ) and other operations. Free
hands, take notes, organize documents, and interact with body language
more conveniently.

Hover to watch
*In addition to QQ and DingTalk for video calls, new applications such as corporate WeChat have been added. The clarity of the video screen is mainly based on the actual APP experience.
*Added adaptations: i Video, Migu Video, Mango TV, CCTV Video, CCTV, Huya, Douyu, Daily Yoga, Chaos.
Big screen experience
X Fold+ is now compatible with 5000+ APPs, and
200+ APPs fit into the folded form, which can meet 90% of the
daily . Simultaneously launched the adaptive engine
1.0, which automatically adapts to three-party applications, and supports the WPS
speaker mode, so that mobile phones can also cast speeches.

One-screen multi-purpose
handy
app split screen

When the app is on a large screen, three-finger swipe up to easily
split the app. It is clear at a glance.

sidebar window

Split screen double small windows

Big screen finance
mobile office
Folding efficiency office

vivo X Fold+, your mobile office station. Meetings, schedules, documents... Support split-screen multi-task
display , professional and efficient office capabilities, allowing you to calmly
deal with every challenge.
Amber Documentation

Take documents, get documents, take documents, get documents.

WeChat tablet mode

focus mode
Quantum Kit

PC/MAC computer cross-screen interconnection, real-time synchronization of multiple devices,
direct drag and drop of files and photos, to realize document transmission and editing across devices.
ZEISS Professional Imaging
Full focal length flagship quad camera
Zeiss optics

The picture is purer when shooting night scenes, and the distortion is smaller when shooting landscapes with wide angles.
ZEISS T* Coating
Effectively reduce stray light and ghosting, pure and clear better than ever.
Zeiss
Four cameras at all focal lengths
50-megapixel
super-bottom main camera

1/1.57" outsole

OIS optical image stabilization

f/1.75 large aperture

60x
periscope super telephoto

60x long zoom

OIS optical image stabilization

Easily zoom in on distant scenery

48-megapixel
114° ultra-wide-angle main camera

114 degree ultra-low distortion design

Professional portrait lens

47mm equivalent focal length
Hover to shoot
Hover Innovation Experience
Photography is more exciting
Hover the vivo X Fold+ to shoot the experience, free
your hands, and take pictures with new poses.
Hover to release hands
Hover and place the mobile phone, not afraid of hand shaking, and liberate the creativity of images.
External screen preview help
Someone else shoots for you, and you can easily preview it.

Rear easy selfie
Rear Selfie, external screen preview, high-quality Selfie can be easily done.
see far
It can bring distant scenery closer, and supports up to
60x long zoom. 17
Zeiss Super Night View
Super backlight pure night scene
Thanks to the Zeiss T* coating, anti-glare, effectively reduce ghosting, and
harvest pure night.
polar night video
Even in extremely dark environments, clear night scenes can be captured.
Zeiss lens bag
The night scene portrait is bright and soft, and you can also use the Zeiss classic lens package, and you can
get large portraits with one click. It is not a problem to take a big group photo, with the help of the
textured portrait group photo function, everyone can make a high-definition appearance.
ZEISS Planar 2.8/80
ZEISS Sonnar 2.8/180
ZEISS Distagon 2.0/28
ZEISS Biotar 1.5/75
Good sound to wake up the ears
Stereo dual speakers, combined with Hi-Fi chip, create full and layered surround sound,
no matter whether it is headphones or external speakers, good sound quality is always close to your ears.
generalist have everything
Infrared remote control
Sanmai movie-level recording
barometer
NFC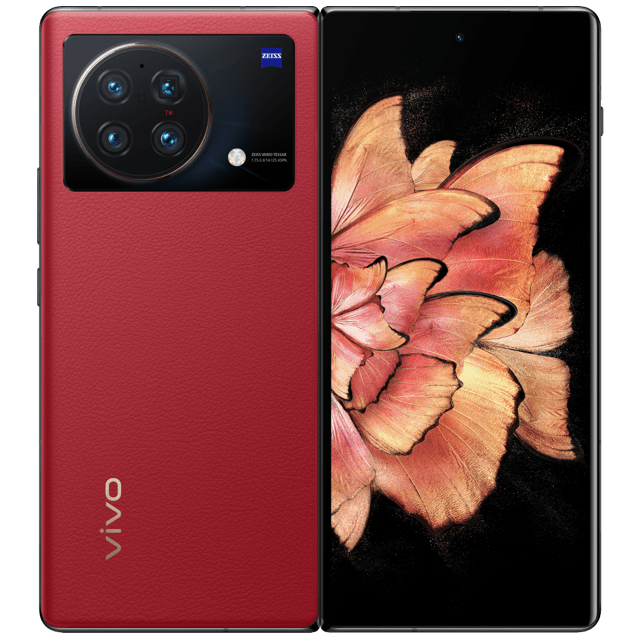 Huaxia Red
Sunny Mountain Blue
Sycamore Ash
Physical Specifications
Height: 162.01mm
Width: 74.47mm (folded)
144.87mm (unfolded)
Thickness: 14.57~14.91mm (folded)
6.28~7.40mm (unfolded)
Weight: 311g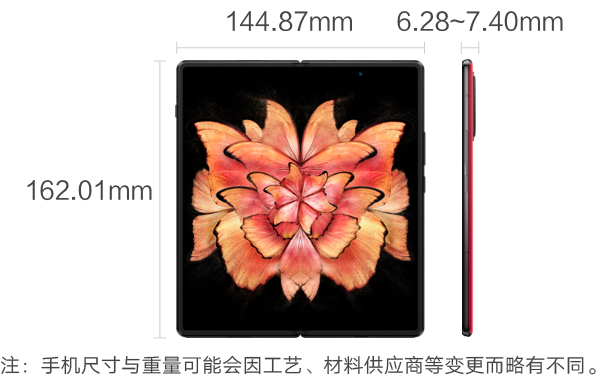 processor
CPU model
1st Generation Snapdragon 8+ Mobile Platform
Number of CPU cores
Octa-core processor
CPU frequency
3.2GHz×1+2.75GHz×3+2.0GHz×4
CPU bits
64 bit
CPU process
4nm
GPU (graphics processing unit) model
storage

Running memory (RAM)
12GB (As the mobile phone system and pre-installed programs occupy part of the storage space, the actual storage space is less than 12GB)
On-body storage (ROM)
256GB/512GB (Because the mobile phone system and pre-installed programs occupy part of the storage space, the available storage space is less than 256GB/512GB)
RAM type
LPDDR5 Quad Channel
ROM type
UFS3.1
battery information

battery capacity
*This product adopts dual battery series design:
Typical capacity: 2365mAh (3.89V) dual battery, equivalent to 4730mAh (3.89V) single battery.
Typical energy: 18.39Wh
Rated capacity: 2300mAh (3.89V) dual battery, equivalent to 4600mAh (3.89V) single battery.
Rated energy: 17.89Wh
Charging Specifications
80W Flash Charge & 50W Wireless Charge
Battery Type
lithium battery
OTG reverse charging
yes
Theoretical standby time
Theoretical 4G single card standby time: up to 14.2 days.
Theoretical 4G Volte talk time: up to 16.6 hours.
Remarks: The data are the test results under the standard environment of our laboratory. The actual standby time varies depending on the actual local network conditions and usage habits.
screen display
Dimensions (inches)
Inner screen: 8.03 inches / Outer screen: 6.53 inches\
screen ratio
Inner screen: 4:3.55 / Outer screen: 21:9
screen front panel coverage
Internal screen: 89.45% / External screen: 88.75%
Resolution
Inner screen: 2160 × 1916 / Outer screen: 2520 × 1080
screen color
16.7 million colors
HDR technology
yes
Contrast
8000000:1
screen material
AMOLED
touch screen
Capacitive multi-touch
refresh rate
Internal screen: 120Hz
External screen: 120/60Hz
Camera
front camera pixels
16 million pixels
Front camera aperture
f/2.45
Number of rear cameras
4
rear camera pixels
50-megapixel OIS main camera with ultra-large bottom (OIS image stabilization, f/1.75 aperture) 48-megapixel 114° ultra-wide-angle main camera (114-degree ultra-low distortion design, f/2.2 aperture) 12-megapixel professional portrait camera (47mm equivalent) focal length, f/1.98 aperture) 8 million pixel OIS periscope super telephoto (5x optical zoom, 60x super zoom, OIS anti-shake)
rear camera aperture
f/1.75 (50-megapixel OIS ultra-large bottom main camera), f/2.2 (48-megapixel 114° ultra-wide-angle main camera), f/1.98 (12-megapixel professional portrait camera), f/3.4 (8-megapixel OIS latent camera) telephoto lens)
rear flash
yes
sensor
CMOS
Anti-shake type
Both the rear super-large bottom main camera and the periscope super telephoto support OIS image stabilization, and all rear lenses support video image stabilization.
auto focus
All four rear cameras support AF autofocus
zoom mode
The rear supports 5x optical zoom and 60x super zoom
Shooting mode
Front: night scene, portrait, photo, video, dynamic photo, etc.
Rear: high pixel, night scene, portrait, photo, video, professional, panorama, dynamic photo, slow motion, time-lapse photography, smart vision, super moon, super clear Documents, starry sky, sports snapshot, time slow door, dual-view video, super group photo, etc.
Video recording format
MP4
video recording
Supports up to 8K ultra-high-definition video shooting
Slow motion up to 1080P shooting
Network parameters
Network Type
Support mobile/Unicom/Telecom 5G/4G and other networks, SA & NSA 5G dual-mode
Note: SA support capability depends on the available network and software version.
network frequency
2G GSM: 850/900/1800/1900MHz;
2G CDMA: BC0/BC1;
3G WCDMA: B1/B2/B4/B5/B6/B8/B19;
4G FDD-LTE: B1/B2/B3/B4/B5/ B7/B8/B12/B17/B18/B19/B20/B25/B26/B28/B32/B66;
5G SA: n1/n2/n3/n5/n7/n8/n12/n20/n28/n66/n38/n40 /n41/n77/n78/n79;
5G NSA: n38/n41/n77/n78/n79;
SIM card type
dual nano
Instructions for using dual cards
1. Card slots 1 and 2 can be arbitrarily switched to data cards;
2. Support SA/NSA dual-mode 5G (5G services can only be used with operator network support);
3. If the data card is a China Mobile or China Unicom card, not a data card Support "Mobile 5G/4G/2G, Unicom 5G/4G/3G/2G, Telecom 2G/4G 5G (VoLTE service needs to be activated)";
4. If the data card is a telecom card, the non-data card supports "Mobile 5G/4G/ 2G, Unicom 5G/4G/3G/2G, Telecom 5G/4G (VoLTE service needs to be activated, if VoLTE service is not activated, the network cannot be registered)".
music and sound
Hi-Fi
yes
music player
AAC, AMR, MIDI, OGG, FLAC, WMA, WAV, APE, MP3
MP3 Ringtones
yes
recording
yes
operating system
OriginOS Ocean based on Android 12.0
Support voice, Jovi homepage, smart vision, Jovi InCar (smart car) and other functions
Data Connections
WLAN
Support frequency band WLAN 2.4G, WLAN 5G; support functions include Wi-Fi Display, 2*2 MIMO, 2.4G&5G dual-channel concurrent, MU-MIMO, Wi-Fi 6.
Wi-Fi hotspot
yes
Bluetooth transmission
Support Bluetooth 5.2
Bluetooth Audio Specifications
SBC, AAC, aptX, aptX HD, aptX Adaptive, LDAC
Bluetooth Apt-X
OTG
USB interface type
Type-C
USB version
USB3.2 Gen1
DP screen projection
yes
Headphone jack standard
Type-C
navigation
Support (including Beidou/GPS/GLONASS/Galileo/QZSS/NavIC)
NFC
yes
cloud service
yes
FM function
no
sensor
Accelerometer
yes
Ambient light sensor
yes
Proximity sensor
yes
Gyro
yes
Electronic compass
yes
other sensors
Physical gyroscope, Laser focus sensor, air pressure sensor, hall sensor, color temperature sensor, infrared remote control
Built-in application

social contact
Film and television music
Common tools
infotainment
Life
Built-in application notes
Sina Weibo
Tencent Video, Himalaya
App Store, iMusic, iTheme, iManager, File Management, Game Center, Cloud Service, Mutual Transfer
e-book
AutoNavi Map, Ctrip, Dianping
The above built-in application list is for reference only, please refer to the actual built-in application.
The screen refresh rate is 60Hz by default, and the refresh rate is automatically switched according to the scene to reduce power consumption. You can go to the system settings to choose the smart switch, 60Hz or 120Hz mode.
The screen size is the length of the diagonal diagonal of the screen measured according to a standard rectangle, and the actual viewable area is slightly smaller.
"LTPO adaptive refresh rate intelligently adjusts the refresh rate according to the scene, reducing power consumption by 47.4%" means that compared to 120Hz, 1Hz scene LTPO can save up to 47.4% of power consumption.
The anti-reflection effect of superconducting anti-reflection coating is increased by 70%. The data of anti-reflection effect is compared with that of ordinary AF coating, and the data comes from vivo laboratory.
Hidden creases do not mean that there are no creases at all. It is normal for creases to occur with various factors such as the use environment and use time.
The data comes from the Rhein Lab.
The running score data comes from vivo laboratory, using 12GB+512GB version mobile phone, and obtained through the test of AnTuTu version 9.2.7; the actual may vary due to different test environments, test software, etc.
Compared with the Snapdragon 8 mobile platform, the data comes from Qualcomm official. The improvement specifically refers to a 10% increase in CPU performance and a 10% increase in GPU frequency.
The dual-card dual-pass function depends on the operator's 5G VoNR deployment and subsequent software upgrade support, and operators can be consulted in different regions. The network and call conditions may vary due to environmental and operator factors, please refer to the actual use.
vivo X Fold+ mobile phone is equipped with the official standard charger + data cable (flash charging power adapter 20V/4A MAX), which can support up to 80W flash charging; the actual charging power will be dynamically adjusted with the scene changes, please refer to the actual usage .
With the product's official wireless charging stand + standard charger + data cable, the vivo X Fold+ mobile phone can support up to 50W wireless flash charging when the mobile phone is in the state of bare metal folding; the actual charging power will be dynamically adjusted with the scene changes, please use the actual The usage shall prevail. Wireless charging stand sold separately.
Ambient and mobile phone temperature 25℃±1℃, test conditions: when the battery power of the mobile phone is 1%, other mobile phone services and functions except calls are turned off, and when the bare metal is unfolded and the screen is turned off, it is charged with the official standard charger of the product + data cable ; Actual data may vary due to different test environments, different user charging scenarios, different initial charging temperatures of mobile phones, and long-term battery wear and tear.
The 4730mAh battery capacity that appears on all pages is equivalent capacity, and this product adopts a dual-battery series design. Typical capacity: 2365mAh (3.89V) dual battery, equivalent to 4730mAh (3.89V) single battery. Typical energy: 18.39Wh. Rated capacity: 2300mAh (3.89V) dual battery, equivalent to 4600mAh (3.89V) single battery. Rated energy: 17.89Wh.
The device that needs to be charged also supports the corresponding charging protocol, and the protocol matching can trigger the corresponding fast charging.
The product unfolds from the closed state and supports hovering from 60 degrees to 120 degrees.
It is only displayed on the interactive page and does not represent investment advice.
It supports up to 60x super zoom, and the sample shows the effect of 30x zoom.
The appearance diagram, internal structure diagram and product effect of the mobile phone on the page are for reference only. In fact, there may be differences in details such as color and silk screen due to different lighting conditions and production batches. Please refer to the actual product.
The data and parameters on the above pages are the test results under the standard environment of our laboratory. The actual situation of the data and parameters (for example: aperture parameters) may vary slightly depending on the test environment, test software, and supplier material batches.
The above sample materials are shot with vivo X Fold, which is consistent with the functions of vivo X Fold+. The sample effect is for reference only. The pixels of different shooting modes may be different. Some sample sizes have been cropped. Please refer to the actual experience for the specific shooting effect.
Since some specifications, parameters, parts, and appearance details of the product (for example, whether the battery cover has silk screen printing) may change due to supplier replacement or production batch, vivo will update the description on the page in real time according to the adjustment, please Closer look.
This machine has been equipped with a special protective film for screen fingerprints when it leaves the factory. Do not use other third-party protective films to avoid affecting the fingerprint recognition effect or causing other security risks. If you need to replace it, please go to the vivo customer service center or experience center.
ZEISS, the ZEISS logo, and T*, are registered trademarks of Carl Zeiss.
No customer reviews for the moment.
Questions
(0)
No customer questions for the moment.
Only registered user can ask a question.
Login