120W,
redefine fast charging.
FlashCharge 120W ultra-fast flash charging. The industry`s first 6C system battery cell, which increases the maximum power to 120W, refreshes the charging speed of mobile phones! After washing and putting on makeup, the battery is full of blood and resurrected! At the same time, it can charge devices that support PD charging protocol.
Rheinland safe fast charge certification
Obtained the authoritative laboratory-TÜV Rheinland safe fast charging certification, you can enjoy the pleasure of fast charging at ease.

Intelligent charging, the
battery is more durable.
Intelligent charging mode* can judge your rest time. When the battery is charged to 80%, the charging will be automatically suspended, and the full charge will be restored to 100% before the end of the rest, which can slow down battery aging and extend battery life appropriately.
25% increase in CPU performance and 35% reduction in GPU power consumption
Note: This data is derived from the comparison result with Qualcomm Snapdragon 855.
2.84GHz

CPU core frequency up to

Adreno650 (587MHz)

GPU upgrade to
Turn on the "cooling" mode for the phone.
Superconducting VC liquid cooling system. The area is as high as 14581mm², the heat conduction area is increased by 21.4%*, the heat dissipation efficiency is greatly improved, the charging is calm, and the game is cold.
Note: This data is derived from the comparison result with iQOO 3.
Multi-Turbo 4.0 is
fully guarded, with ease.
Process guardian + energy guardian, predict abnormal stalls, quickly repair, reduce energy consumption, and escort the smooth operation of mobile phones.
Track version
The matte glass back cover, carbon fiber texture reproduces the high-end texture of the racing interior; the blue polished sides on both sides, like a galloping beam, are all on the track.
Legendary Edition
Fusion of legendary three colors, plain soft leather inherits the spirit of the track, the legend of the game is still on the road.
Pure perception,
immersed in it.
iQOO 5 Pro is equipped with a 120Hz super visual flexible screen. 3D curved surface, the left and right borders are only 1.48mm, the screen is thinner and the screen is more immersive.
Follow the hands smoothly, and the game is more sound.
With 120Hz refresh rate and 240Hz touch sampling rate, it brings a more realistic game screen and faster touch response.
Clear image, as in front of you.
The screen has passed SGS Eye care Display and HDR10+ certification, with more vivid colors and lower blue light damage. There are also video super-scores. When you brush Weibo, Douyin, video chat, etc., you can optimize the low-resolution video quality to 720/1080P ultra-clear quality in real time. With the sun screen, the picture is still clearly visible even in the bright outdoor environment.
Field quality, performance and resistance to play.
Professional e-sports experience, clearer vision, more real shock, and the moment of battle is burning!
Hawkeye display enhancement

2.0

Differentiate different game scenes and enhance the corresponding picture quality, so that the field of vision is clearer.

4D Game shock

The shock is triggered at any time, and the game is more immersive.

Game box

Practical tools specially designed for games, convenient and caring.

Game space

Play the game, watch the record, watch the replay, the game is always exciting.
Super-detailed light and shadow,
hand over to the super-sensitive main camera.
Ultra-sensitive outsole. The leading 1/1.3-inch outsole sensor, with a light-sensitive area of ​​more than 72.2mm², brings higher dynamic range, wider ISO range and less noise. The four-in-one pixel size reaches 2.4μm, and the sensitivity is delicate, making every shot outstanding.
It`s night, great shot.
Based on the super-sensitive outsole and the new RAW domain AI noise reduction algorithm, iQOO 5 Pro also has high-light performance in low-light environments
Challenge the human eye`s night vision ability, even when shooting extremely dark caves, it can output brighter, more natural photos with less noise.

Periscope 60x telephoto
Using the rear 5X periscope lens, combined with the self-developed zoom algorithm, it is easy to shoot distant objects, allowing you to clearly capture the stage details even at the top of the concert.
800 CMOS

Periscope telephoto lens

60 Times

Super zoom
Multi-scene follow focus,
shooting at wonderful moments.
Smart focus

Follow-up tool

Autozoom

Movie Mirror

Lock focus, real-time focus tracking, stable anti-shake

Location tracking*

Lock the main body sound of the screen
Where the protagonist is, the focus is.
Through the EFB continuous focus technology, the screen can continue to follow the protagonist and lock in every wonderful moment. In addition to chasing people, you can also click to switch to follow subjects, cute pets, vehicles, and the protagonist can change if they want.
You don't need to spend a lot of time on film mirroring.
Autozoom (movie lens movement) realizes the video effect of "locked focus, real-time focus tracking, stable anti-shake", helping you to shoot a smooth and stable artistic blockbuster like a movie.

Precise focus, video and audio in one.
The sound tracking focus can pick up the sound of the subject in the fixed focus of the picture in a noisy environment, and automatically suppress the ambient sound, so that the focus and sound of the video are focused on the protagonist, realizing the integration of audio and video. It can also zoom through the sound to express the distance and increase the sense of video substitution.
AI editing
Automatically grab the wonderful shots in the video, apply the vlog template with one click, and intelligently generate the shareable video, without having to spend a lot of time, and share the wonderful instantly.
From then on, you can shoot the stars with your hand.
Photography Xiaobai can also shoot stunning stars. The starry sky mode uses an algorithm to solve the star displacement caused by the rotation of the earth during the long exposure, and at the same time ensures that the details of the landscape are clear, helping you to shoot the bright galaxy.
The old rules, the sound quality must be outstanding.
120dB high dynamic Hi-Fi, achieving excellent sound quality. High, middle and low three-frequency balance, clear and pleasant treble, mellow midrange and mellow bass. With super linear stereo double-amp and Super Audio sound effects, the sound is more three-dimensional, as if you are in a recording studio, and it is more pleasing to the ears.
DNR>120dB

Dynamic Range

THD+N 0.0003%

Distortion

32bit/384kHz

PCM decoding capability

20Hz~40kHz

Frequency response FR
Maxwell Antenna System

Flagship 5G antenna design, low signal interference, fast and stable data upload

Bluetooth dual antenna switch

Intelligently switch between the 2 Bluetooth antennas with a good signal, and the connection is more stable

Wi-Fi 6

Supports a maximum theoretical rate of 1.2Gbps, reducing the probability of network congestion

double

Wi-Fi 2.0

Supports simultaneous connection to a 2.4GHz and a 5GHz Wi-Fi network, with faster speed, lower latency, and more stable connection
Once you get started, you`ll be comfortable.
Faster operation, lighter module information, iQOO UI brings a simple and light interaction experience, and it is easy to handle once you get started.
Multiple shocks, touch real.
The X-axis linear motor is combined with Monster Engine professional system-level debugging to bring a variety of vibration effects. There is also a simulated mechanical keyboard design, which can simulate the typing experience of a real mechanical keyboard, and every vibration feedback has the realism of "codewords".
No wisdom, no life.
Provide you with efficient and convenient smart life solutions.
Smart document conversion
Convert the text in the picture into an editable document (Word/Excel), saving time and effort.
Computer projection
From the mobile phone screen to the computer screen, easy to achieve information synchronization.
Full scene NFC
All the bus cards, bank cards, access cards, and ID cards are installed into the mobile phone. Even if the mobile phone is out of power, the transportation card or access card can still be used for a certain period of time after the phone is turned off*, making travel worry-free.
Height: 159.56mm
Width: 73.30mm
Thickness: about 8.9mm (track version)
about 9.53mm (legendary version)
Weight: about 198g (track version)
about 196.7g (legendary version)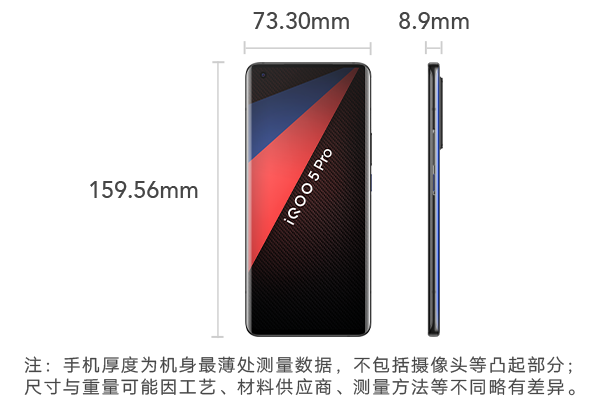 Qualcomm Snapdragon 865
Eight core
2.84GHz*1 + 2.42GHz*3 + 1.8GHz*4
64 bit
7nm
Adreno™ 650 GPU
Operating memory (RAM):
8GB/12GB (Because the mobile phone system and pre-installed programs occupy part of the storage space, the actual storage space is less than 8GB/12GB)
Body storage (ROM):
256GB (Because the mobile phone system and pre-installed programs occupy part of the storage space, the available storage space is less than 256GB)
RAM type: LPDDR5
ROM type: UFS 3.1
Charging specifications
OTG reverse charging
battery capacity:2*2000mAh (typical value), dual batteries, equivalent to 4000mAh battery energy
type of battery:
lithium battery
Theoretical standby time:
Theoretical 4G standby time: up to 269 hours.
Theoretical 4G Volte talk time: up to 13 hours.

Note: The data is the test result under the standard environment of our laboratory. The actual standby time depends on the actual local network conditions and usage habits.
Front camera pixels:


16 million pixels

Front camera aperture:

f/2.45

Number of rear cameras:
3

Rear camera pixels:

50 million pixel ultra-clear main camera + 13 million pixel ultra wide-angle lens + 8 million pixel periscope camera

Rear camera aperture:

f/1.85 (rear main camera), f/2.2 (rear wide-angle), f/3.4 (rear periscope)

Rear flash sensor:
yes

Anti-shake type:

OIS+EIS

auto focus


Zoom mode:

8 million pixel periscope telephoto lens (5x optical zoom, 60x super zoom)

Shooting mode:
Night scene, portrait, photo, video, panorama, dynamic photo, AR cute shooting, short video, high pixel, slow motion, time-lapse photography, professional mode, super moon, document correction, starry sky mode, sports capture, portrait light effect, movie Mirror movement, video, directional recording and
shooting special effects: grapefruit, yogurt, island, macarons, moonlight, bubbles, Asakusa, evening breeze, cedar, Komachi, picnic, light food, yummy, blackcurrant, clear sky, European and American movies, Japanese Movies, French movies, silent films


Video recording format:

H.265/H.264

Video recording:

Recording pixels: 720P/1080P/4K/8K
Network Type:
2G GSM: 850/900/1800/1900
2G CDMA: BC0/BC1
3G WCDMA: B1/B2/B4/B5/B8
3G CDMA2000: BC0/BC1
4G TDD-LTE: B34/B38/B39/B40/B41
4G FDD -LTE: B1/B2/B3/B4/B5/B7/B8/B12/B17/B18/B19/B20/B25/B26/B28
4G+: B1/B3/B5/B7/B8/B38/B39/B40/ B41
5G: n1/n3/n41/n77/n78/n79/n28

*Note: 5G n1/n3/n28 frequency band support depends on the operator`s network layout, and will be pushed through OTA upgrade after the official opening.
Double nano
1. Slots 1 and 2 can be switched to the default data card at will. 2. Supports 5G + 4G, but only supports data card 5G (5G services need to be supported by the operator`s network) 3. If both of them are telecom cards, the non-data card must have telecom VoLTE service enabled to use telecom dual cards at the same time , Non-data cards do not support telecom 2G
Hi-Fi
music player
MP3 ringtones
recording
AAC, AMR, MIDI, OGG, FLAC, WMA, WAV, APE, MP3
Face Wake facial recognition
IQOO UI 1.5 developed based on Android 10.0
Support voice, picture recognition, bookmark magnetic nails, phone secretary and other functions
WLAN
WLAN hotspot
Bluetooth transmission
Bluetooth audio specifications
Bluetooth Apt-X
OTG
USB interface type
Headphone jack standard
navigation
NFC
cloud service
WLAN 2.4G; WLAN 5.1G; WLAN 5.8G; WLAN Display; 2*2 MIMO; Wi-Fi 6
Support Bluetooth 5.1 (compatible with 5.04.24.0
SBC; AAC; aptX HD; LDAC
Type-C
Support (including Beidou/GPS/GLONASS/Galileo)
Gravity sensor
Light sensor
Proximity sensor
Gyro
Electronic compass
Other sensors
Color temperature sensor: support (for CCM photosensitive auxiliary adjustment)
Comment
1. With the product`s official standard charger + data cable (flash charging source adapter 20V/6A MAX), it can support up to 120W flash charging; the actual charging power will be dynamically adjusted as the scene changes. Please refer to the actual usage.
2. The charging data is derived from our laboratory environment test. Test environment: environment and mobile phone temperature 25℃±1℃, test condition: when the battery power of the mobile phone is 1%, turn off other mobile phone services and functions except for calls. In the screen state, it is charged with the official standard charger + data cable; actual data may vary due to factors such as different test environments, different user charging scenarios, different initial phone charging temperatures, and long-term battery consumption.
3. At present, the industry generally refers to mobile phones with narrow bezels and high screen-to-body ratios as full-screen phones, and this mobile phone follows the industry`s common concept.
4. The appearance diagram of the mobile phone and product effects on the page are for reference only, please refer to the actual product.
5. The data and parameters on the above page are the test results under the standard environment of our laboratory. The actual situation of the data and parameters will be slightly different due to the test environment and test software.
6. The pixels of different shooting modes may vary, please refer to the actual situation.
7. As some specifications, parameters, and parts of the product may change due to supplier replacement or production batches, vivo will update the description on the page in real time according to adjustments. Please check carefully.
8. The use of a third-party film for iQOO 5 Pro will affect the screen fingerprint recognition effect, please be sure to use the "iQOO screen fingerprint official custom film".
9. RAM&ROM: As the mobile phone system and pre-installed programs occupy part of the storage space, the actual storage space is less than 8GB/12GB, and the storage space is less than 256GB.
10. The screen size is the length of the right-angle diagonal of the screen measured according to a standard rectangle, and the actual viewing area is slightly smaller.
11. The 5G network of this product supports SA&NSA mode; SA support capability depends on the available network and software version.
12. The specific networking situation and network coverage of the 5G network are subject to the actual deployment of the operator.
13. Position tracking is the "sound tracking" function, please refer to actual use.
14. The screen refresh rate defaults to smart switching. The refresh rate is automatically switched according to the scene to reduce power consumption. You can go to the system settings to select smart switching, 60Hz, 120Hz mode.
15. The frame rate adaptation strategy and display effect of different software are different, please refer to the actual experience.
16. Smart charging mode needs to be manually enabled in the system settings.
17. NFC support scenarios are subject to the instructions when the NFC function is enabled. A certain period of time refers to 4147 card swipes within 24 hours after the iQOO 5 Pro is powered off without power; after the transportation card is activated, the default setting of the transportation card is after shutdown Card can be swiped; the data is obtained from the test in our laboratory environment, please refer to actual use for details.
18. When attaching the film, you cannot cover the earpiece micro-slit. When using glue for attaching the 3D toughened film, please pay attention to avoid flowing into the earpiece micro-slit and side button gap
Quantity
Price
You Save
2
$774.99

Up to

$10.00
3
$772.99

Up to

$21.00
4
$772.49

Up to

$30.00
5
$771.99

Up to

$40.00
10
$764.99

Up to

$150.00
| | |
| --- | --- |
| Location: | China |
| Possibility to return: | Yes, within 14 days |
| Length of warranty | 12 months |
| Delivery time from | 7 |
| The time of delivery to | 25 |
| Processing time for warranty service from | 6 weeks |
| Processing time for warranty repair to | 12 weeks |
| Dual Sim | Yes |
| 5G | Yes |
| Rom: | Chinese (English + Chinese languages, possible Google Apps) |
| Warranty Extension: | At promotional terms, up to 24 months (during checkout) |
No customer questions for the moment.
Only registered user can ask a question.
Login