Super high resolution Infinity-O bezel-less display
for unlimited viewing pleasure*
Strive for perfection and the best for yourself. The Samsung Galaxy A60 smartphone will help you explore the unknown. Its Infinity-O bezel-less display and camera hole technology let you experience games and videos in lifelike glory on the 6.3" display (full rectangle) / 6.1" display (rounded corners).** FHD+ resolution brings a level of sharpness and detail as if it were a window to the worl
6.3" full rectangle
6.1" rounded corners
Ultra high screen to body ratio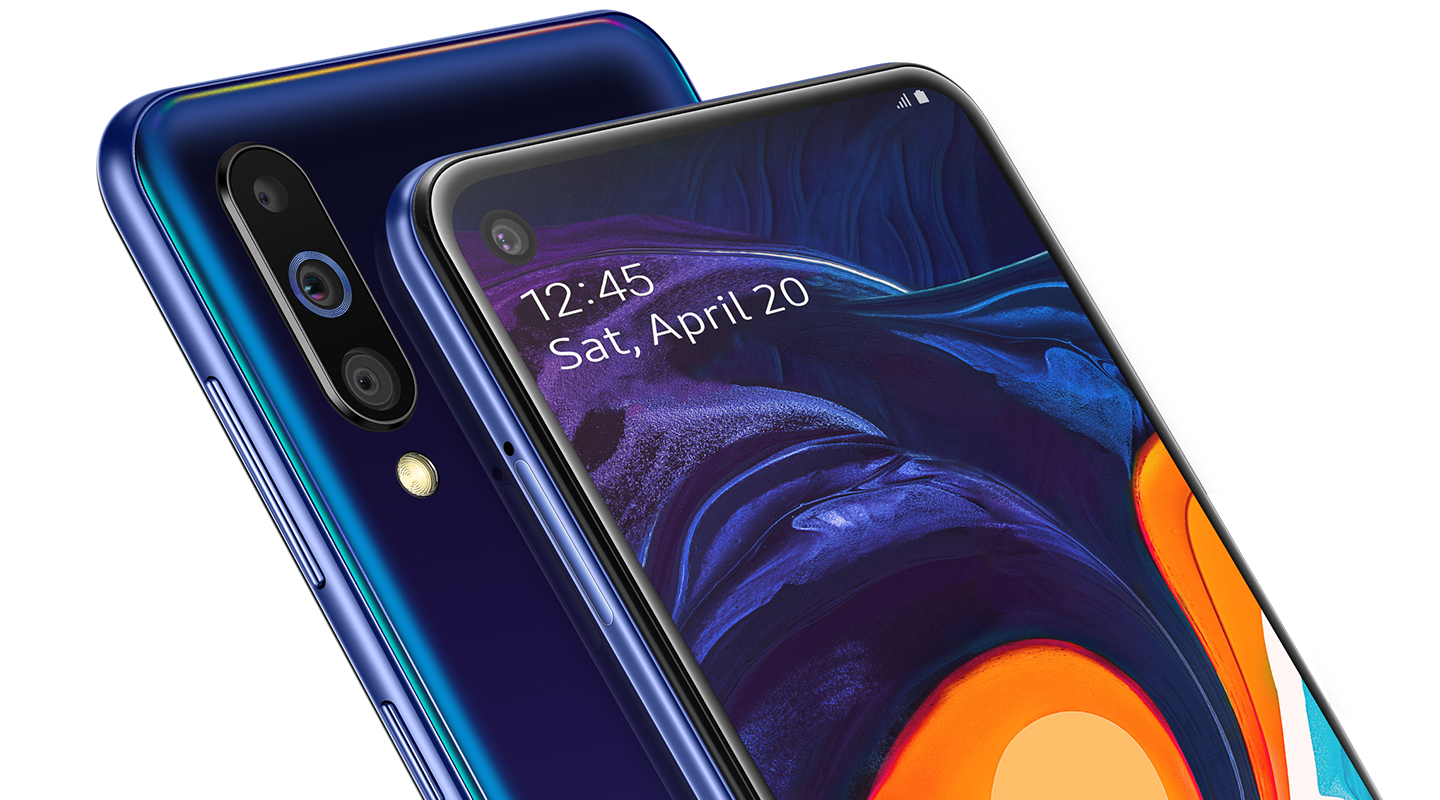 * The super high resolution Infinity-O display bezel-less display uses a camera hole to achieve the highest screen-to-body ratio for an even better viewing experience; the camera hole within the display will cover a portion of the display contents.
**6.3" is the display dimension measured diagonally as a full rectangle, whereas 6.1" is the display dimension measured diagonally between opposing round corners. The actual display area includes the rounded corners and the camera hole and will be slightly smaller.
Aesthetics to die for, and a body to match
Revel in the beauty and colors of the exterior. The illusionary glossy finishes of the Galaxy A60 include fantasy black and magical orange. The shiny and bright finish, coupled with a 7.9mm thin chassis with rounded corners gives it a sleek, modern look while making one-handed operation a breeze.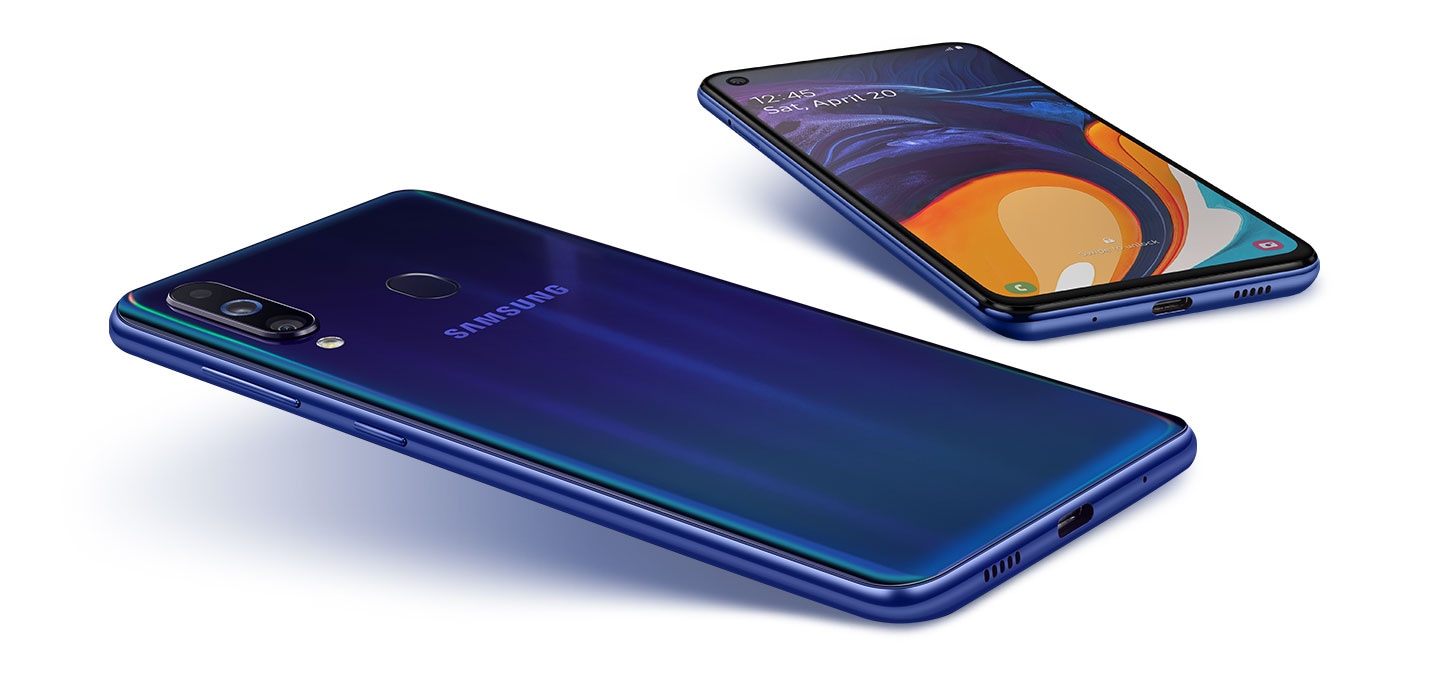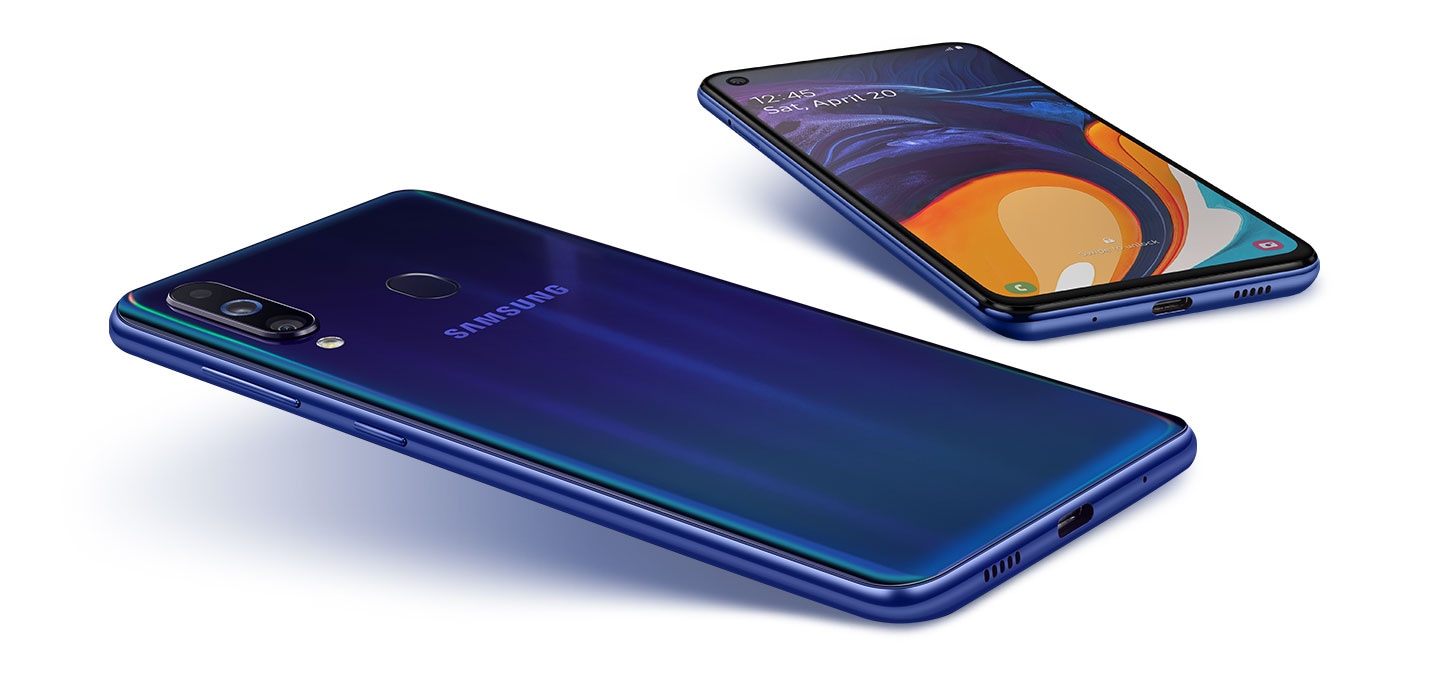 Triple-rear camera setup for triple the fun
The Galaxy A60 is with you at all times and is ready to capture all aspects of your life thanks to the triple-rear camera setup. The depth-sensing camera lets you blur out the background to capture only the important parts of the image and take great portraits. The 32MP main camera has a bright F1.7 aperture for clear and sharp photos under darkness or brightly backlit scenarios. A 123° ultra-wide angle camera captures everything in your field of view, and then some. AI smart scenes makes capturing any scenario a simple pleasure.
Main camera
32MP auto-focus with
F1.7 daylight or low light
Ultra-wide camera
8MP 123° ultra wide angle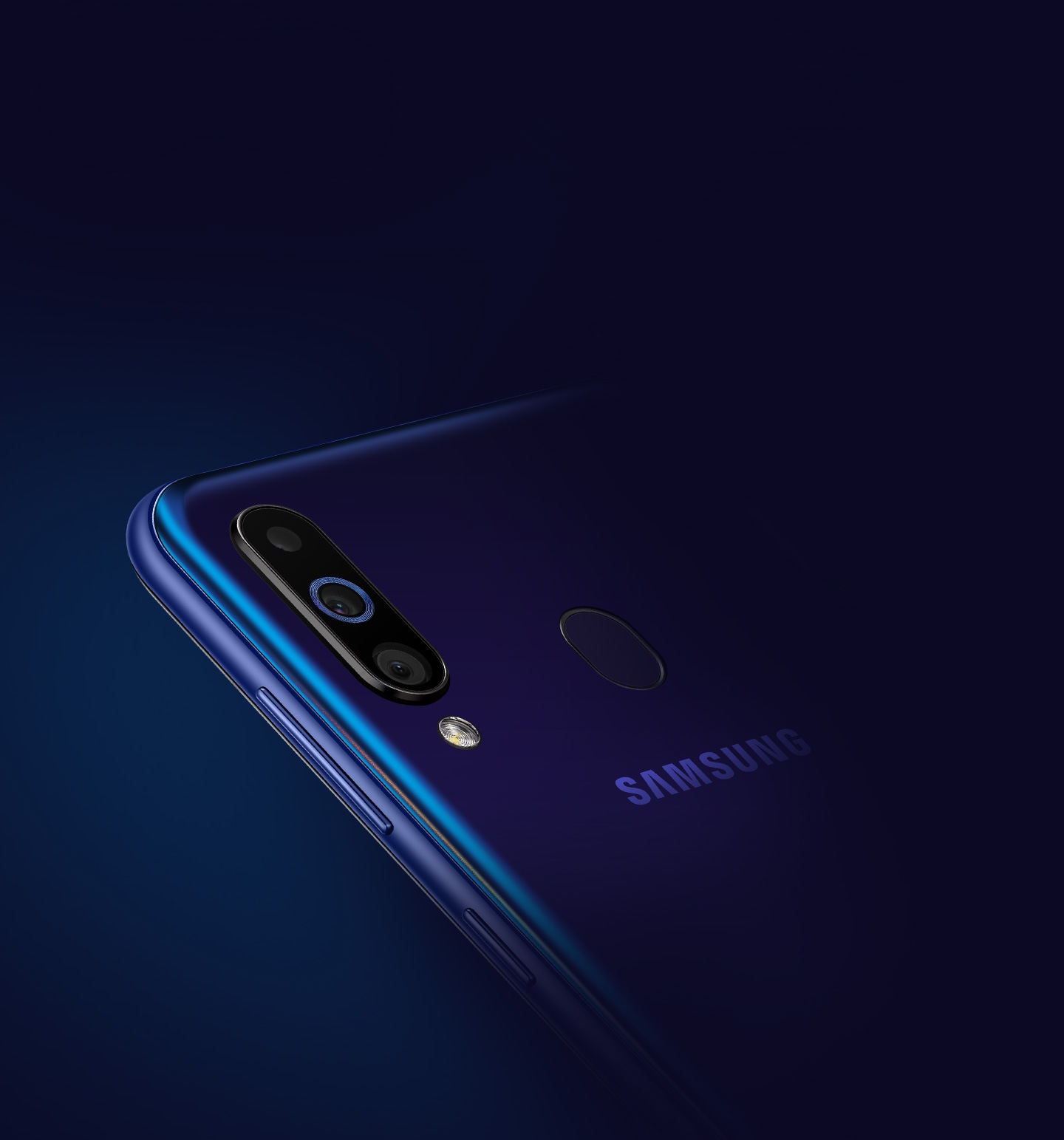 123° ultra-wide angle camera
for a unique perspective
Technological advancements have brought simple panorama shooting to your fingertips. In the photo preview interface, the Galaxy A60 can use "AI switching" to change to an even wider capture mode. Using the 123° ultra-wide angle camera, your shots can be even wider for a more dramatic point of view and sense of space, perfect for landscapes, architecture, group shots, and other types of photography, all in a snap.
* Images simulated for illustrative purposes.
Smart Flaw Detection
Don`t let beautiful pictures go to waste! When flaws in photos are discovered, instead of reshooting them later, why not fix them immediately and do more with less? The Galaxy A60 has a flaw detection feature that lets users know immediately when someone blinks, the photo is blurred, or there is a strong backlight. With themed shooting modes like scenery, animals, and food, you can immediately retake the shot when problems are found, saving time and energy. Capture the perfect shot right in the moment for the best memories. *
Eye blink

Facial blur

Backlit
*Accuracy of Flaw Detection may differ depending on surrounding conditions or subject. The ideal conditions for blink and blur detection are with 3 or fewer people in the frame and a distance no longer than 1.5 meters from the camera.
** Images simulated for illustrative purposes.
Possiblities driven by powerful processors
The Qualcomm Snapdragon 6150 octa-core processor is paired with 6GB of RAM* to allow you to immerse yourself in the world of gaming. The power of the processor coupled with low energy consumption ensures smooth operation and lightning-fast control for exploring amazing gaming worlds at fast speeds, making operation effortless and allowing you to be more effective in completing your tasks.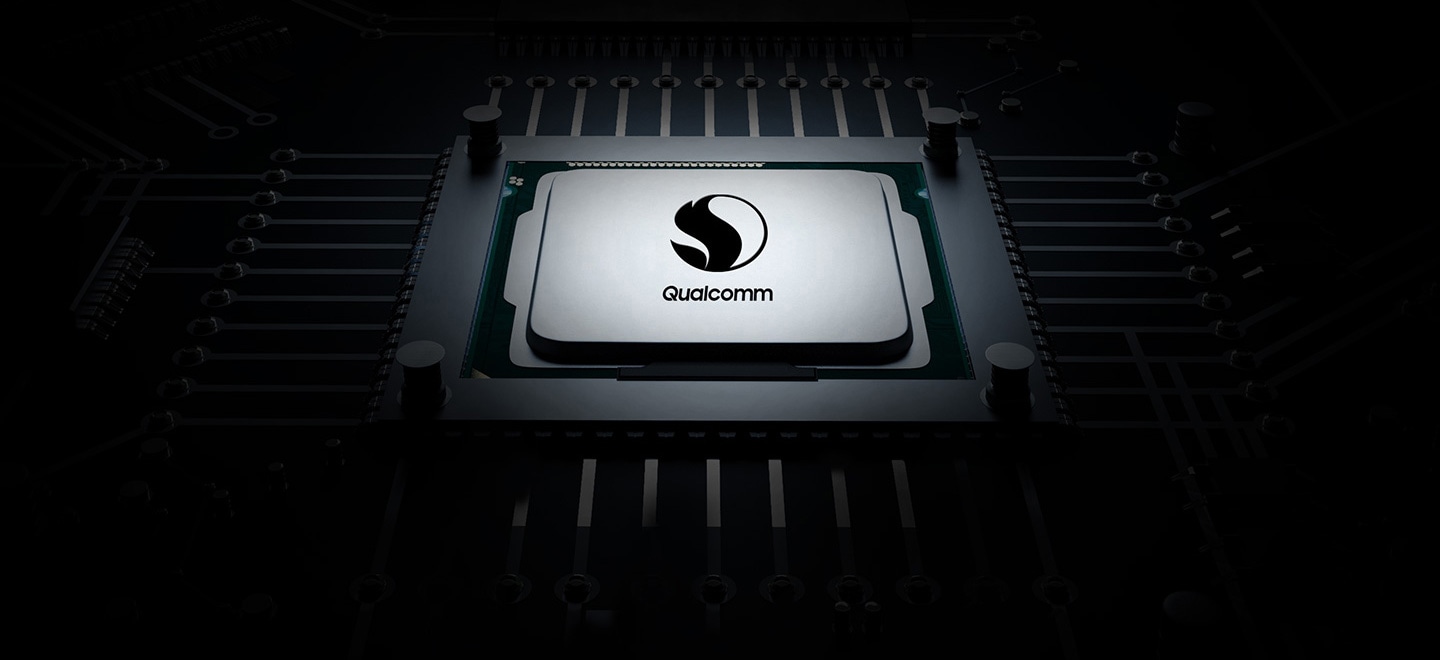 *User memory is less than the total memory due to storage of the operating system and software used to operate the device features. Additionally, operating system and software upgrades may also affect available storage.
Renewed interface, convenient operation
One UI has a brand new simplified interface that offers a unique take on navigation. Obvious app icons, a simplified interface hierarchy, and common features at the bottom of the screen lets you navigate to what you need quickly and easily. The Galaxy A60 also lets you switch into single-handed mode and into night mode for even more ways to easily use your phone.
Screen speaker,
a brand-new feature
The Galaxy A60 brings the new screen speaker technology. This is the first time Samsung is using the entire screen`s vibration to act as a speaker*, to reduce cutouts on the phone and maximize the screen-to-body ratio.
* This feature only supports voice calls
** Images simulated for illustrative purposes.
Smart Octopus
in Samsung Pay
Samsung Pay is a secure and easy-to-use mobile payment service
Just follow a few simple steps to add Smart Octopus to Samsung Pay. From now on, all you need is your mobile phone for transport, to enter your residence or the parking lot at a housing estate. Enjoy true peace of mind when you spend!
SPECIFICATIONS