Keep track of the price drops on this item. Simply enter your email here and we will send you an email alert.
Invalid email
Watch it
You will get $ 1.24 in reward when purchase 1 of this product. The reward can be used to pay for your next orders, or converted into voucher code.
Frequently Asked Questions
Welcome to Bludiode.com
We are mobile electronics marketplace seller since 2014, we offer mostly smartphones, tablets and accessories. Our customers have right to return product locally (USA, UK, EU) and execute warranty up to 24 months. All products sold on our website are coming straight from the producers, are genuine and they are subject to the warranty. To learn more click "About us" in the website footer.
Check also these products available at local stock:
Introducing
Galaxy Buds Pro
These are true wireless earbuds, with pro-grade technology for immersive sound like never before. While Intelligent ANC lets you seamlessly switch between noise canceling and fully adjustable ambient sound. So let the outside in - or keep it out. It's your world. Galaxy Buds Pro let you hear the best of it.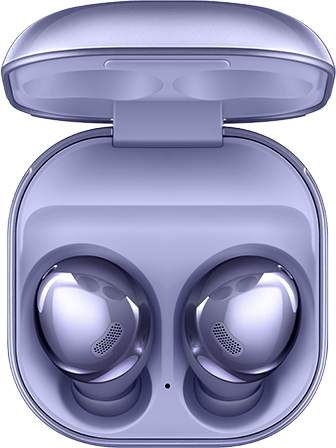 Nine Galaxy Buds Pro charging cases, all in a 3x3 grid. There are 3 Phantom Black, 3 Phantom Violet, and 3 Phantom Silver. Each case opens one at a time to show the earbuds inside the case. It zooms in on the Phantom Violet case in the middle of the grid and it spins around as it zooms in until it disappears.
Tunes out noises, tunes in voices
INTELLIGENT ANC
Noise canceling you can control
Active Noise Canceling on Galaxy Buds Pro filters out up to 99% of background noise. Microphones on the inside and outside monitor noise in real time. Choose the ANC level to dial the world up or down with an intelligent algorithm that cancels out the noise: turn it to High on a noisy bus, or use Low in a quiet library - no need to change the volume.1,2
*Galaxy Buds Pro are compatible with smartphones and tablets running Android 7.0 or later and with more than 1.5GB of RAM.

Active Noise Canceling (ANC) on Galaxy Buds Pro cuts external background noise by up to 99%, backed by UL Verification.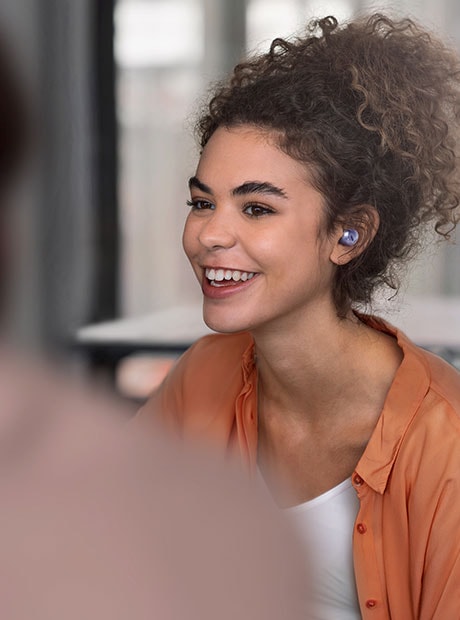 Voice Detect
instantly switches from ANC to Ambient sound when it hears your voice. Like when you're at a cafe using ANC to block outside noise, tell the barista your order and ANC automatically turns off when you speak. These intelligent buds turn down for your conversation, even if you're using Ambient Mode or have ANC turned off, by lowering the volume of your music and focusing the microphone on the person speaking to you. 3,4
Ambient sound
means you don't have to take your earbuds out to join the conversation. You can hear voices with clarity and in real time. With an intelligent algorithm raising the volume of the environment through four levels, you don't miss out on important parts of the discussion. 5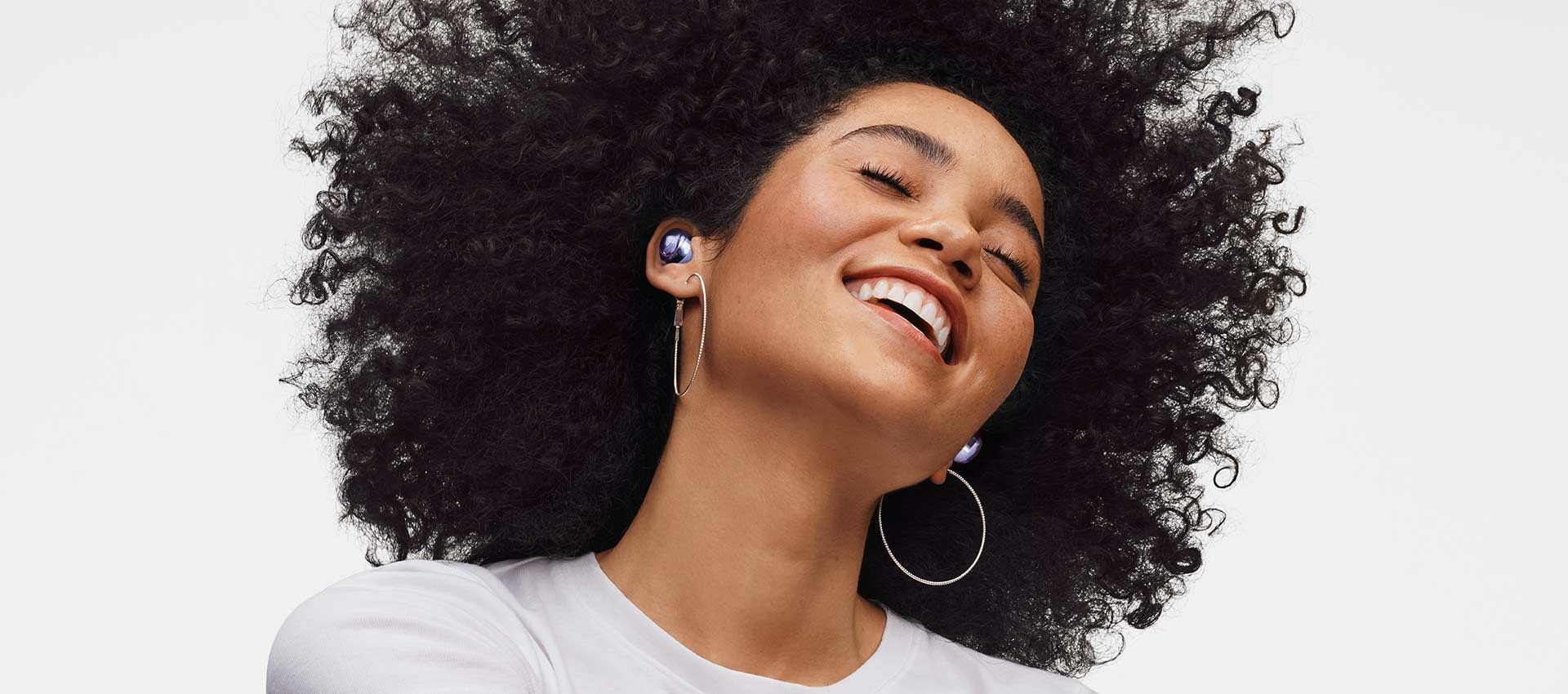 A professional studio in your ear
Galaxy Buds Pro earbud in Phantom Violet, split into layers to show the location of the speakers, woofer, tweeter and air vents.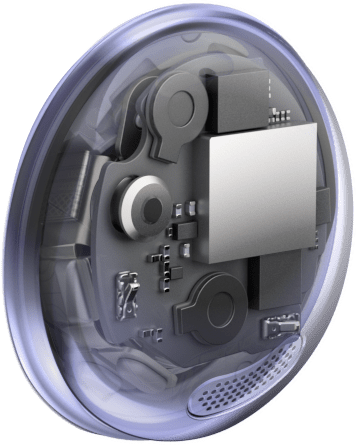 2-way speakers with bigger driver
for balanced sound and wide frequency response
11mm woofer for full bass
6.5mm tweeter with low distortion
for silky treble, clean sound and a wide sound stage
Air vent
reduces occlusion for spacious audio
Inner Mic
High SNR Mic
for picking up the user's voice clearly
Dual mic array
for superior
beamforming performance
Voice Pickup Unit
Mic mesh and chamber
for minimizing wind noise
Take noise-free calls
that blow your mind. The best quality call for true wireless earbuds means you get less noise and a clearer voice on calls at home or out in the world. With three built-in microphones and the voice pickup unit, every word is crystal clear. The low protrusion design minimizes wind contact, while the sophisticated wind shield solution blocks the sound of wind during calls.
*Results are based on Samsung internal lab testing subject to POLQA, a global standardized test for call quality.
Galaxy Buds Pro earbuds in Phantom Black come into view and spin around each other. They stop, floating with bubbles around it to demonstrate the three-dimensional sound provided by 360 Audio.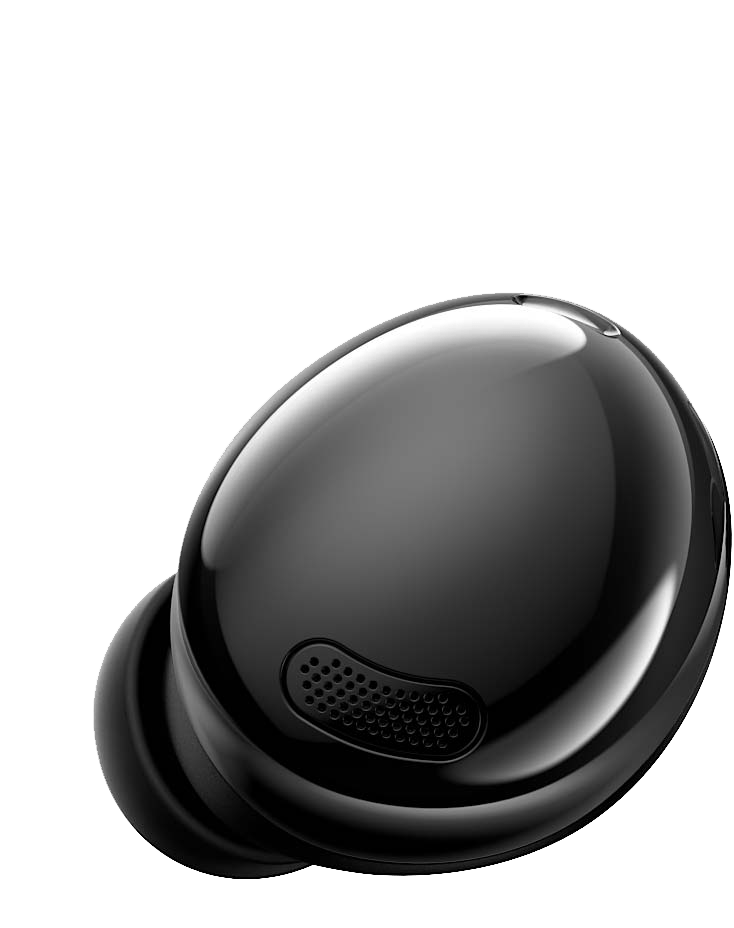 360 AUDIO
Lifelike audio that immerses
you with incredible realism
Experience 360 Audio so engaging, it shifts you into the middle of the scene. With Dolby Head Tracking™ technology, Galaxy Buds Pro place you into the center of your favorite video, movie or TV show. The intelligent motion-tracking sensor pinpoints the direction of the sound as you move your head, enabling a powerful sense of realism in your listening experience. And with content in Dolby Atmos®, hear every detail with greater clarity, and feel a deeper connection to the story.6
All your worlds
in harmony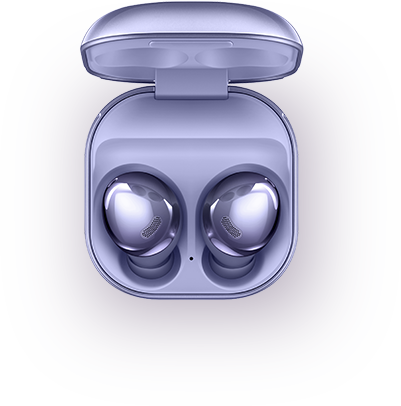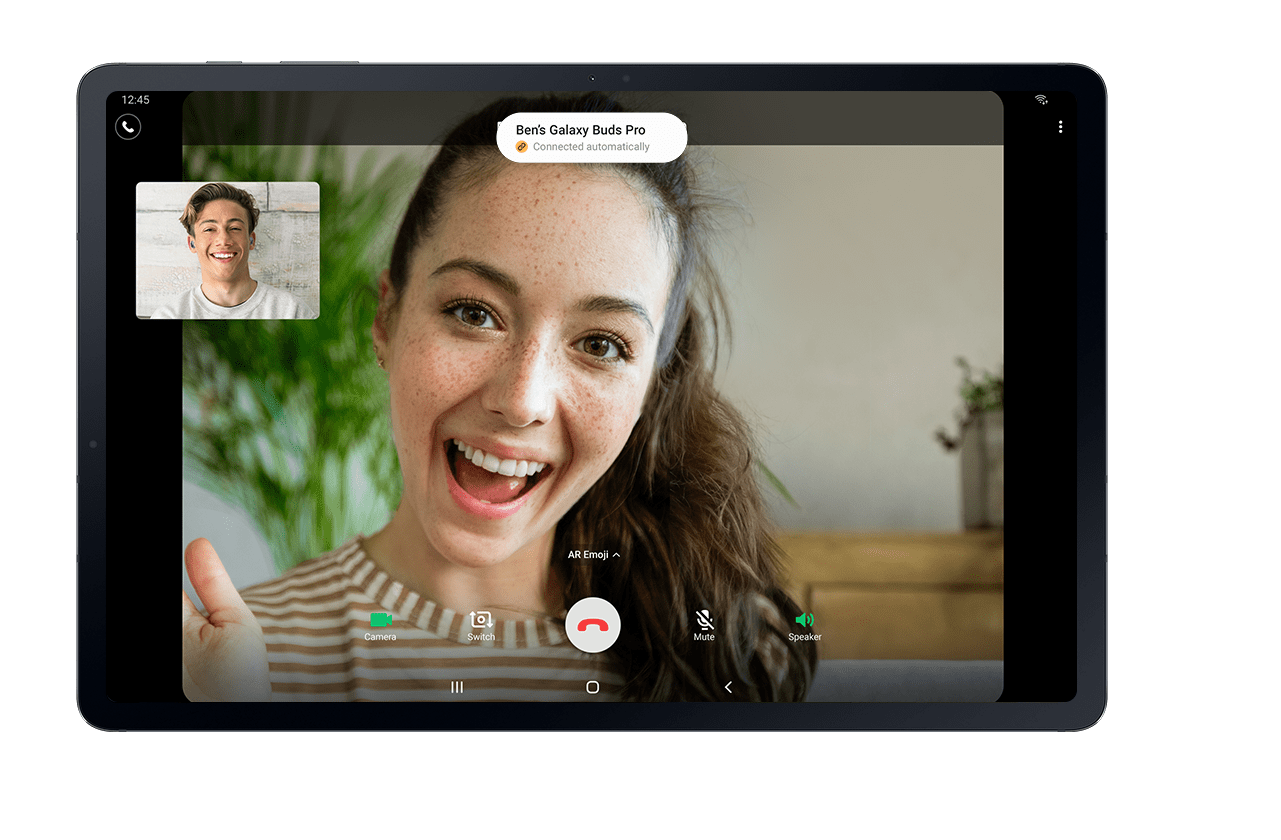 A Galaxy smartphone and Galaxy Buds Pro in Phantom Violet in their charging case. The smartphone has the Music UI onscreen. A Galaxy tablet slides into view, with a graphic wallpaper onscreen. and a Galaxy tablet. A video call is received on the tablet and the connection of the earbuds switches between the tablet and the phone instantly, to demonstrate Auto Switch. The smartphone says Ben's Galaxy Buds Pro Switched to Galaxy Tab. The tablet says Ben's Galaxy Buds Pro Connected automatically.
AUTO SWITCH
Switch it up without a hitch
Auto Switch on Galaxy Buds Pro detects what's most pressing and instantly shifts its connection to that device. So, when you're watching a movie on your tablet and get a call, Galaxy Buds Pro switch the audio to your phone. Then once you hang up, Galaxy Buds Pro seamlessly connect back to the tablet - flipping from device to device without you even touching a screen.7,8
BIXBY VOICE WAKE-UP
Your smart assistant,
always on standby
Chat bubbles demonstrating a conversation between the user and Bixby. The user asks How's the weather today, and Bixby replies Today It's sunny and 72° right now. Then the user says How much battery is remaining on my earbuds? and Bixby says Your earbuds are at 88%.
"How's the weather today?"
"It's sunny and 72° right now"
"How much battery is
remaining on my earbuds?"
"Your earbuds are at 88%"
When you're connected to your phone, you can speak to make things happen without touching it. A simple "Hi Bixby" wakes it up, and then you can give a command to make a phone call, change the music and more.9,10,11 You can even switch between Samsung devices by saying its name, and activate or turn off ANC and Ambient Mode.
*Image simulated for illustration purposes.
SMARTTHINGS FIND
Win hide and seek with your earbuds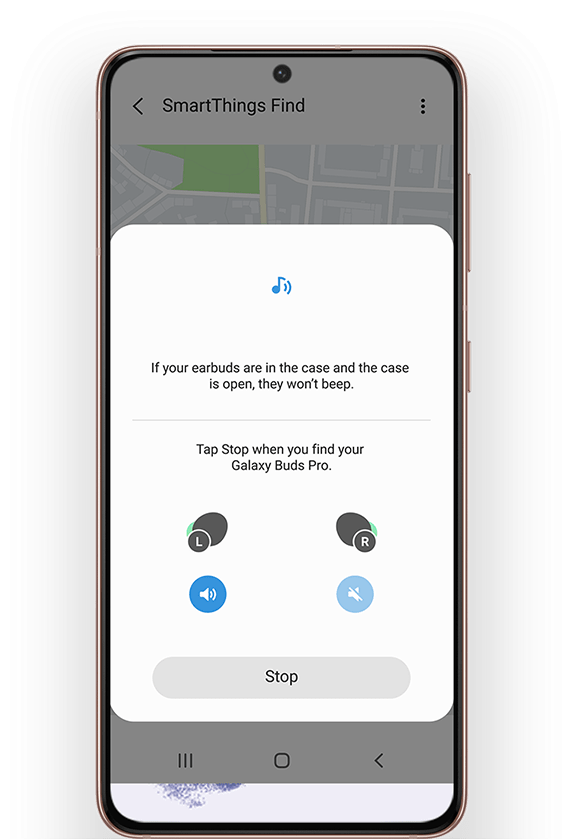 Tracking down your lost earbuds is simple. Just open the SmartThings app. Your buds will emit a beep so you can easily find them in your room. And with Offline finding, you can find the last location they were used, even if they're no longer connected to your phone.12,13,14
BUDS TOGETHER
Share the sound with your bud
Keep your earbuds in and let a friend tune in, too. Buds Together lets you connect two sets of Galaxy Buds Pro to your phone at the same time, so you can both listen to your BFF playlist with pro-grade sound quality.15
Epic sound calls for epic design
Phantom Violet
Phantom Silver
Phantom Black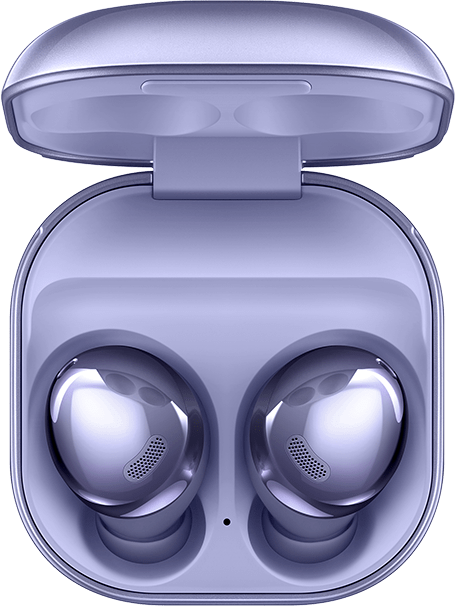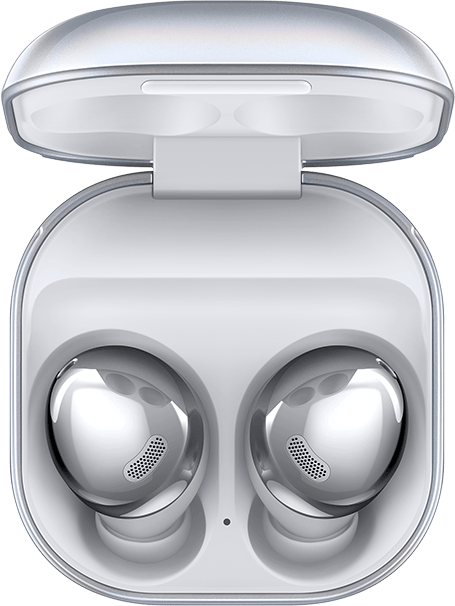 Three Galaxy Buds Pro, one in Phantom Black, one in Phantom Violet, and one in Phantom Silver. All are shown inside the charging case, with the lid open.
COLOR
Glossy finishes to strike the right note
Available in three on-trend colors.16 Choose between timeless black, vibrant violet or stunning silver to brighten things up. Each earbud is polished to a high gloss while the matte interior feels soft against your skin. And don't forget that matching case.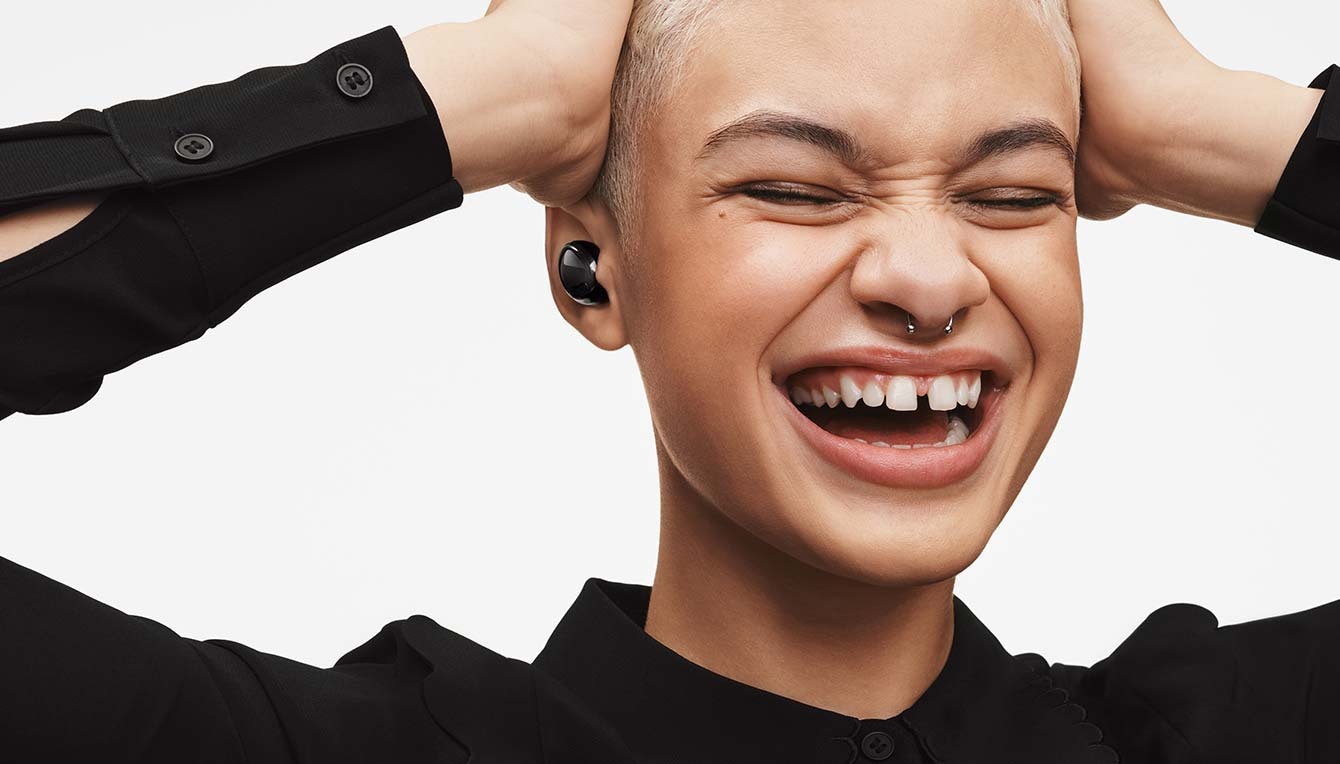 SECURE FIT
The right fit is right here
A new take on the classic earbud shape, the design lessens discomfort when you're tuned in for hours, and stays securely in your ears while working out. And with air vents that balance the pressure in your ear and increase air flow, it's such a natural fit you may forget you're wearing them.
With three ear-tip sizes
to choose from, you can test them out to ensure that your Galaxy Buds Pro fit comfortably and securely - and with a good seal so the ANC works its best.
BATTERY LIFE
Power to keep the beat going
Turn on ANC and Galaxy Buds Pro give you 5 hours of play time with 13 more in the case. That's 18 hours total.17 When ANC is off, you get 28 hours total, with 8 hours of play time - and 20 more in the case.18 Whether you've got a day full of video conferences, catching up with friends or just jamming to your favorite playlist, Galaxy Buds Pro have the power to keep you connected and listening.
Charge up fast.
Five minutes gets you another hour of playtime. It's like a power nap for your buds. 19
Wireless PowerShare
gives you a boost on the go - just set Galaxy Buds Pro down on the back of your Galaxy smartphone for wireless charging. 20
*Image simulated for illustration purposes.
IPX7.
The highest standard of water
resistance in Galaxy Buds21
ANC is on by default, and the touch and hold gesture for Active Noise Canceling can be configured in the Galaxy Wearable app.
Switching between High and Low ANC levels can be done in the Galaxy Wearable app.
Voice Detect uses an AI algorithm to recognize the user's voice. It may respond to vibration-induced situations such as brushing your teeth, electric toothbrush, coughing, and humming. Conversations may not be detected when only one earbud is worn.
When Voice Detect is turned on, it is automatically activated when ANC is on or off, as well as Ambient Mode. To return to the previous mode, tap on either earbud.
The touch and hold gesture for Ambient sound can be configured in the Galaxy Wearable app.
Available only on mobile devices running Android One UI version 3.1 or later. 360 Audio and Dolby Head Tracking™ support may vary depending on app and content.
Auto Switch feature only available on Galaxy smartphones and tablets with One UI 3.1 or later. Certain devices and applications may not support Auto Switch.
Galaxy devices must be logged in to Samsung Account to enable Auto Switch.
Bixby service availability may vary by country, carrier, and device.
Galaxy Buds Pro must be connected to a Galaxy device with a data network or Wi-Fi connection to fully operate Bixby features; Samsung Account login also required.
Availability of Bixby features and content providers may vary by country or language; Bixby only recognizes certain accents and dialects of English (UK), English (US), French (France), German (Germany), Italian (Italy), Korean (South Korea), Mandarin Chinese (China), Spanish (Spain) and Portuguese (Brazil).
The location of the lost device found with SmartThings Find is the approximate location where the lost device's signal was detected.
SmartThings Find application is only available on Galaxy devices with Android 8 or later.
Some devices in China, Japan and on the Verizon network are not supported.
Buds Together only supported on Galaxy devices running One UI 2.5 or later.
Available colors may vary by country.
Earbuds and case provide up to 18 hours of battery life when the case is charged to 100%. Based on internal testing. Audio playback time tested by pairing a pre-production Galaxy Buds Pro to a recently released Galaxy smartphone with default settings including ANC on. Actual battery life and charging time may vary by usage conditions, number of times charged and many other factors.
Earbuds and case provide up to 28 hours of battery life when the case is charged to 100%. Based on internal testing. Audio playback time tested by pairing a pre-production Galaxy Buds Pro to a recently released Galaxy smartphone with default settings except ANC and Ambient mode off. Actual battery life and charging time may vary by usage conditions, number of times charged and many other factors.
Play time may vary based on settings.
Wireless PowerShare function is available on Galaxy S21 series, Galaxy Z Fold2, S20 series, Z Flip, Note10 series, S10 series and Fold. If the smartphone's battery power is less than 30%, Wireless PowerShare may not function.
IPX7 is based on laboratory test conditions for submersion in up to 1 meter of fresh water for up to 30 minutes. Not advised for beach or pool use. Charging case is not water resistant. If the earbuds are damaged, they are not guaranteed to be water resistant. If the earbuds or your hands are wet, they must be dried thoroughly prior to handling or placing into the charging case. If placed into the charging case without drying, the earbuds may be damaged.
No customer reviews for the moment.
Questions
(0)
No customer questions for the moment.
Only registered user can ask a question.
Login