SALE - Xiaomi Pad 6 Max 12GB+256GB Silver - UK Tax (VAT) Included
| | |
| --- | --- |
| Location: | United Kingdom (no tax for UK citizens) |
| Possibility to return: | Yes, within 14 days to warehouse in USA / UK or EU |
| Length of warranty | 12 months |
| Warranty Extension: | At promotional terms, up to 24 months (during checkout) |
| Rom: | Chinese (English + Chinese languages, possible Google Apps) |
| Processing time for warranty service from | 6 weeks |
| Processing time for warranty repair to | 12 weeks |
Other variants / accessories
Brand new, open box. UK TAX (VAT) Included.
Available delivery options:
Keep track of the price drops on this item. Simply enter your email here and we will send you an email alert.
Invalid email
Watch it
You will get $ 4.99 in reward when purchase 1 of this product. The reward can be used to pay for your next orders, or converted into voucher code.
Frequently Asked Questions
Welcome to Bludiode.com
We are mobile electronics marketplace seller since 2014, we offer mostly smartphones, tablets and accessories. Our customers have right to return product locally (USA, UK, EU) and execute warranty up to 24 months. All products sold on our website are coming straight from the producers, are genuine and they are subject to the warranty. To learn more click "About us" in the website footer.
Check also these products available at local stock: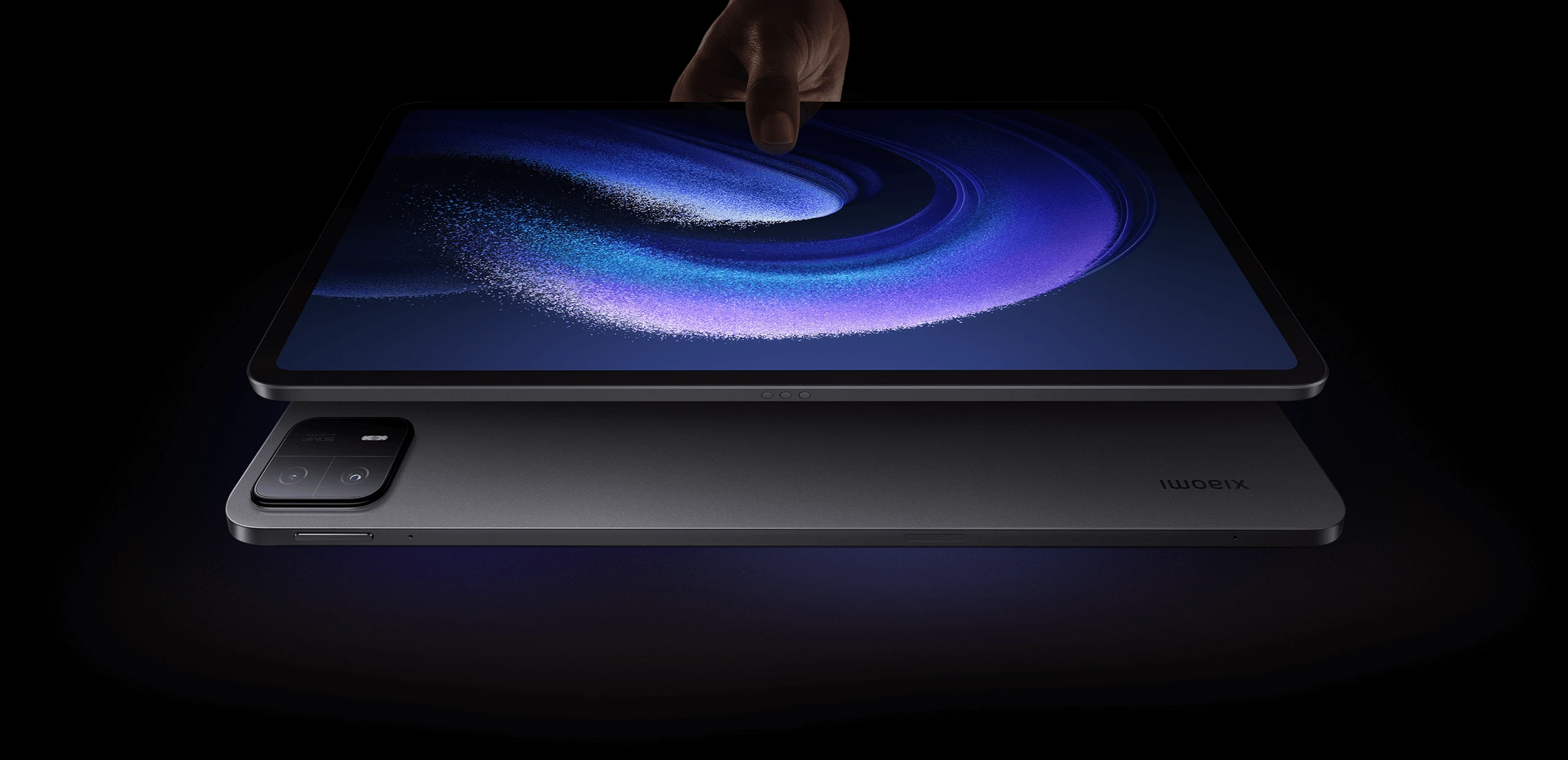 14-inch large screen
2.8k HD | 120Hz refresh rate | 600nit maximum brightness | Full DC dimming | Rheinland triple certification | HDR10 | P3 color gamut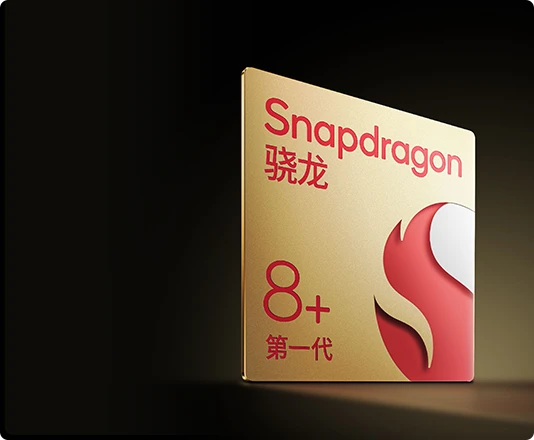 Snapdragon 8+
flagship chip
LPDDR5X
UFS 3.1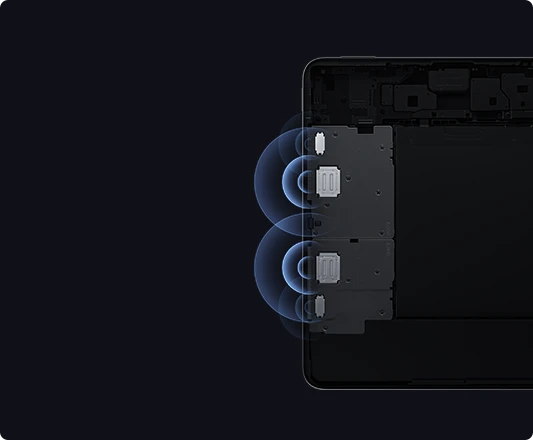 8-speaker
virtual surround sound
Full coverage of high, medium and low frequencies
with a large 10.6cc sound chamber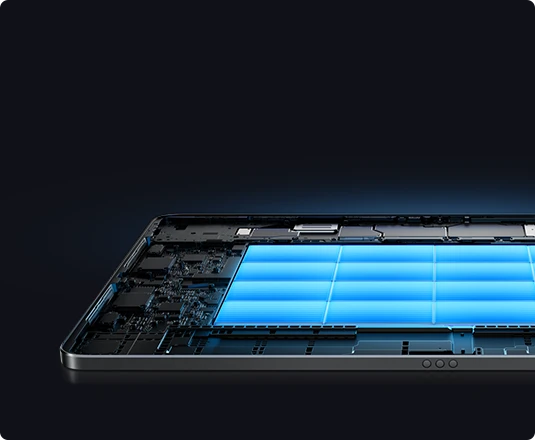 10000mAh big power
Xiaomi surging G1 chip
67W second charge 33W reverse charge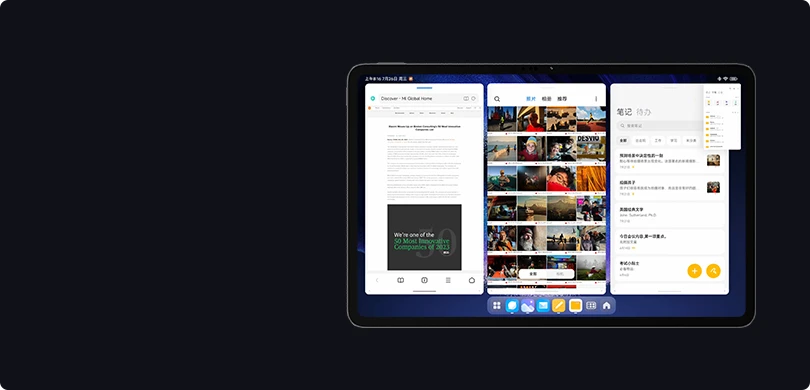 MIUI free workbench
PC-level multi-task collaboration
4 windows in parallel, efficient office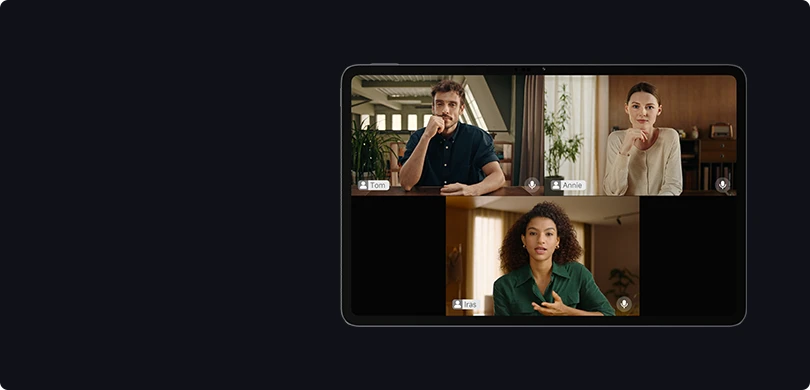 Meeting Toolbox
4 microphone array pickup,
two-way AI noise
reduction screen, real-time translation
, meeting subtitle transcription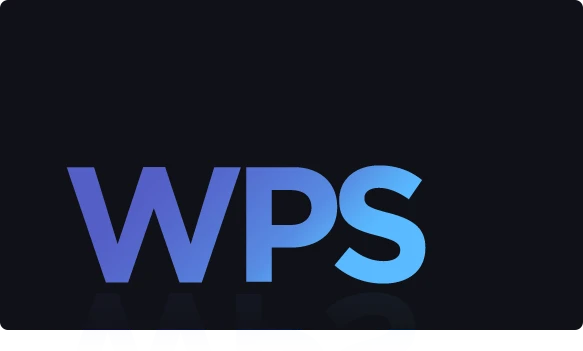 PC-grade WPS

Operation and layout of the same model of the computer

New smart accessories
Xiaomi Pad 6 Max Smart Touch Keyboard
Xiaomi Focus Pen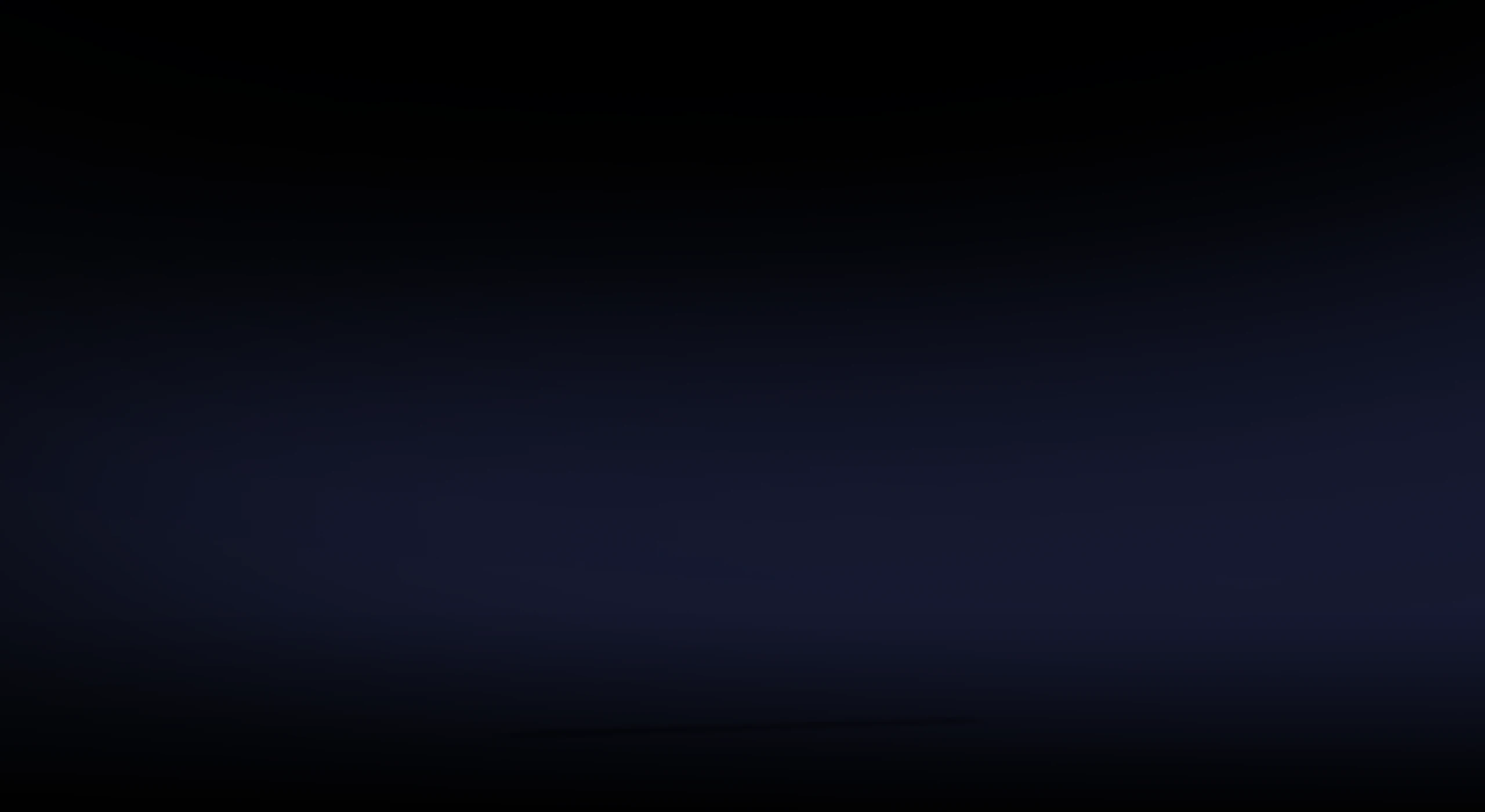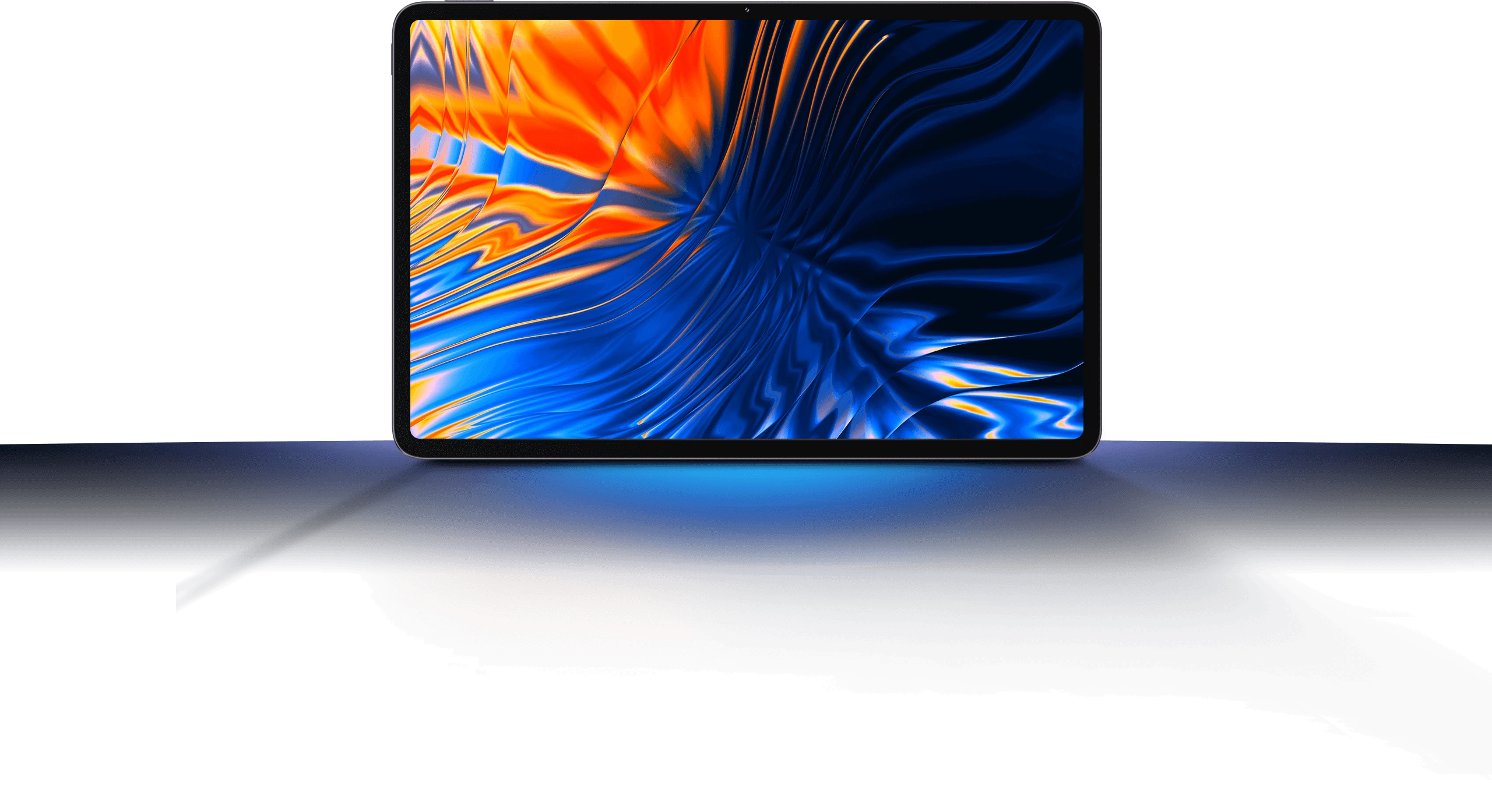 14-inch giant screen vision
The industry's scarce large screen brings a broad field of view. The screen is large enough to see more clearly, the office efficiency is more doubled, and it is easy to process documents, draw and write, and edit videos. At the same time, the large screen brings a strong visual impact and is a more suitable size for watching movies.
Ultra-clear display
Six speeds of variable refresh rate
Maximum brightness
Wide color gamut
High dynamic display
6% larger screen than Xiaomi Pad 62
The new 14-inch Xiaomi Pad 6 Max 14 has a 11% larger display area than
the 6-inch Xiaomi Pad 62, giving you more room to create more excitement.

Big screen to see documents
Big screen to watch movies
Big screen to play games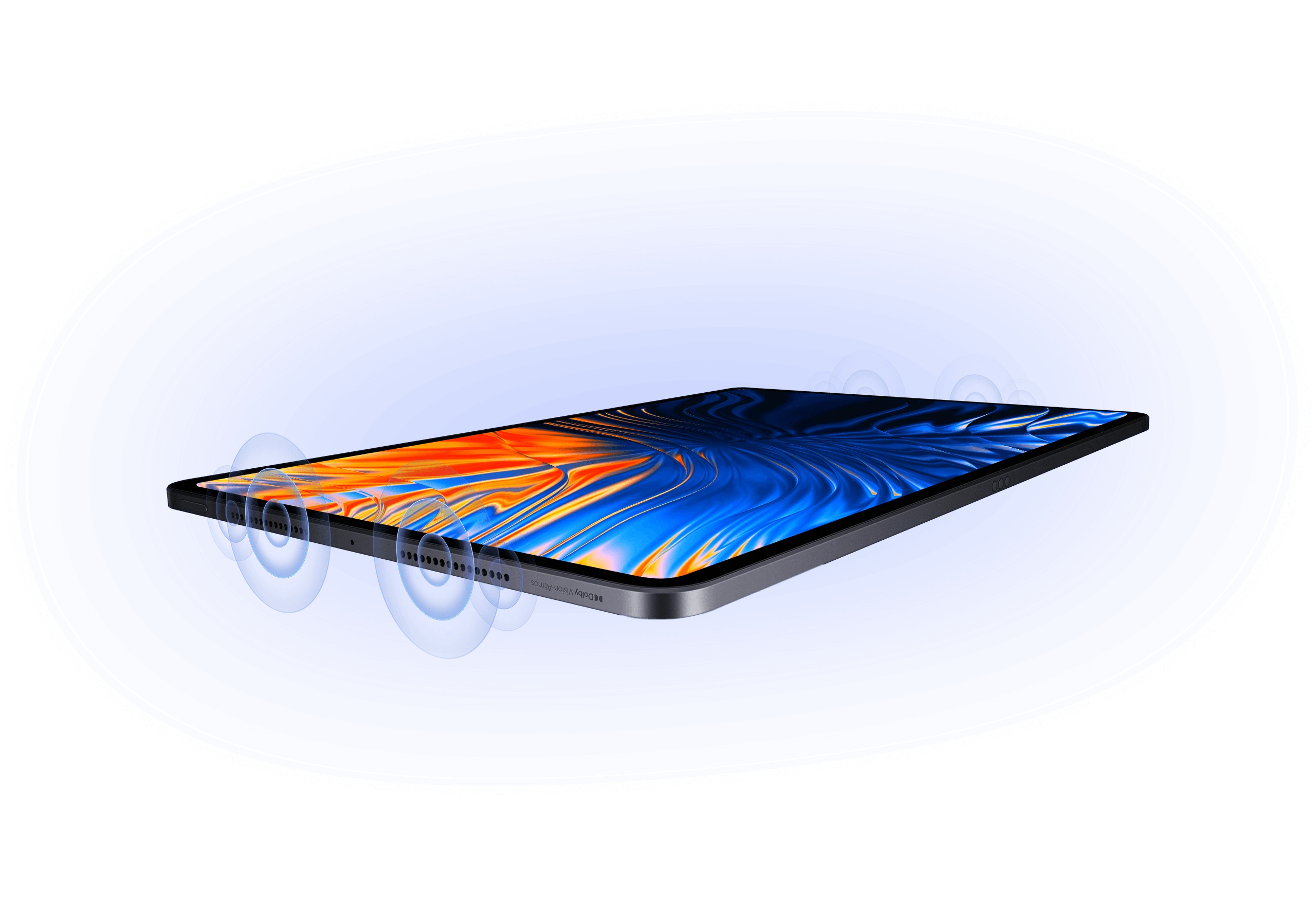 The state-of-the-art 8-speaker ultra-wideband sound system
shocks the listening sensation and immersive experience
8 professional-grade custom speakers, "4 mid-bass + 4 treble" gold combination, high, medium and low full range coverage, they bring a shocking experience, as magnificent as a 14-inch screen; Featuring Dolby Atmos professional tuning, you can capture subtle sounds while striking the sound waves, creating a more immersive sound atmosphere.
Xiaomi 2K ·
120 fps content zone
Xiaomi Pad 6 Max 14 is ultra-high-definition certified and combines with Youku to bring a 120-frame content zone for a stunning audiovisual experience.

* This function requires Youku membership and needs to upgrade the MIUI system to the latest version of experience.
* The content of services provided by third-party partners may change due to changes in copyright, business or technical conditions.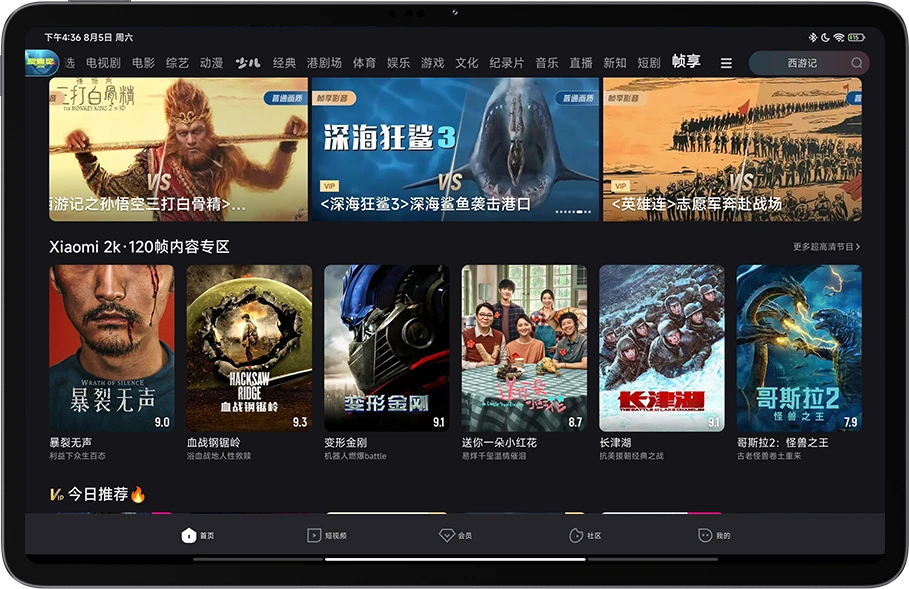 Eye protection screen
Full DC dimming
No stroboscopic, more eye-protecting
Ambient color temperature sensing
Front and rear dual photosensitivity, color temperature sensor
Low color cast, eye protection
Protect your eyes while reducing color casting
TÜV Rheinland triple certification

TÜV
Rheinland hardware-grade low blue light certification

TÜV
Rheinland is flicker-free certified

TÜV
Rheinland color accuracy and accurate color projection certification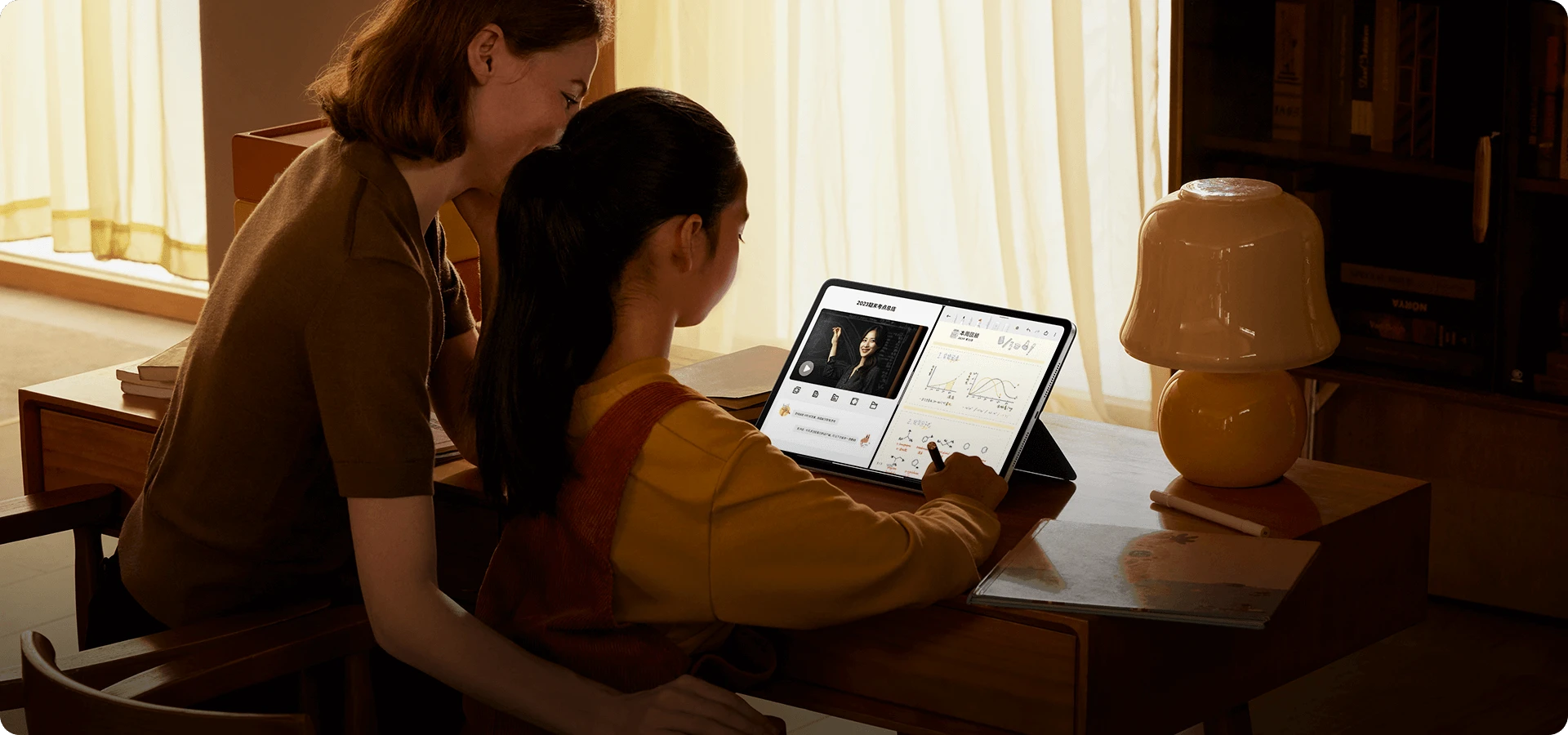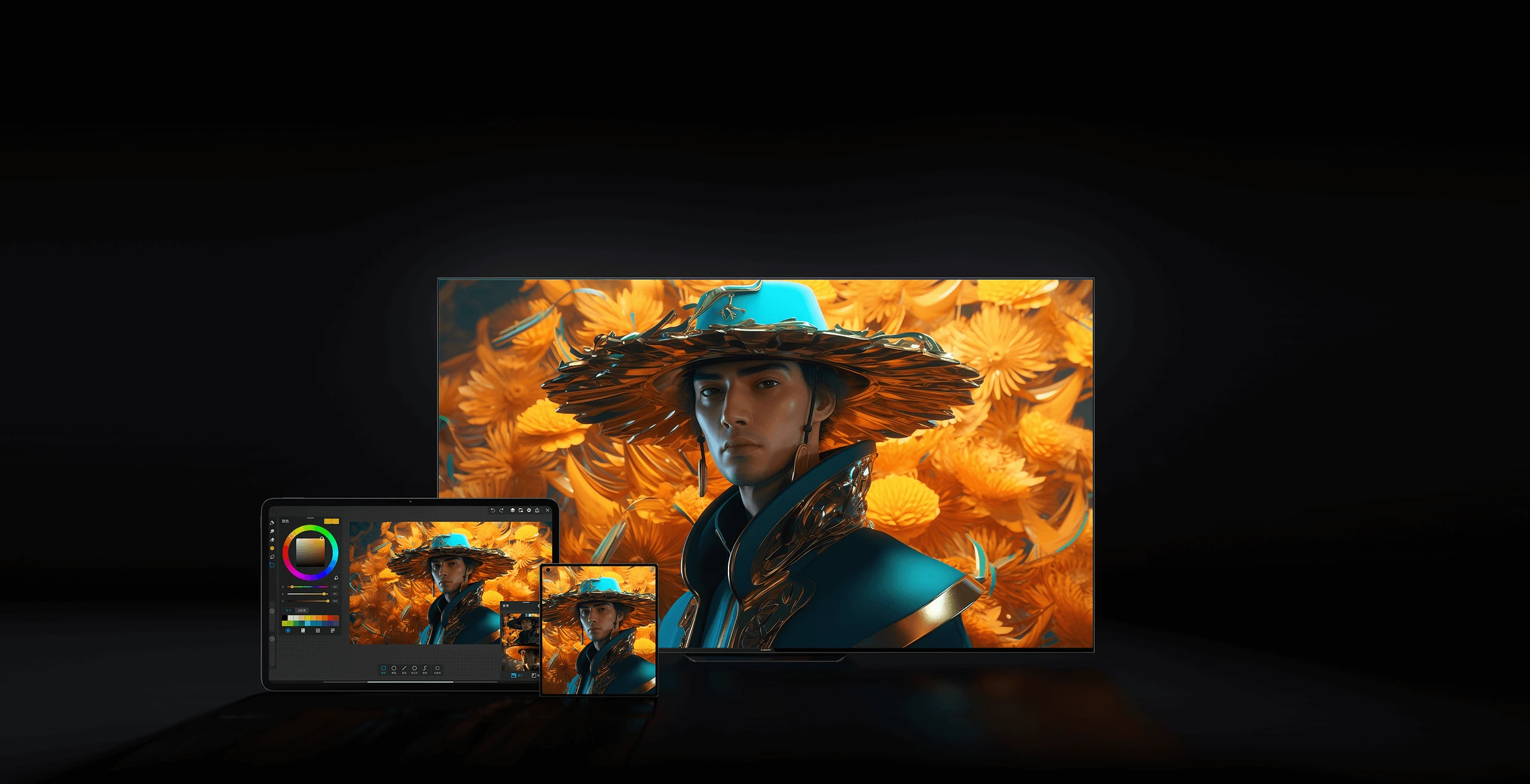 Professional primary colors Multi-screen color
Refer to the CIE2015 color curve calibration, add human eye test factors, and effectively solve the display differences caused by different devices and different material screens. It has the same color display as the Xiaomi MIX Fold 3, Xiaomi 13 Ultra, Xiaomi Pad 6 series, and Xiaomi Mi TV Master 86" MiniLED, regardless of the screen.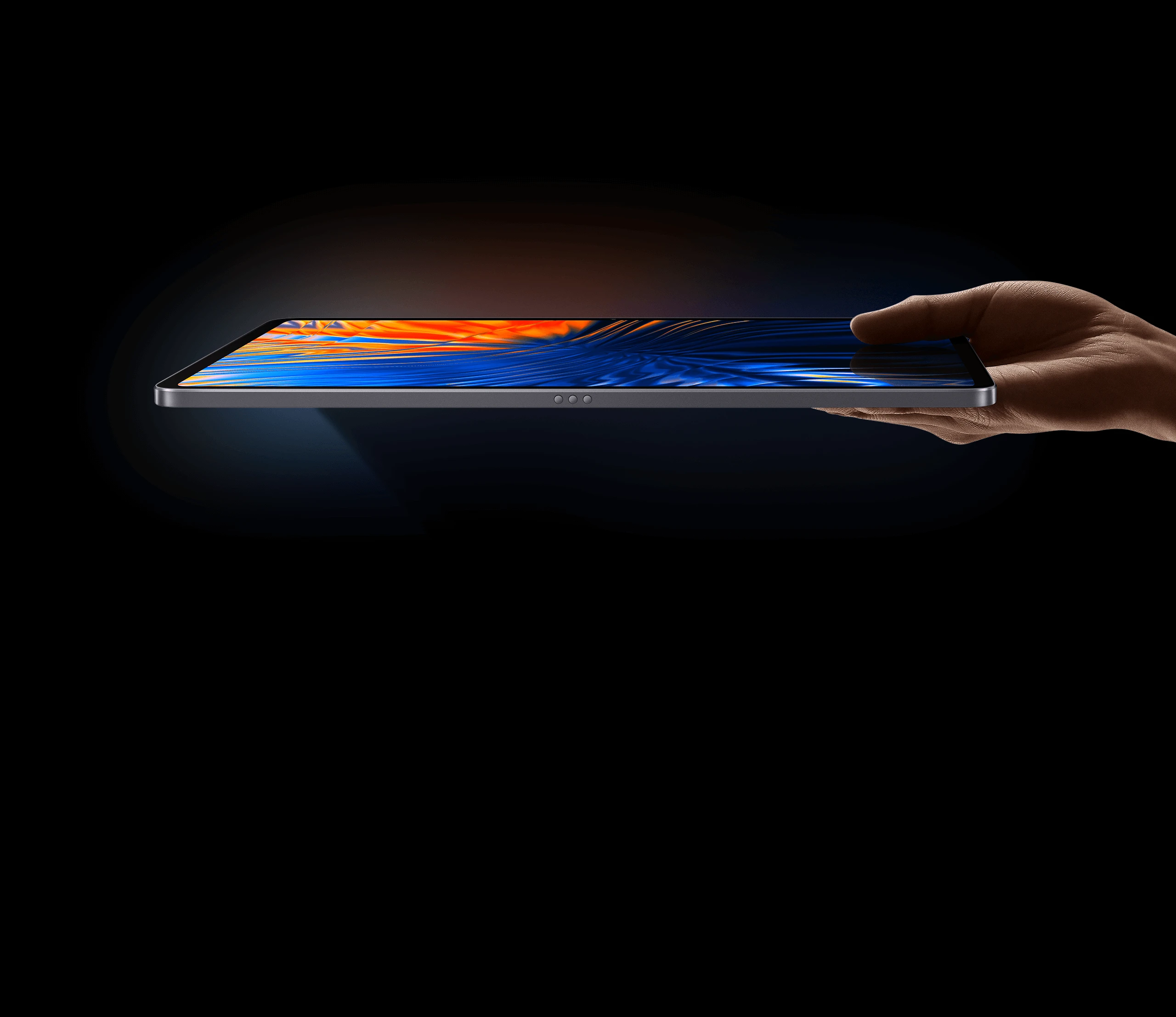 * Camera DECO and keys are non-metallic.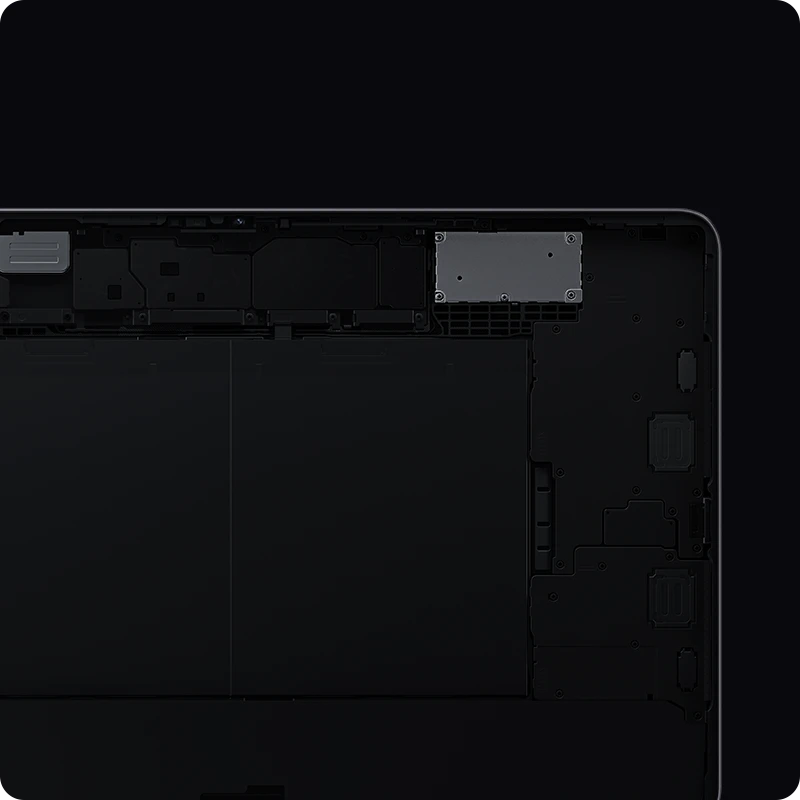 Hidden antenna design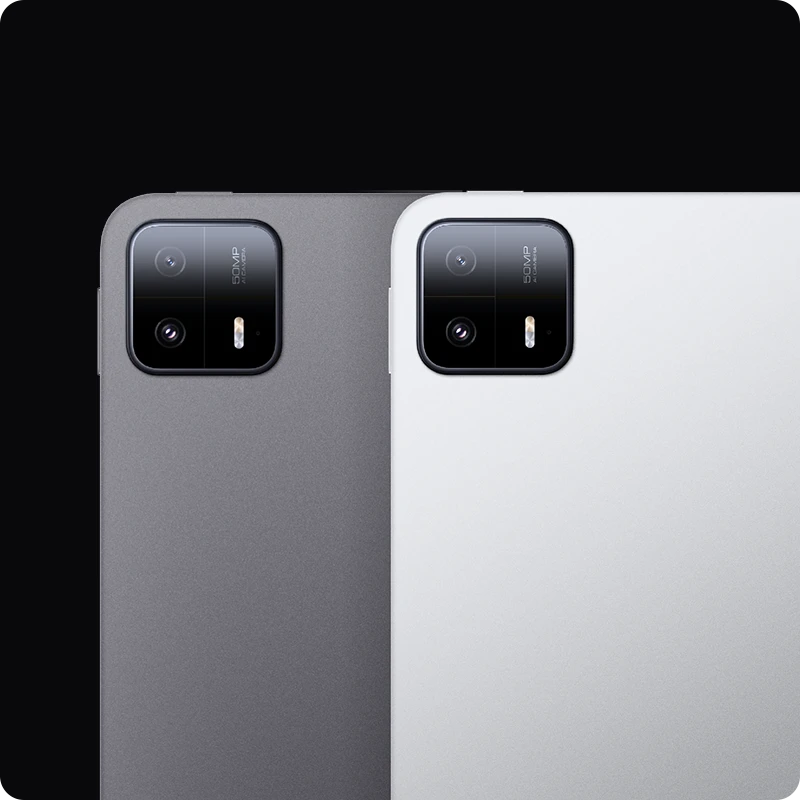 black

argent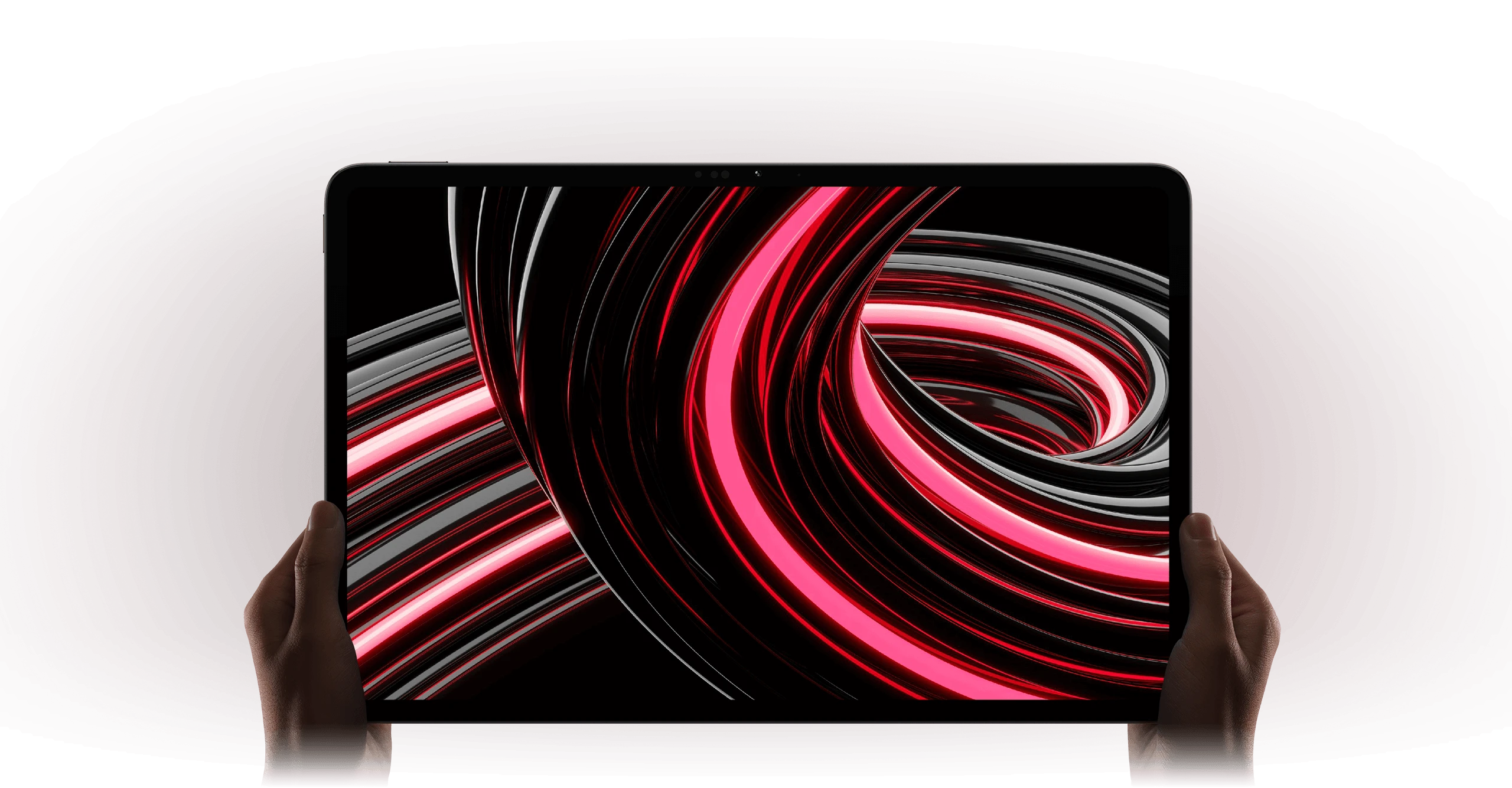 Snapdragon 8+
flagship processor
The leading Snapdragon 8+ processor, using TSMC's advanced 4nm process, is powerful and can be easily controlled in daily or heavy scenarios.

1,352,894
Other parts Android tablets
810,531
* Data from Xiaomi Labs, tested with Antutu V10 version, actual test results may vary depending on the test environment/conditions.
* Other parts of the Android tablet refers to the Android tablet using the Snapdragon 870 chip, the experimental data comes from Xiaomi Lab, the actual test results may vary depending on the test environment.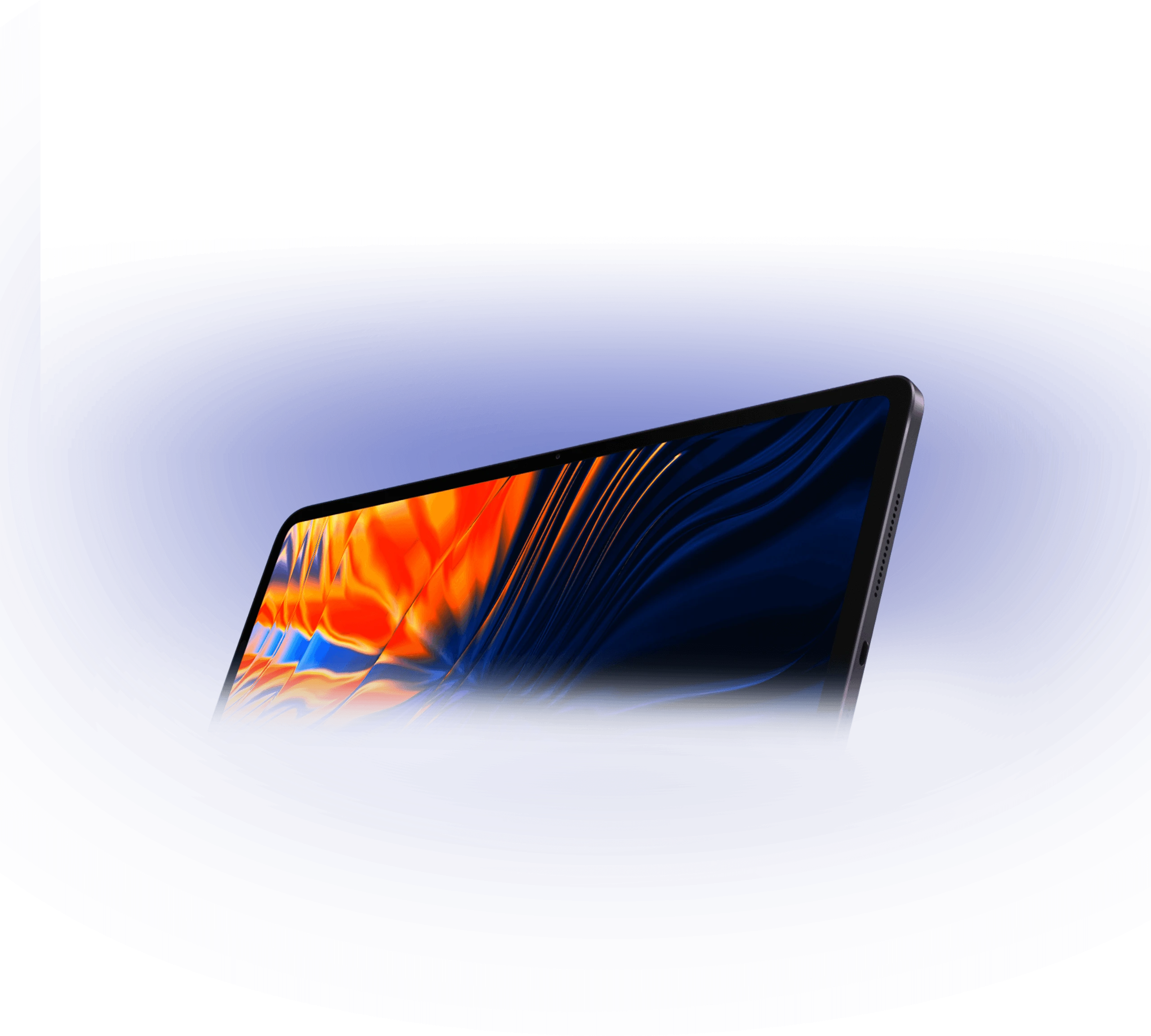 Optimized for large-screen performance
Photonic Engine for Pad
+18%
Improved system fluency
Dynamic performance scheduling
, real-time monitoring of running load
, and rapid adjustment of system resource allocation
+16%
Increased multitasking fluency
Focus scheduling
: The performance of focused applications is improved, and the power consumption of non-focus applications is
reduced
+70%
The game starts quickly
Memory freezes
, games stay in the background
for a long time, start up again, and speed jumps
* Data from Xiaomi Labs compared to Xiaomi Pad 6 Max 14 when such features are not in effect.
10000mAh high power
is always online, say goodbye to battery life anxiety
Plenty of full power, the battery life model DOU reaches 2.04 days. Whether you go out for meetings, business trips, or self-driving trips, watching dramas at home, the companionship it can give is far beyond your imagination.
G1
Xiaomi surging G1 battery management chip
*Battery life data comes from Xiaomi Lab, specific data may be slightly biased due to different test environments.
*The charging data comes from Xiaomi Lab, 1% initial power, tested using the 67W charger in the package in the state of the information screen. Actual usage varies slightly depending on the environment.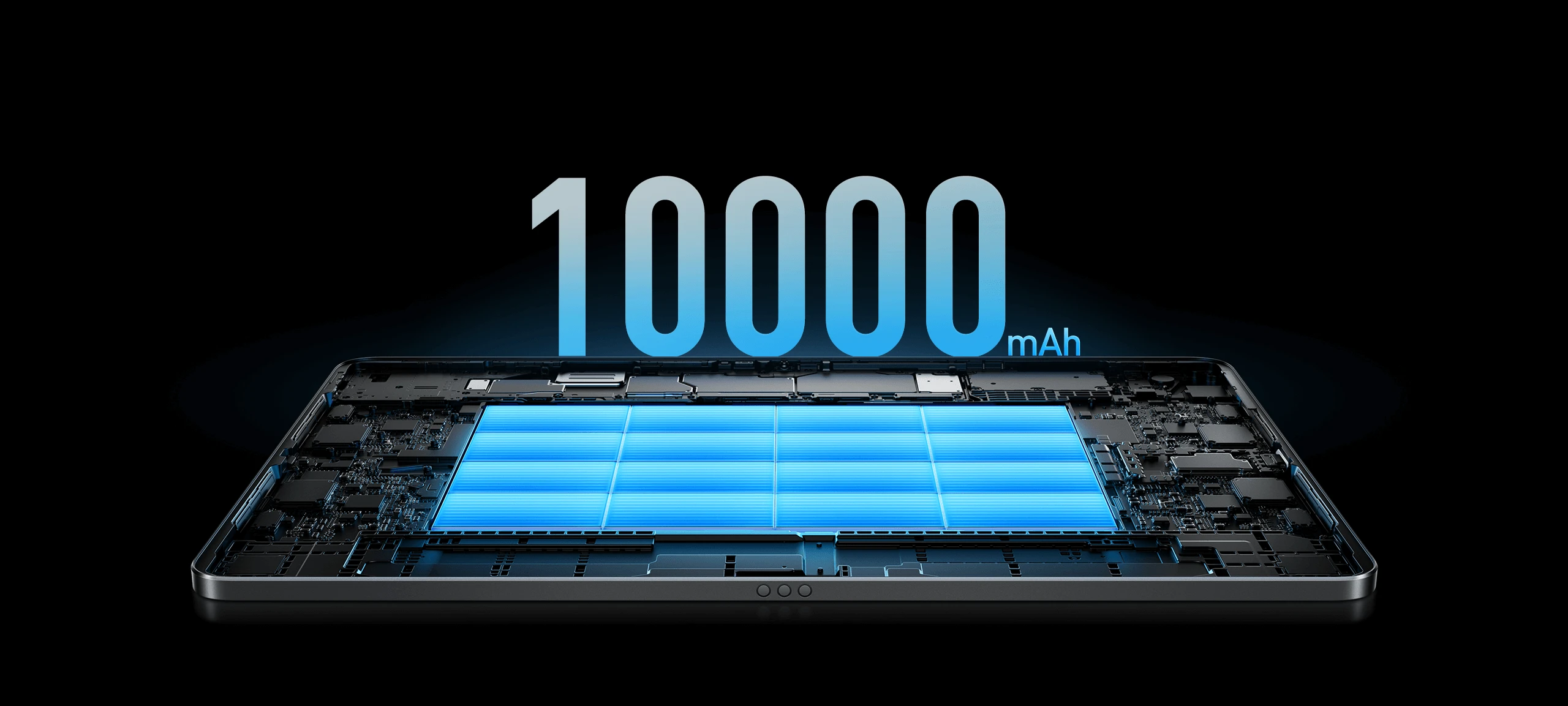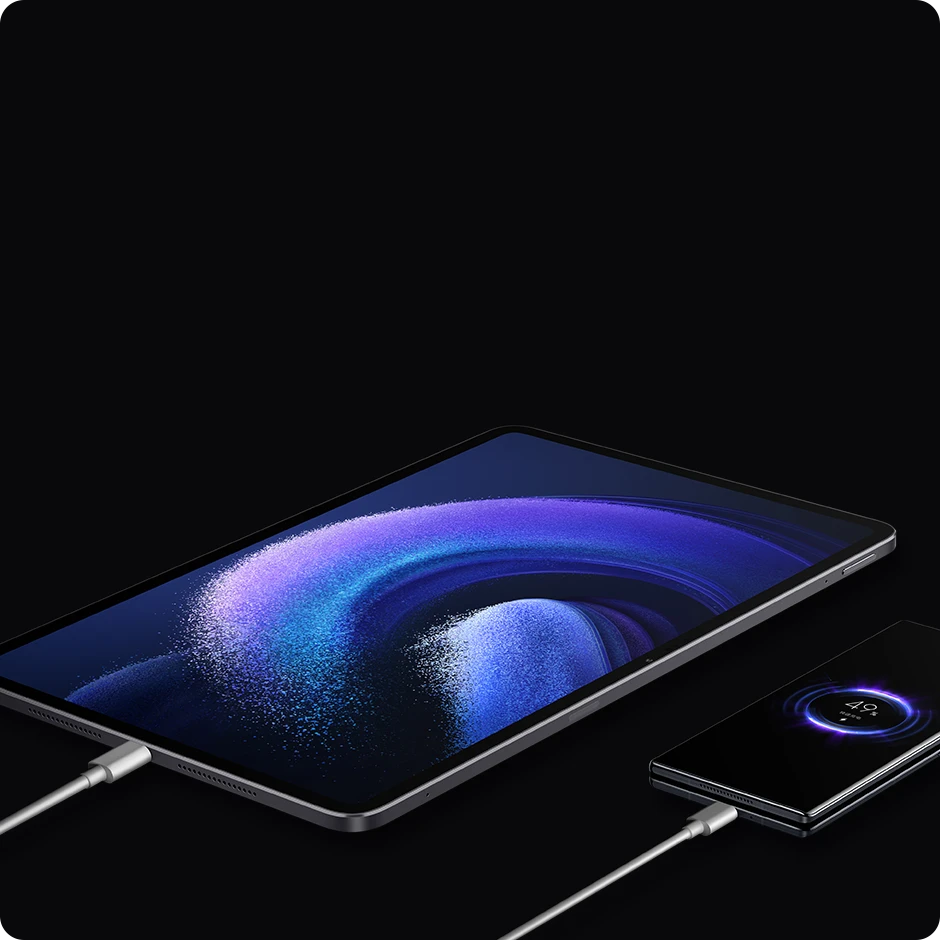 Support 33W
reverse charging
Support PD3.0 / PD2.0 fast charging protocol, charge Xiaomi MIX Fold 3
30 50 minutes to <>%.
* The charging data comes from Xiaomi Lab, the ambient temperature is 25 degrees, the initial power of the tablet is 100%, and the initial power of the MIX Fold 3 is 1%, both of which are tested in the state of the screen. Actual usage varies slightly depending on the environment.
* Type-C to Type-C cable used for reverse charging needs to be purchased separately, only some Xiaomi mobile phones can reach a maximum of 33W charging power, the actual charging power will vary depending on the charging protocol supported by the charging device, charging power, etc., please refer to the actual usage.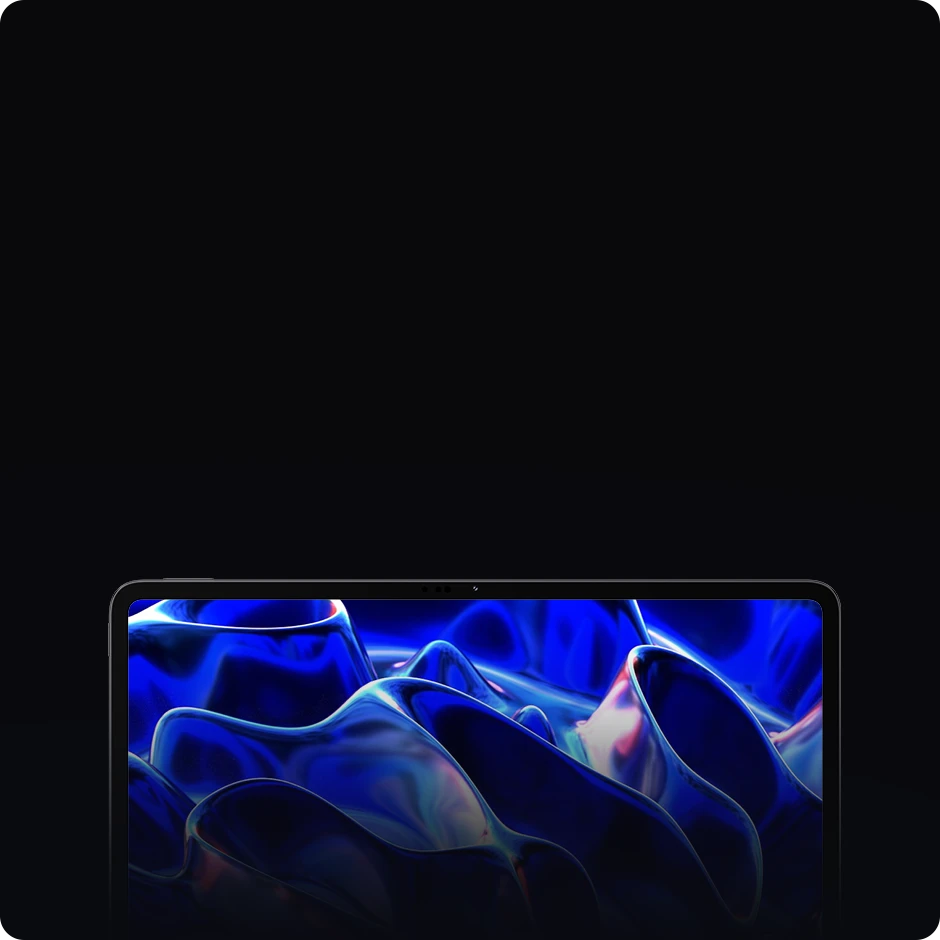 Deep sleep mode
with grab and go power
After the screen is extinguished for a period of time, the system enters a sleep state to further improve the standby battery life, even if it is idle for a long time, it can be used immediately.
43.6 days
Standby battery life
* The data is tested according to the Xiaomi laboratory model, simulating the usage scenario when accessories are not connected, and the actual data may differ due to the difference in the test environment.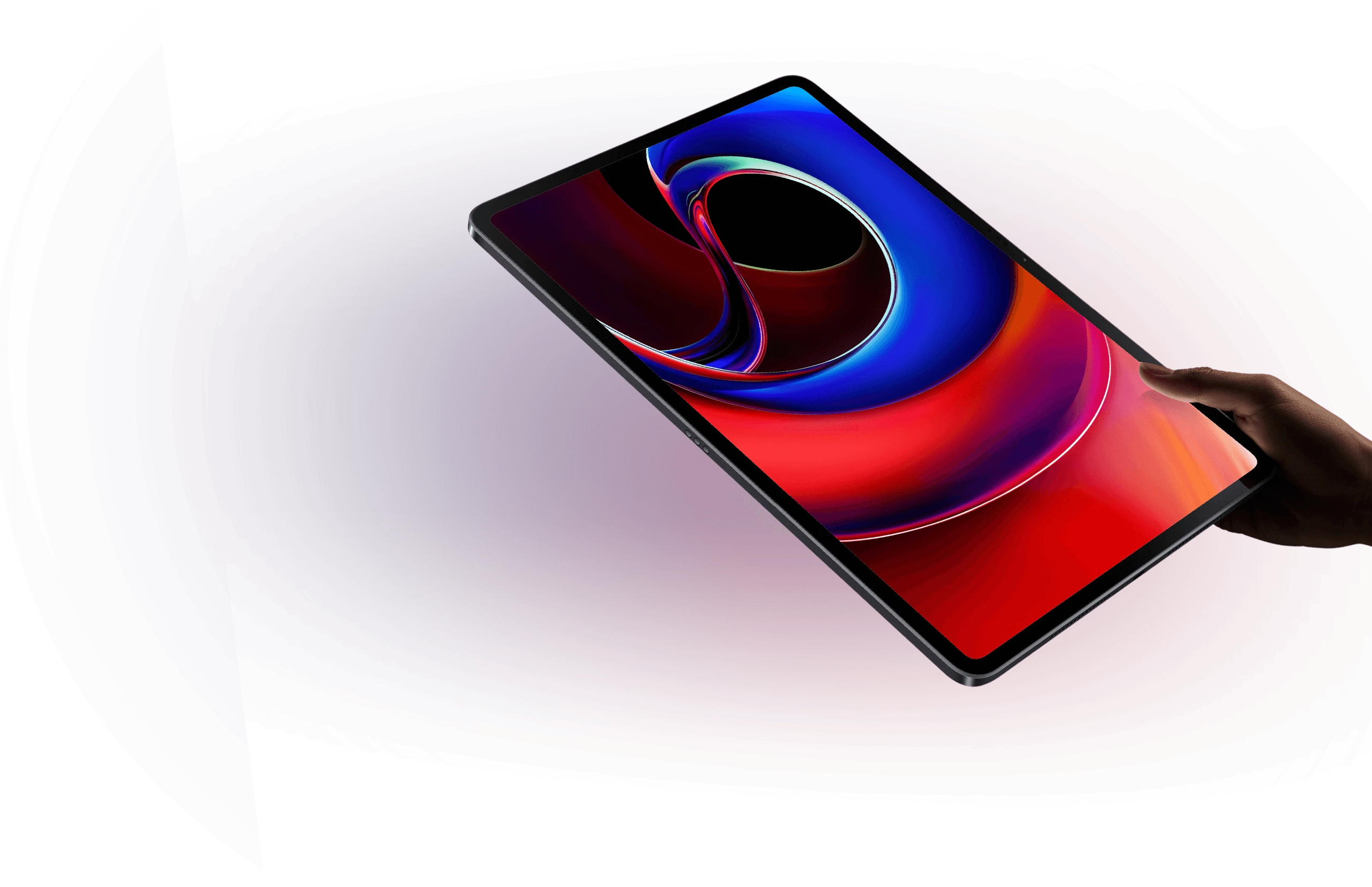 Large screen with high efficiency
First release of new features
The MIUI Freelance Desk
is starting now, doing what many computers can
The MIUI freelance workbench is enough to take on many tasks that would otherwise be performed by a computer. The application opens in the form of a window by default, the size of the window can be adjusted, each window runs independently, does not interfere with each other, does not need to switch back and forth, and multitasking is more convenient.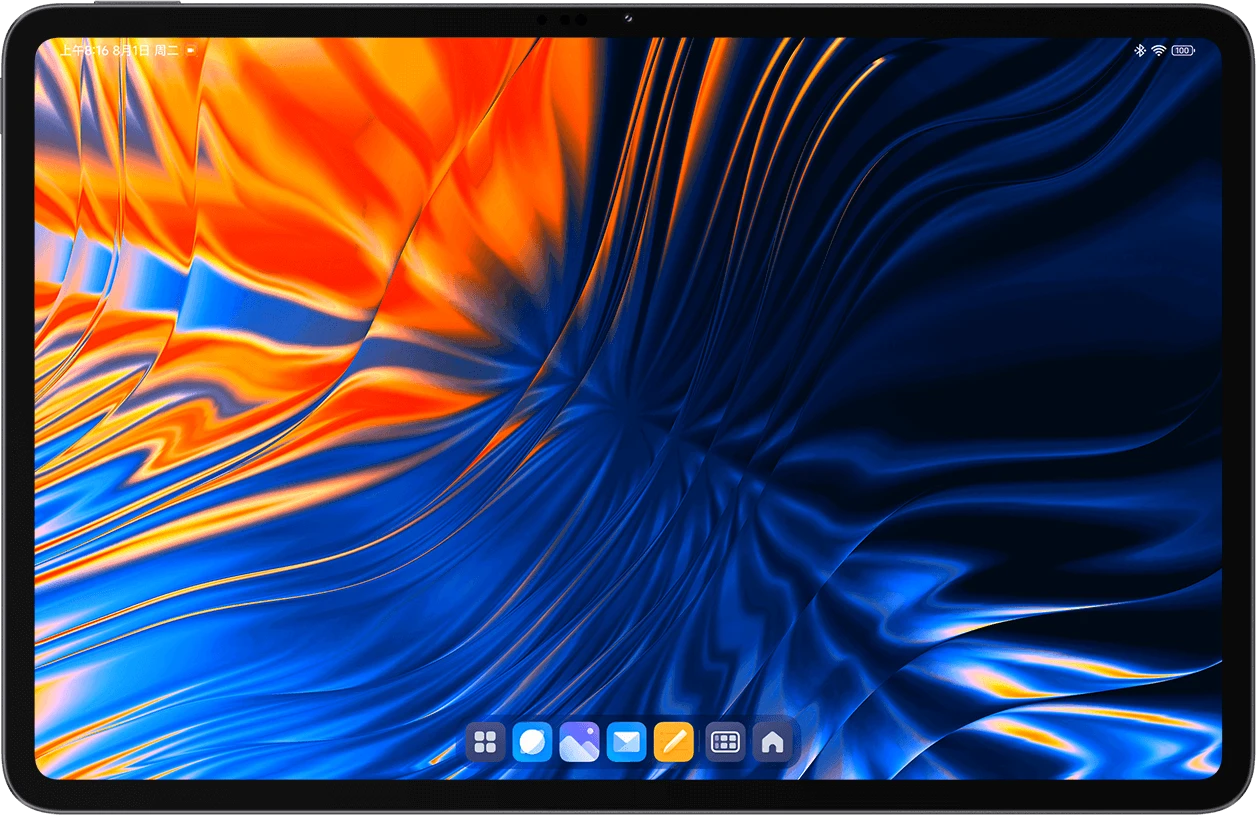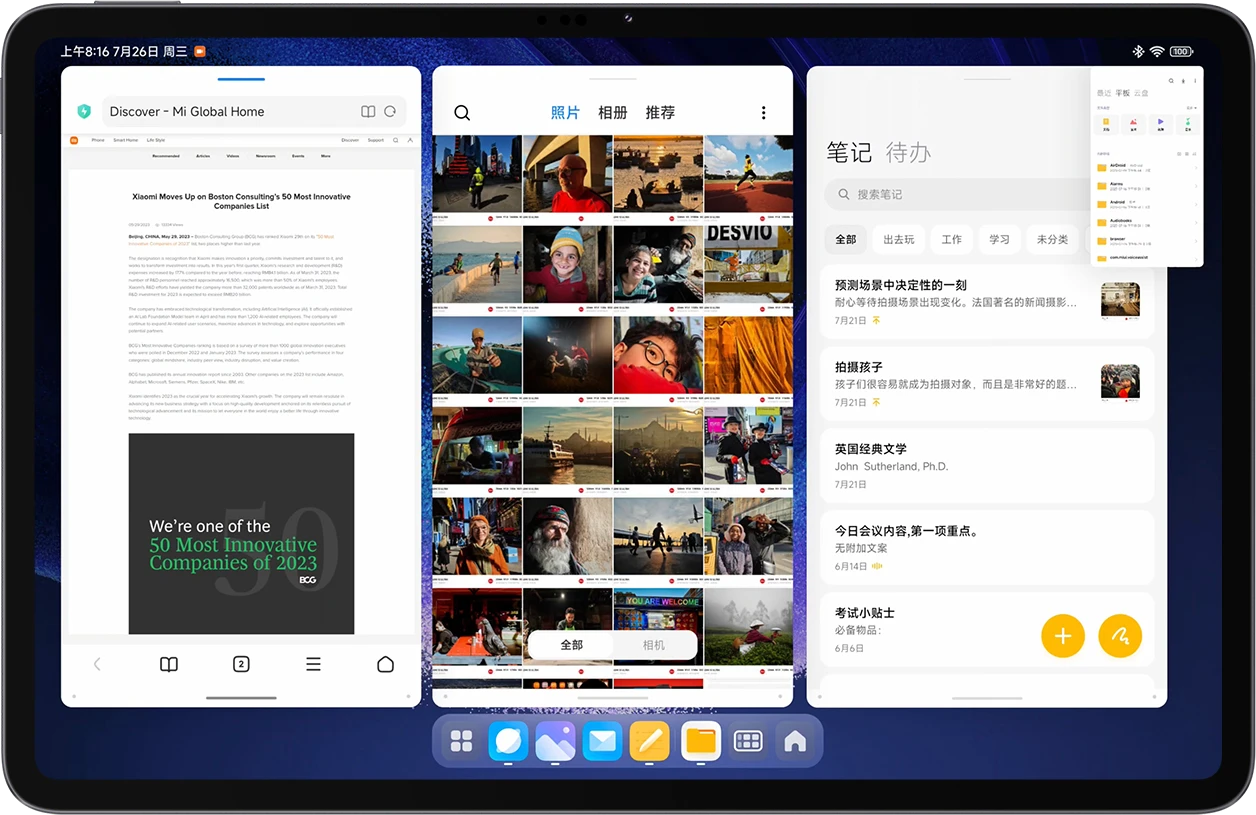 Minimalist desktop
Multi-window collaboration
Do PPT while checking the information
Take notes while taking online lessons

The new WPS Office PC for Pad, familiar feature layout, familiar interaction logic, and support touch screen input, double office efficiency.

WPS text
Professional text typesetting function, paper setting, background
setting, no longer limited to simple office tasks.

WPS demo
Full support for review, text annotation and other functions, providing the
insertion of creative elements such as WordArt and smart graphics.

WPS form
The chart style is richer, and it supports high-level functions such as data comparison and simulation
analysis, making data processing more professional.

Video conferencing
is a great helper
The 2000-megapixel front-facing camera
smart portrait is centered and always focused
* Features included in the meeting toolbox are only supported by some applications.
4 microphone array pickup system
, multiple conference recording modes
Single conference mode focuses 60° in front of the screen; Multi-person conference mode 360° far-field radio, everyone's voice can be accurately captured. Added downstream AI noise reduction, simultaneous recognition of upstream and downstream, and clear voice on both sides of the call.
"Single player mode" has been upgraded
to make the pickup angle more accurate
Multi-person conference mode
, 360° far-field radio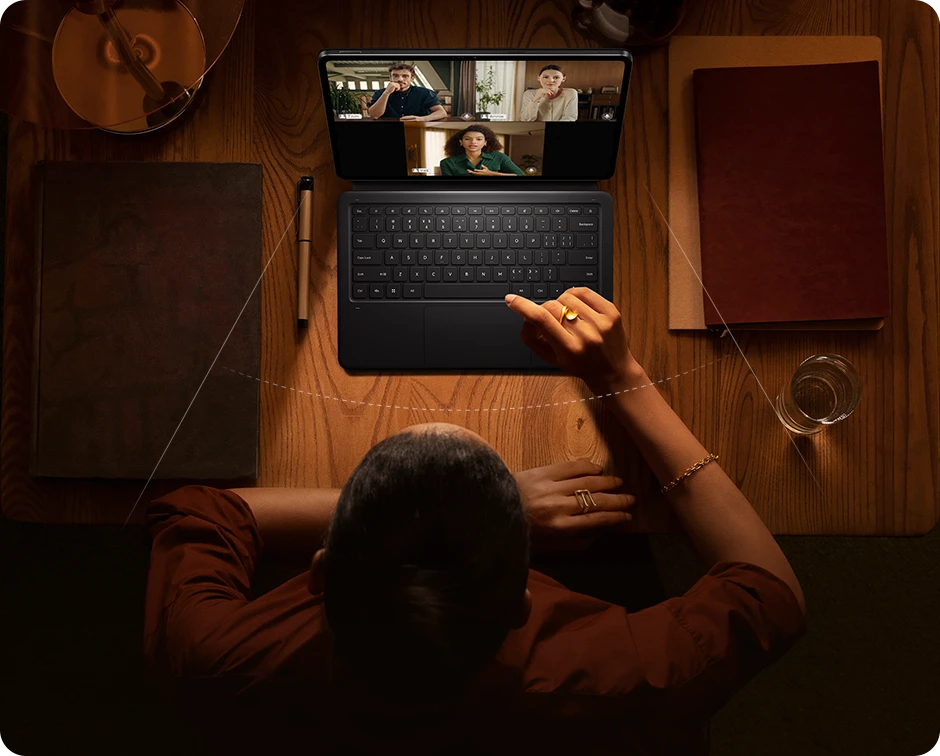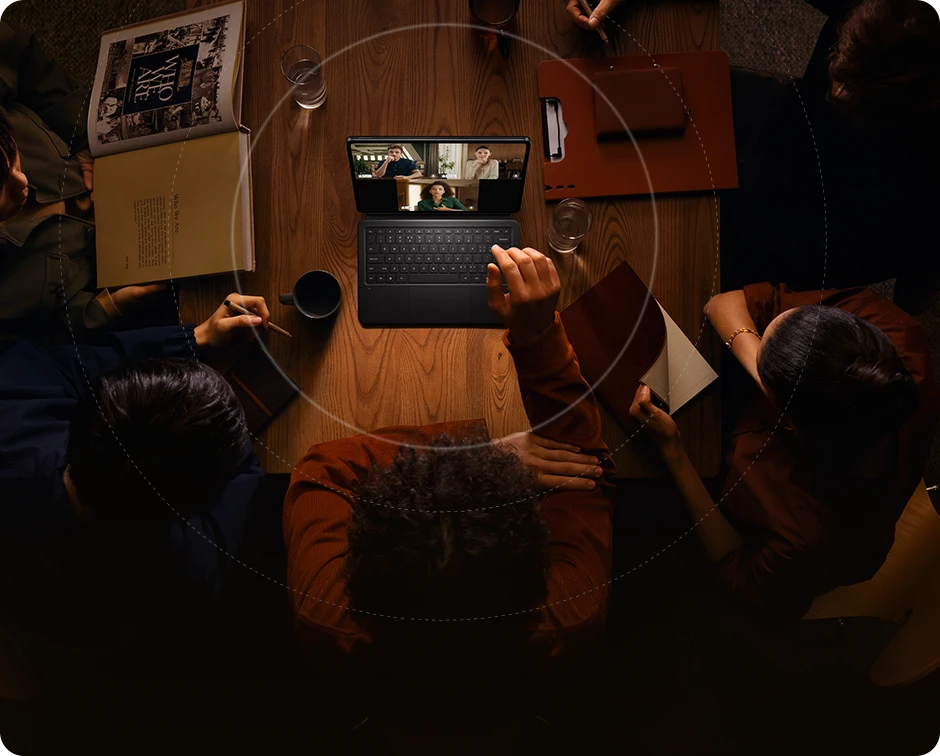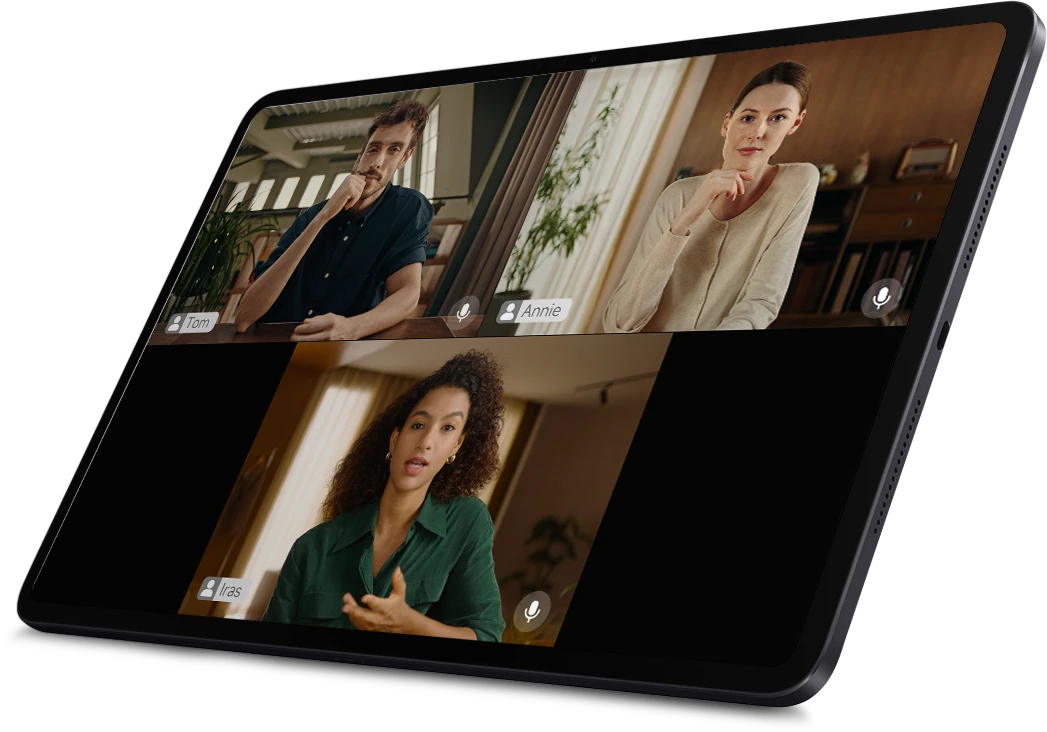 AI intelligent noise reduction can easily cope with 150+ kinds of life noise
Intelligent recognition and suppression of more than 150 types of life noise, such as hair dryer noise, baby crying, and high heels sound, makes meeting communication more efficient.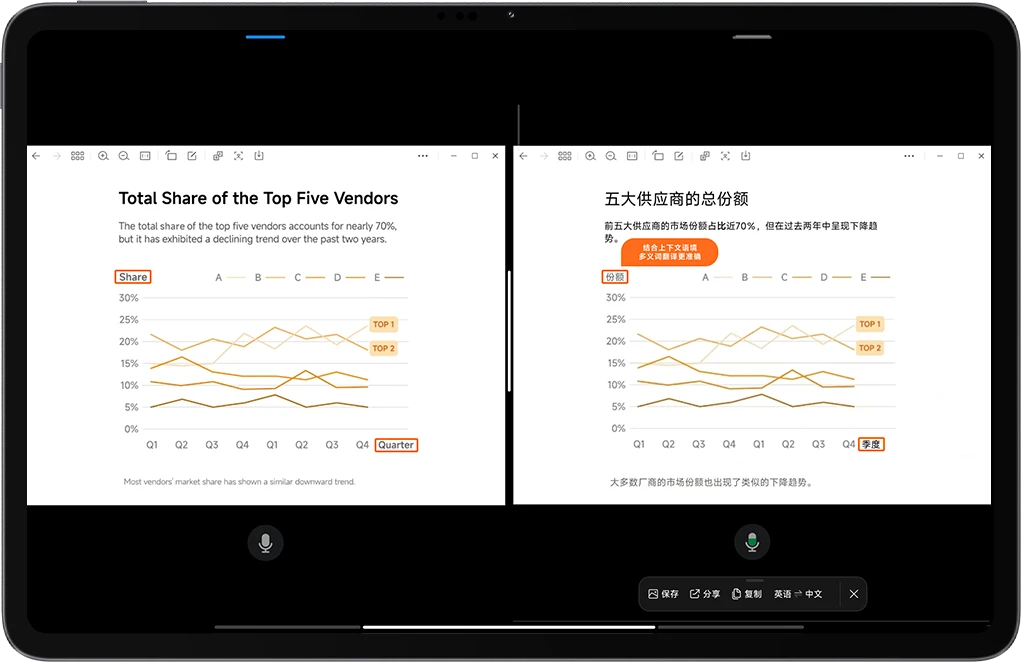 New features
Capable meeting helper
AI translation big model
When you are in a meeting, easily translate the foreign language PPT displayed by the other party accurately. With the help of the AI translation big model, word translation is more in line with the context, and the accuracy rate is increased by 27.5%. In addition, screen translation is also suitable for multiple scenarios such as images, documents, and web pages.
* The comparison object of the translation accuracy improvement data is Xiaoai Translation when the AI large model translation is not effective.
* This feature requires upgrading to the latest system version.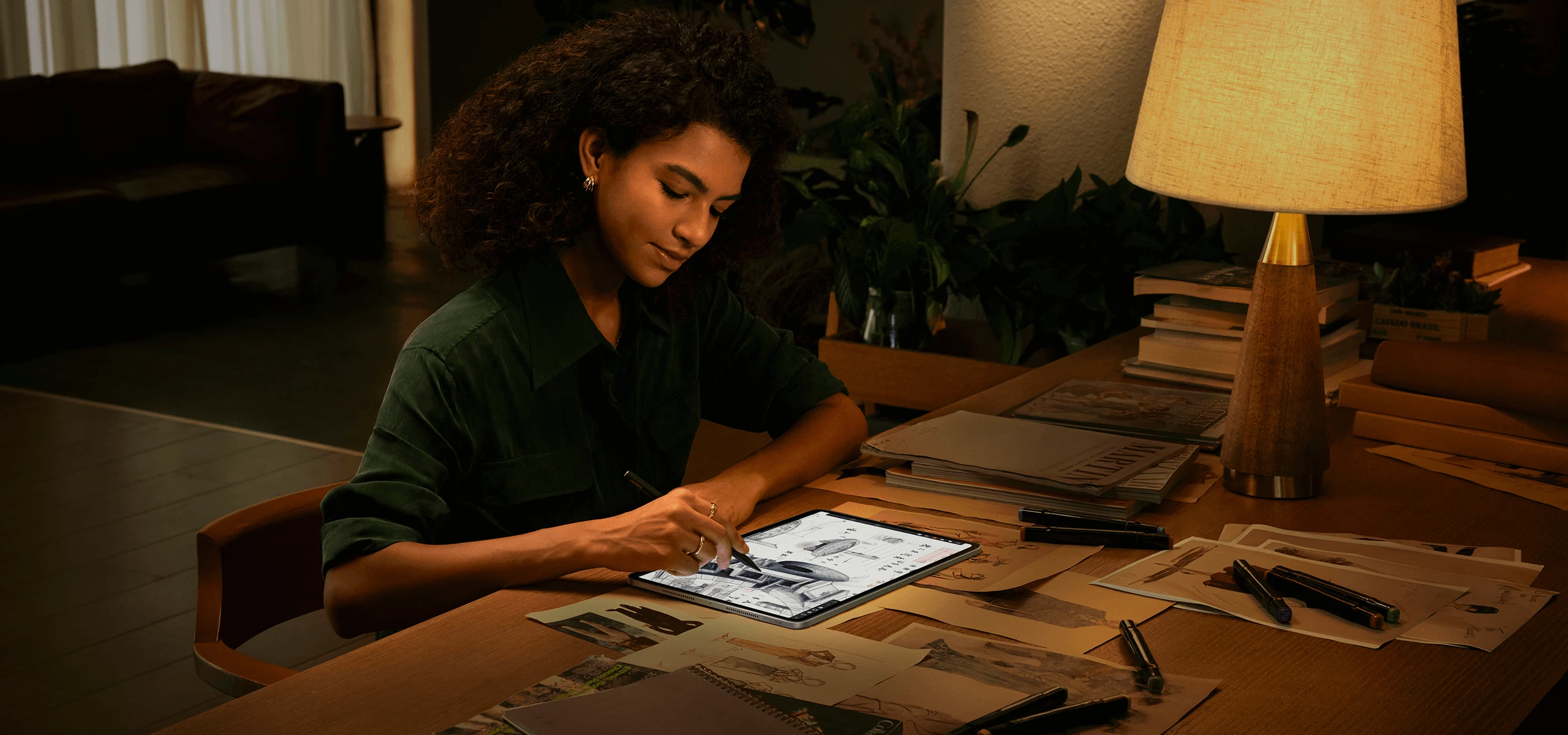 Efficiency is a good partner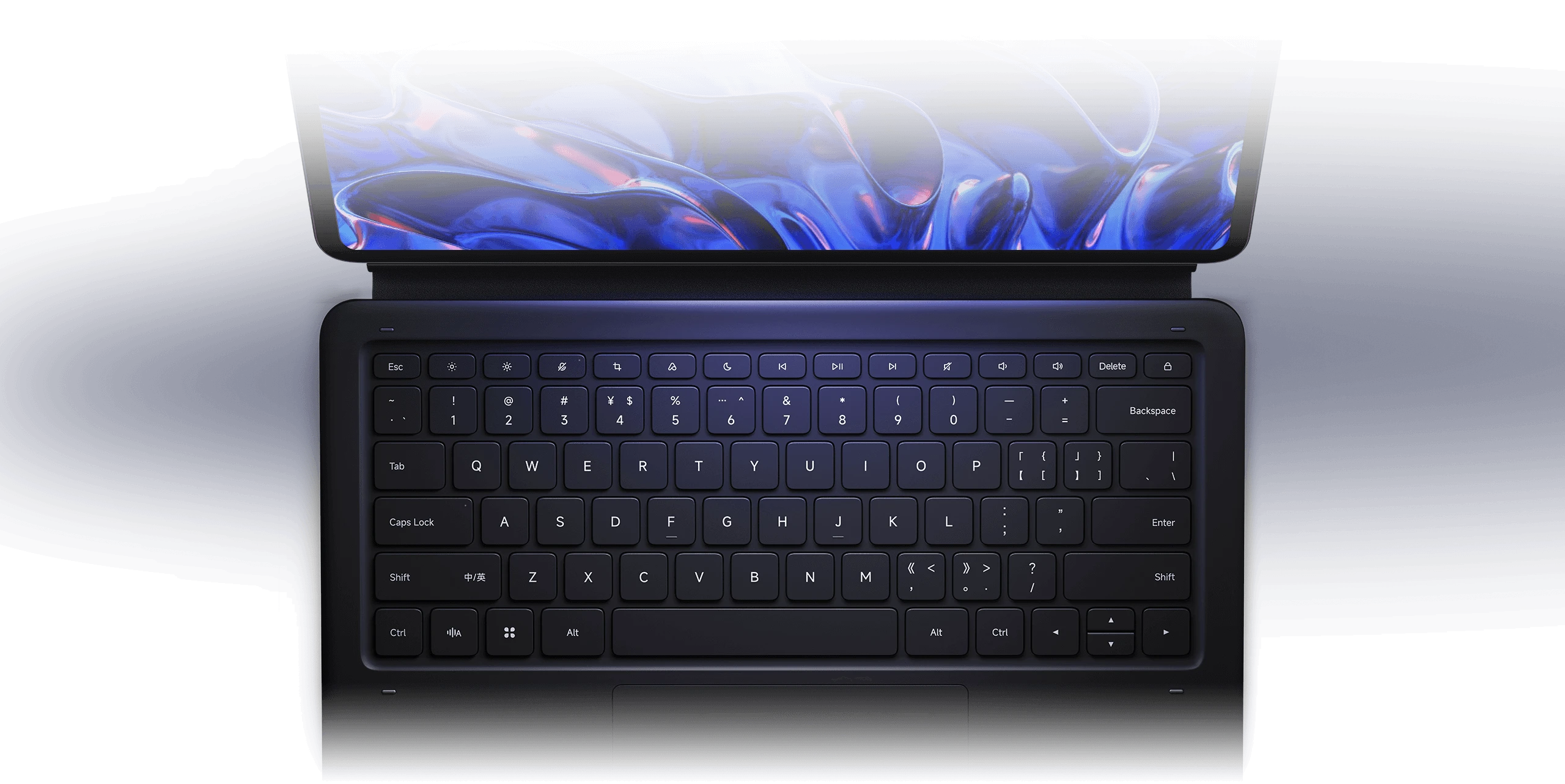 Smart touch keyboard
* Xiaomi Pad 6 Max Smart Touch Keyboard is only available on Xiaomi Pad 6 Max 14 models and needs to be sold separately.
Full-size backlit keyboard
restores PC-level typing experience
Large keys
Large key travel
Backlight adjustment
Infinitely adjustable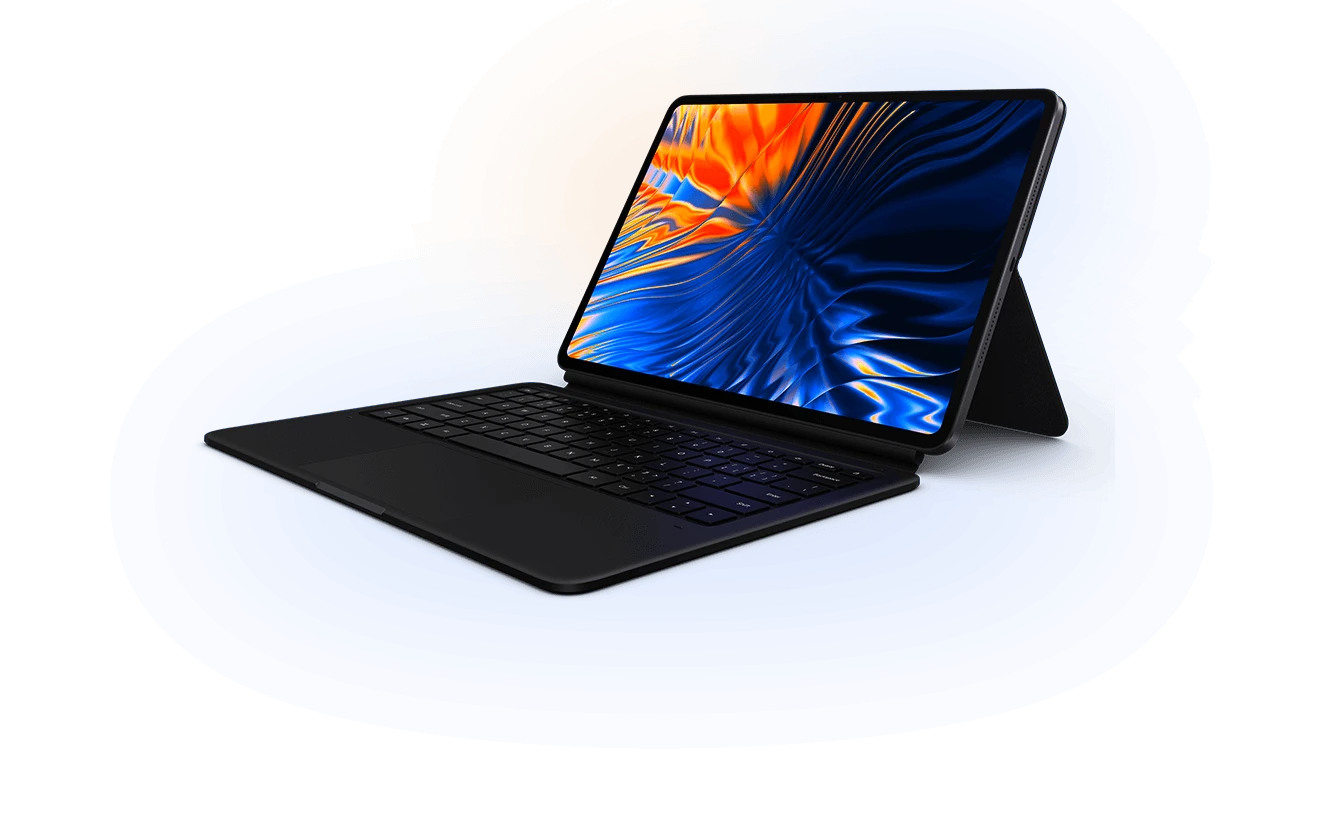 Added 15 shortcut keys
for high-frequency operation to solve with one click
The keyboard has added independent shortcut keys, which support one-click global activation and deactivation of the microphone, switch do not disturb mode, etc.; Independent voice input button, the system automatically converts the speech content into text.
* One-click voice input is only effective for Xiaomi custom Sogou input method.
The large trackpad
is easy to tap and stay in control
The large trackpad is not cramped to touch, leaving a large space for rich gesture operation
. Glass cover, cold and silky to the touch.
Split is more flexible
Dual-mode connection, flexible keyboard position, adapt to different spaces and usage habits.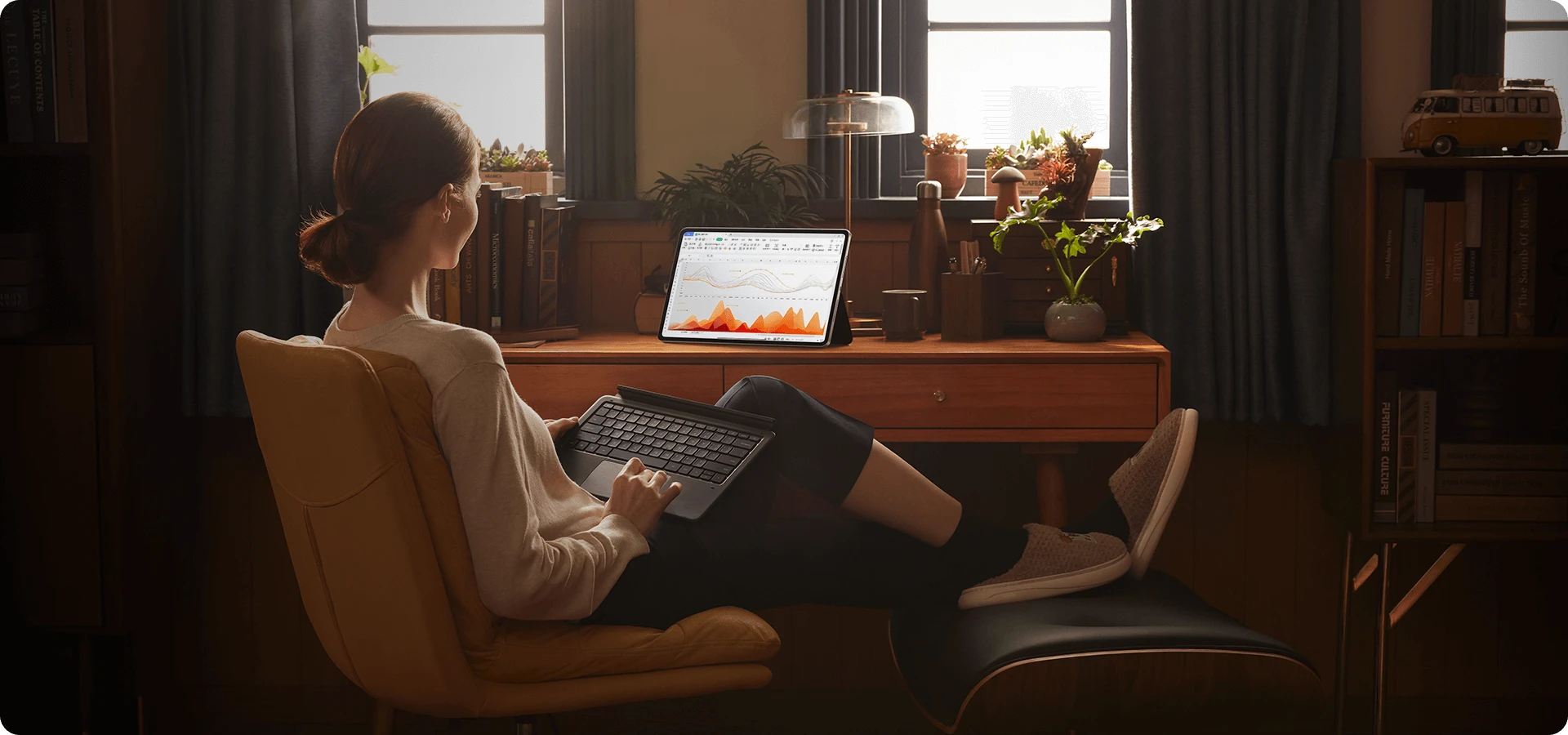 Smart touch keyboard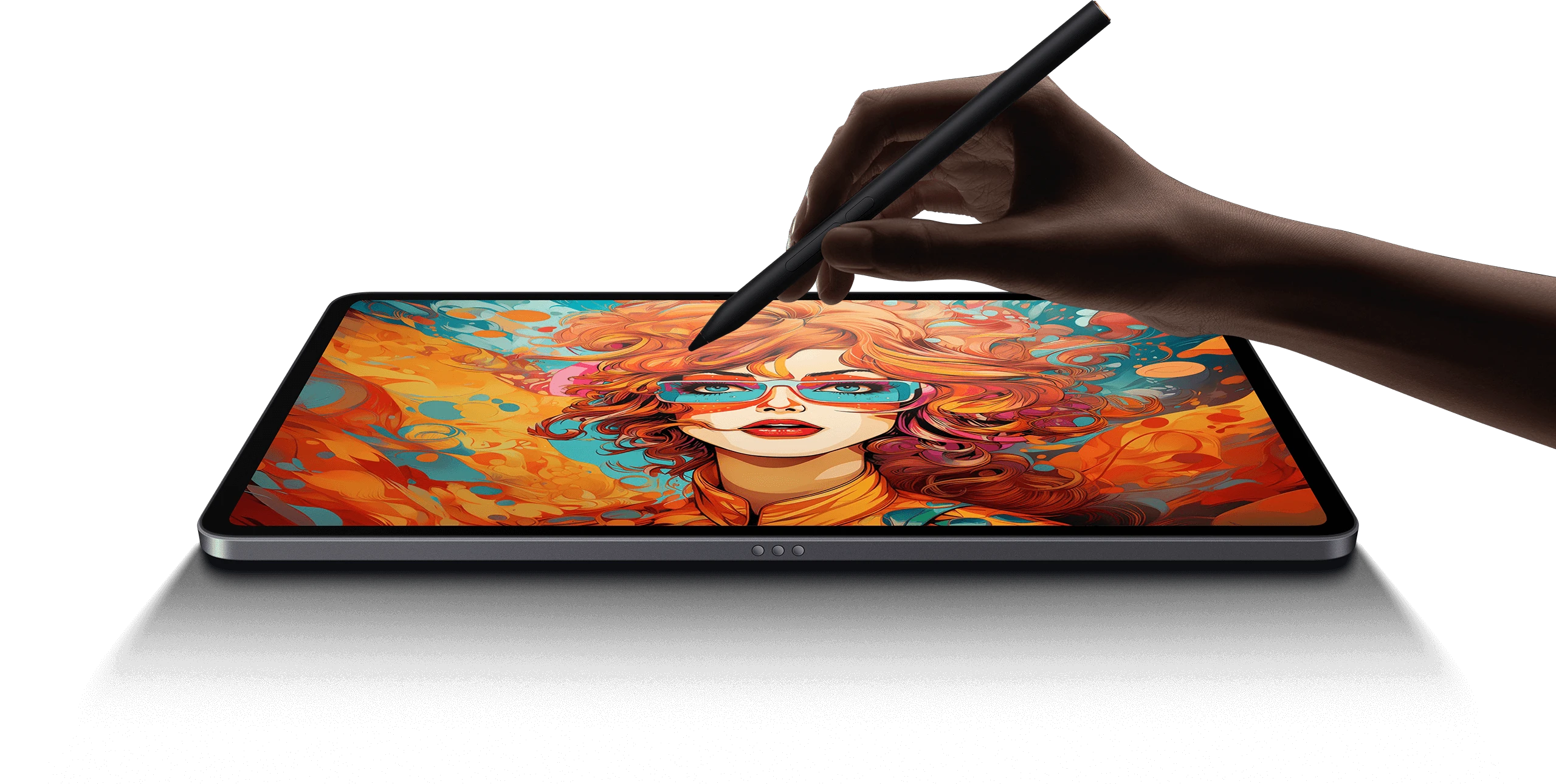 Xiaomi Focus stylus
8192 level pressure
The nib changes with sensitivity
Ultra-low latency of 5ms
Write and draw more smoothly
Antibacterial pen body
Antibacterial rate> 99.99%
Screw-in nib
More stable than pluggable type
* Xiaomi Focus Pen is only available on Xiaomi Pad 6 Max 14 models and needs to be sold separately.
* Xiaomi Pad 6 Max 14 models do not support Xiaomi Inspired Pen and Xiaomi Mi Inspired Pen (5nd generation).
* 23ms latency data from Xiaomi Labs, actual data may vary due to differences in test environments.
* Antibacterial rate data tested by SGS laboratory, report number QDF041751-01-<>.
Added focus key


Virtual laser
Long pressing the focus button triggers a virtual laser
conference presentation for greater clarity
Brush annotation
After clicking, hold down the focus key to circle the mark, double-click to clear the
screen in one second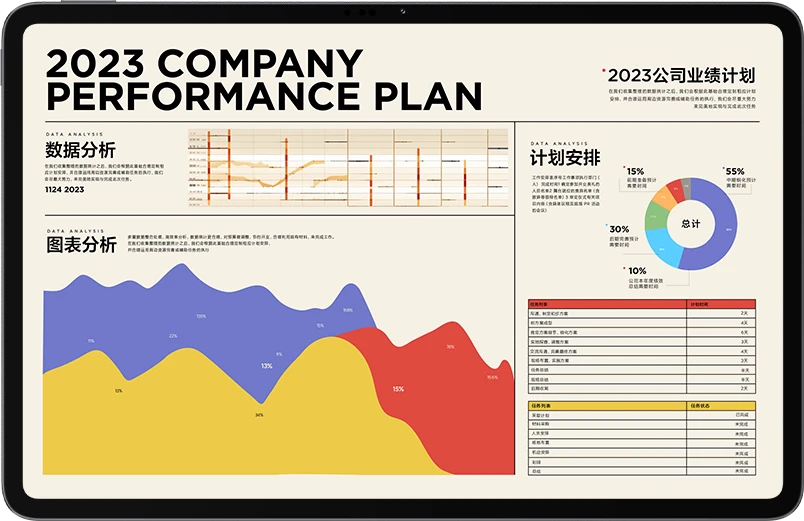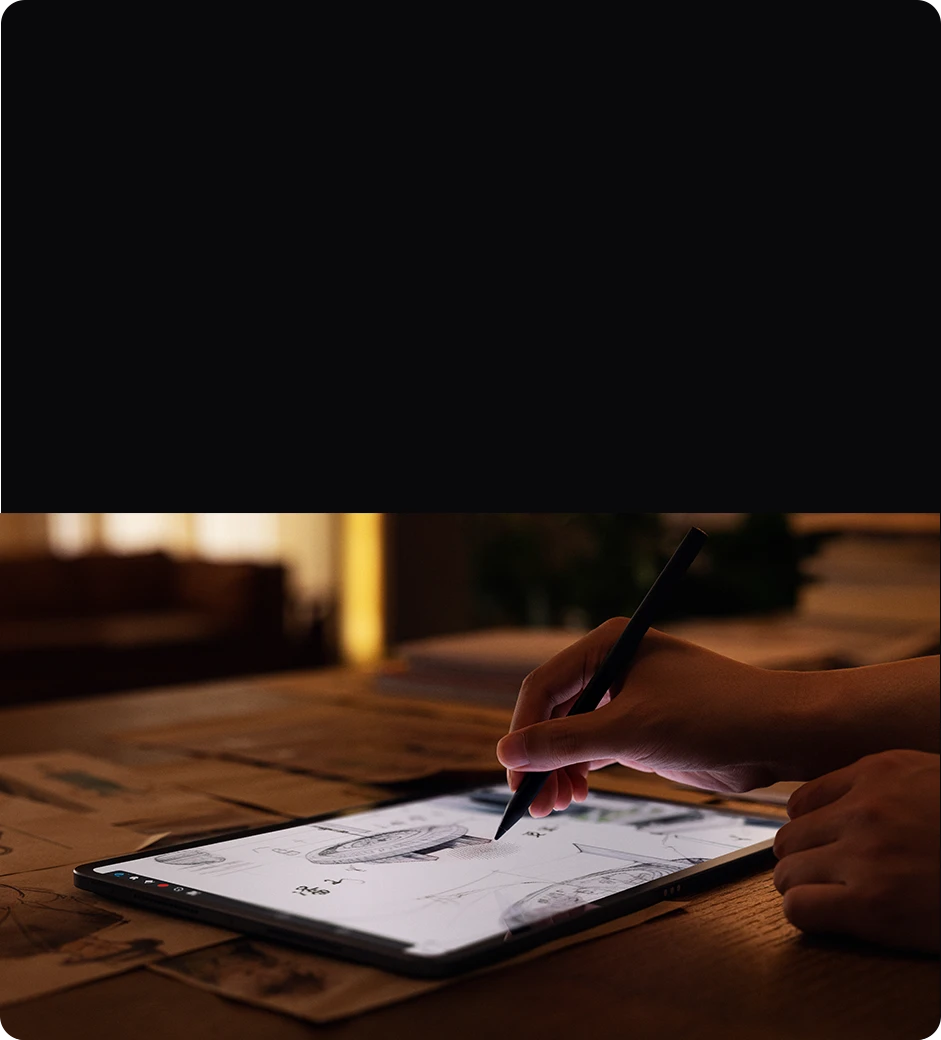 Preview
new features in the air

Paint World Pro supports brush dangling previews that show exactly where the brush is about to fall, as well as the style and color of the stroke.
* The floating preview function needs to be set in the upper right corner of the painting interface in the Paint World Pro app - Software Settings - Stylus Settings - Brush/Eraser Cursor ticked "Paint and Hover Display" to turn on, you need to upgrade Paint World Pro to version 2.2.2.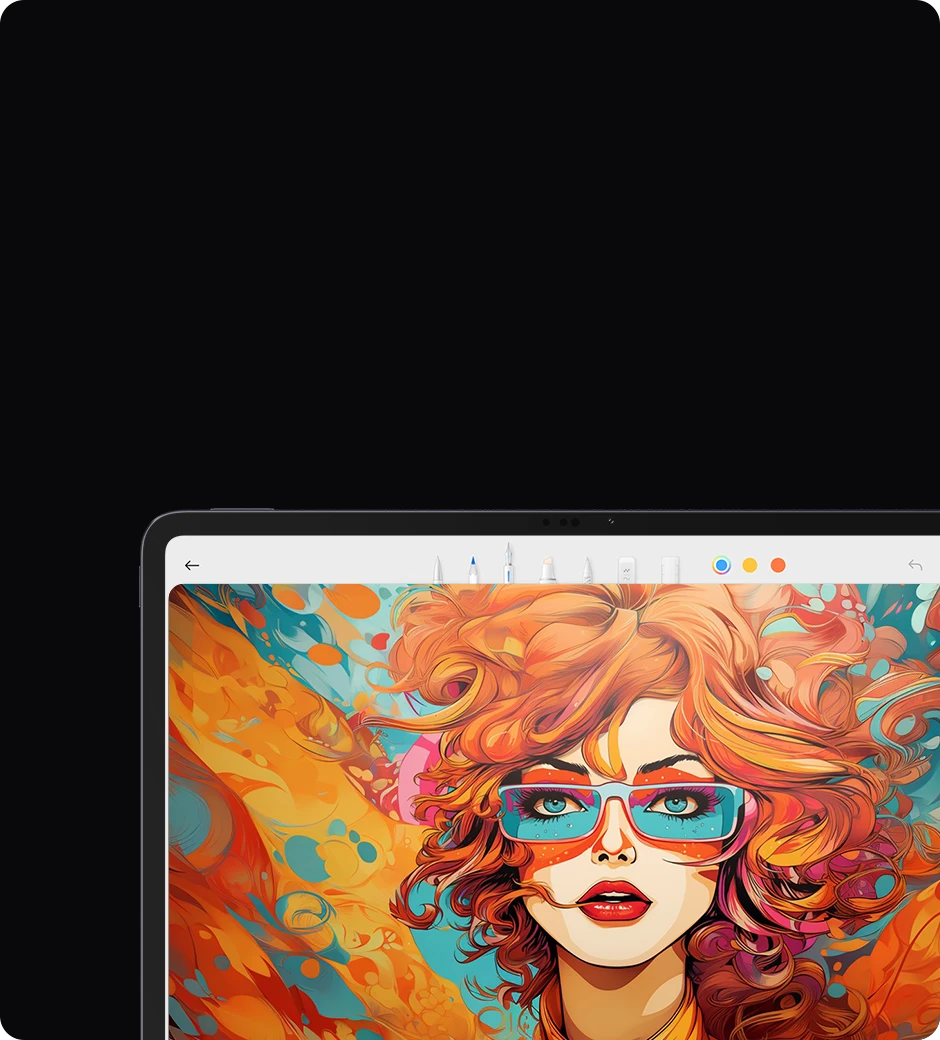 The new "Xiaomi Creation"
is a
system authoring tool specially created for the Mi Pen

Fountain pens, pencils, markers and other brushes to choose from, white, beige,
letter paper style background to switch freely, help you every burst of inspiration.

Xiaomi Focus stylus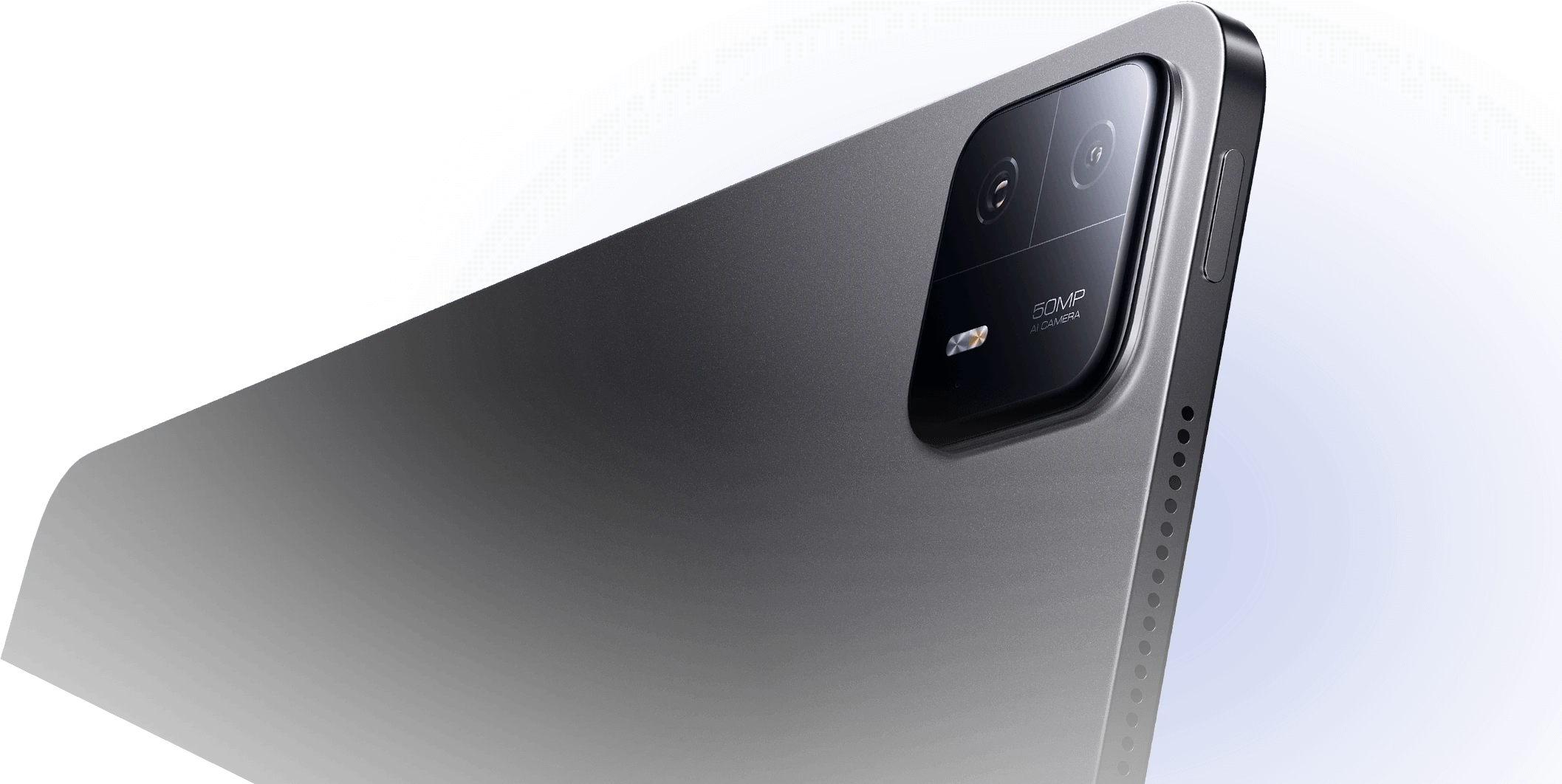 Experience upgrades
make a big difference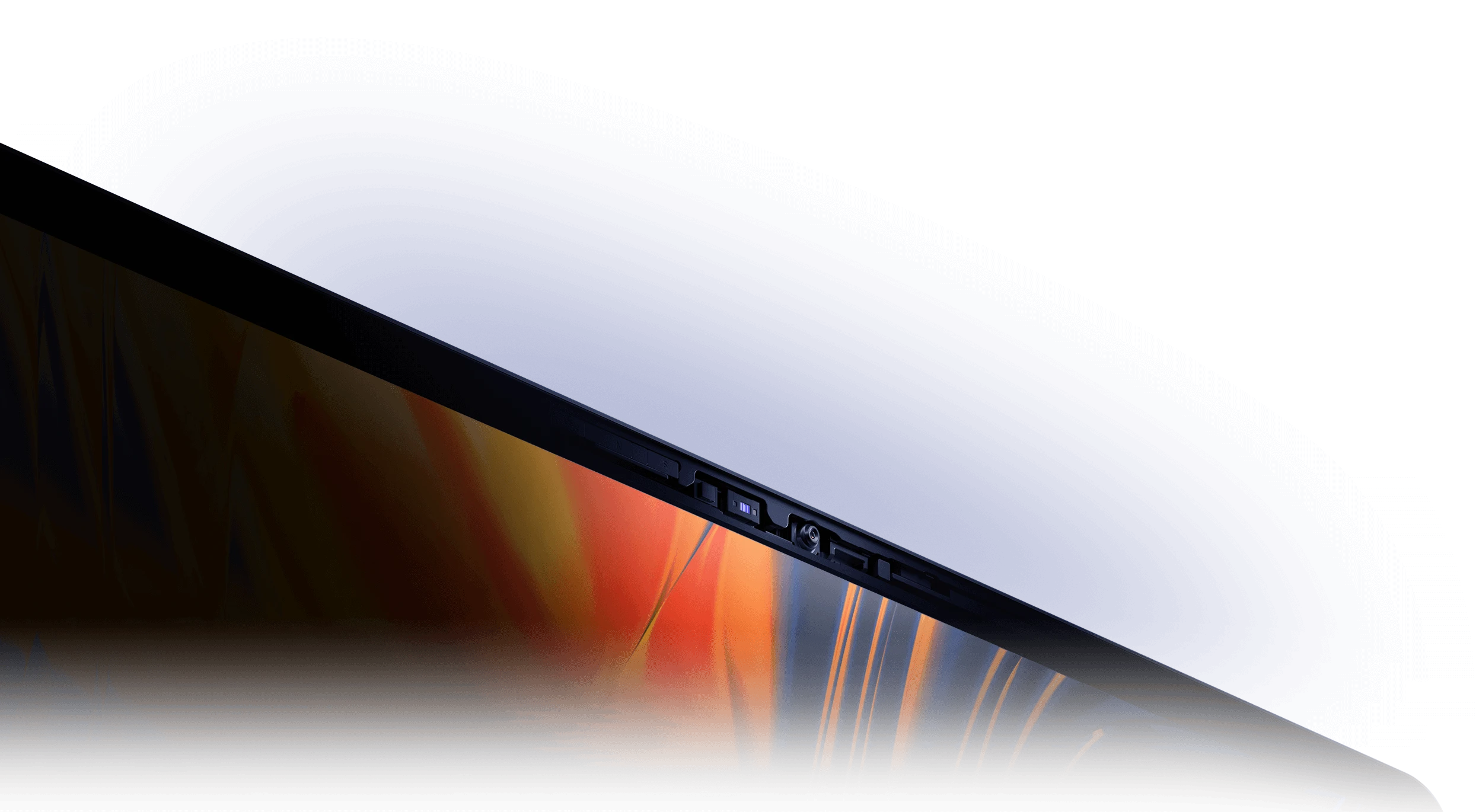 ToF sensor + indicator for
privacy protection for peace of mind at all times
The ToF sensor supports in-place detection, people come to light up the screen, and call the front camera to unlock; People walk the screen, and the screen is automatically locked. Add a light indicator, when the app calls the camera permission, the indicator light will light up green to remind you, protecting your privacy at any time.
ToF sensor
Connectivity
Support NFC one-touch transmission
and click-to-touch transfer, and fast transfer of photos and files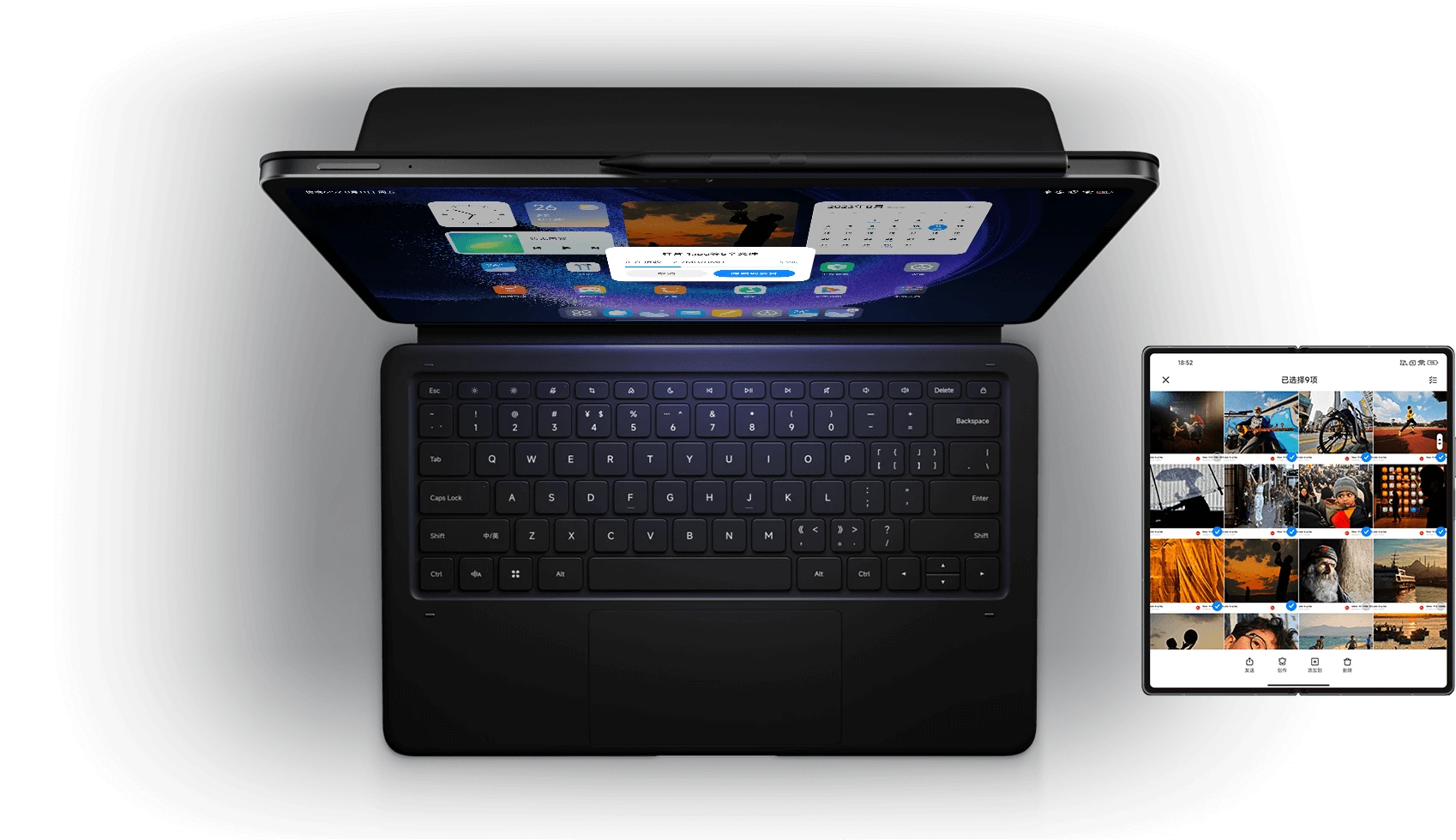 * NFC one-touch second-to-second transmission function is only supported on some models, please refer to the model list at the bottom of this page for details.
* NFC one-touch second-to-second transmission function requires mobile phone and tablet to log in to the same Xiaomi account.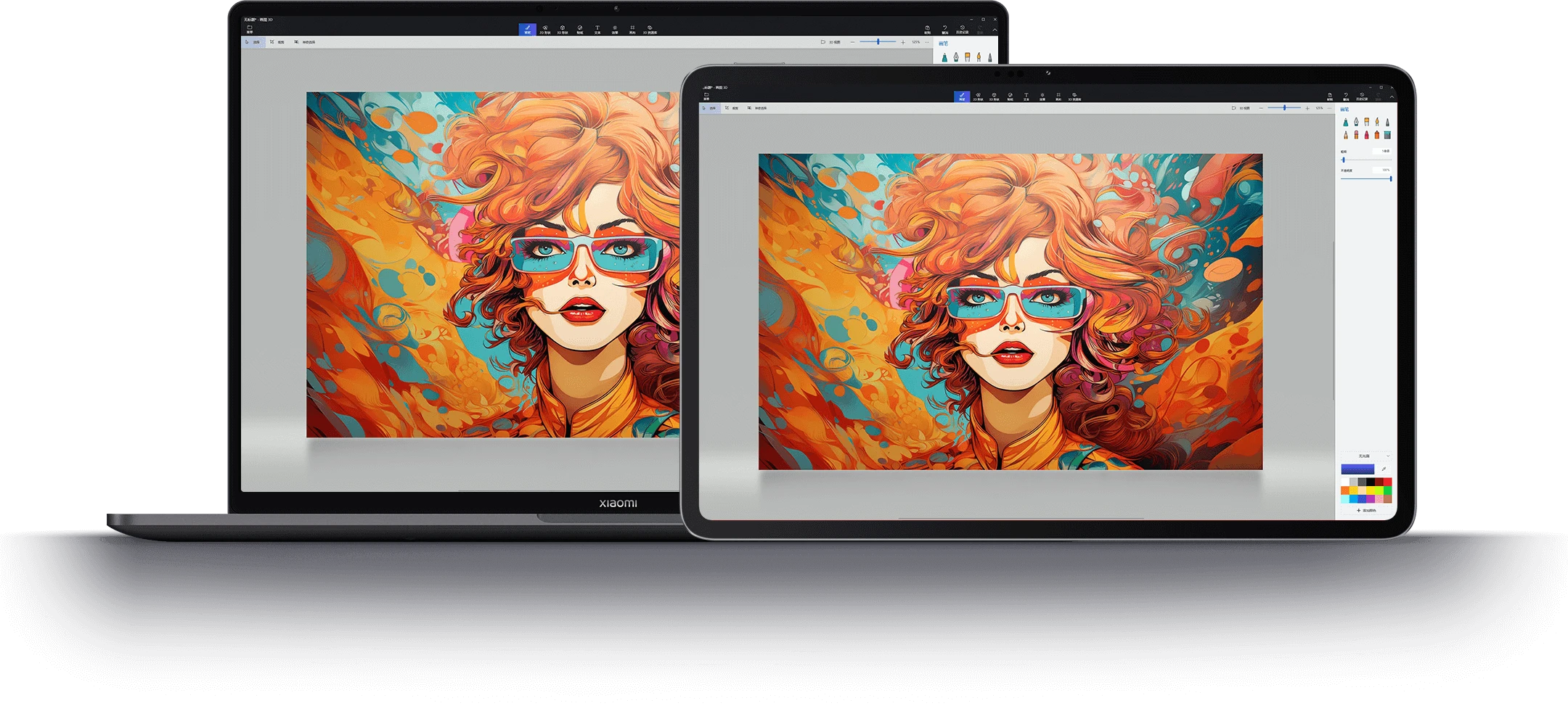 Connectivity
Doubles the ability to connect PCs
and dual-screen interaction
Screen extension
Turn into the second screen of your computer, drag files or windows
back and forth, and browse with double screens, double efficiency.
*For specific supported models of notebooks, please refer to Xiaomi Community-Circle-PC Xiaomi Miaoxiang.
*Support notebook keyboard, trackpad and external Bluetooth device control tablet, but currently do not support tablet control notebook.

Screen mirroring
Copy the computer interface to the tablet, and use the tablet's touch function to control the
computer interface more conveniently.





Keyboard and mouse sharing
Computer keyboard and mouse directly control the tablet, and support file drag
and drop transfer, cross-system operation is more convenient.

MIUI Pad is designed for large screens
and efficient use of large screen space
Top 200 applications are deeply adapted to horizontal screens
* TOP 200 apps refer to the top 2023 third-party apps in the Xiaomi App Store by daily activity as of August 8, 11.
New album editing
unlocks professional post-retouching
Various functional controls multi-column layout, convenient operation, make full use of large screen space.
Reconstruct the "enhanced" function logic in the system album editing, and can finely adjust image parameters such as tone, white balance, color, HSL, detail, etc., and easily obtain a retouching experience comparable to professional tools.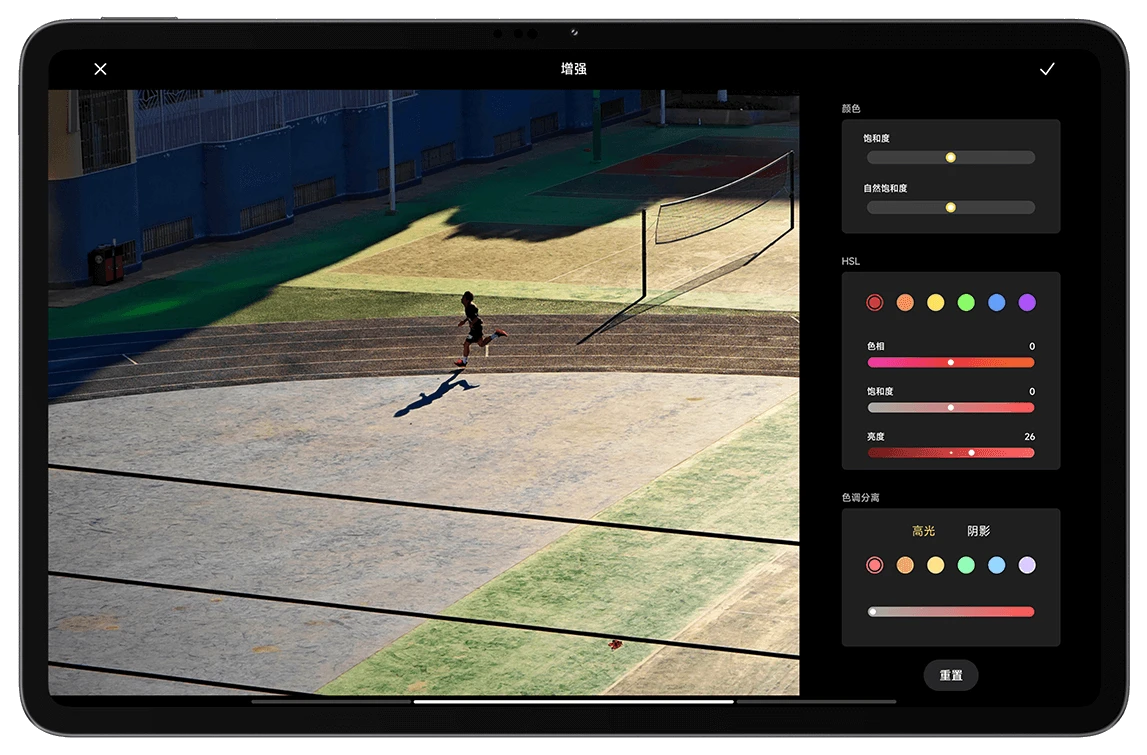 New Kids Space
with high-quality content for added peace of mind
Xiaomi Pad 6 Max 14 has a new built-in children's space, which has access to nearly 34,2 episodes of global hit animations, 7,2000 children's songs, more than 17,<> classic picture books, <>,<> audio stories, and parent-child movies, English original animations, interactive classes and other benefits. After purchasing the child growth VIP on the TV side, the tablet side can also be used, supporting multi-terminal login and history synchronization.
Multiple reminders and controls
protect children's health
Added "Time Management"
support to set usage time limit,
holidays/working days are customized
Added "Eye Protection Mode"
to support shaking reminder, lying position reminder, and
light too low reminder
* The content of the program shown in the picture needs to be watched after purchasing a membership. Due to copyright policy, some content cannot be used on tablets and can only be used on TV.

Memory capacity
8GB+256GB/12GB+256GB/12GB+512GB/16GB+1TB
Memory: 8GB/12GB/16GB LPDDR5X high-speed memory
storage: 256GB/512GB/1TB UFS3.1 high-speed storage
* Actual usable capacity decreases and varies due to many factors: since the operating system runs on part of the memory (RAM), the actual free space is less than the identified memory capacity;
Since the installed operating system and pre-installed programs occupy part of the flash memory (ROM), the actual available storage space is less than the identified flash memory capacity.
Mobile platform
The first generation of Snapdragon ® 8+ mobile platform
SoC process: TSMC 4nm process
CPU main frequency: octa-core processor, the highest frequency can reach 3.2GHz
GPU: Adreno™ GPU graphics processor
AI: Qualcomm AI engine
Size: 14 inch
Screen Type: LCD
Resolution: 2880 x 1800
PPI: 309
Refresh Rate: Up to 120Hz Finger Touch Sample Rate: 120Hz Pen Touch Sample Rate: 240Hz

Global maximum brightness: 600nit
contrast ratio: 1500:1
glass cover: CORNING® GORILLA® GLASS 5
certification and test: German Rheinland TÜV hardware-level low blue light certification, no strobe certification, Color accuracy and accurate color projection certification
professional primary color screen|Sunshine screen|10.7 billion colors|DCI-P3|Classic eye protection|Paper eye protection|Ambient color temperature sensor|Multi-screen same color|Super dynamic display|AI master picture quality engine|
HDR 10丨Dolby Vision丨Side fingerprint丨Hand/pen 10x touch super resolution
Battery life and charging
10000mAh (typ) / 9800mAh (min)
built-in single cell high energy density battery, non-removable

USB Type-C double-sided charging interface

67W wired second charge
Support QC4+ / QC3+ / QC3.0 / QC2.0 / PD3.0 / PD2.0 fast charging protocol / MI FC1.0 fast charge 33W wired reverse charge

support PD3.0 / PD2.0 fast charging protocol

Battery life: local video playback time: about 17 hours, standby time: up to 43.6 days
Note: The above data is laboratory data, and the actual battery life varies according to the actual network conditions, equipment status and usage habits in the local area
Data transmission
USB3.2 Gen1
theoretical maximum 5Gbps
* USB3 data cable needs to be purchased separately, the data cable in the whole color box does not support USB3 transmission
Data connection
WLAN protocol: WiFi 6 Plus, WiFi 5, WiFi 4 and 802.11a/b/g
WLAN frequency: 2.4G WiFi | 5G WiFi supports 2x2 MIMO, 8x8 Sounding for MU-MIMO, WiFi
Direct, Miracast, 2.4G, 5G dual-channel concurrent
Bluetooth: Bluetooth 5.3
supports AAC/LDAC/LHDC5.0
supports IPv6
Video audio
MP3, FLAC, APE, AAC, OGG, WAV, AMR, AWB
Hi-Res & Hi-Res Wireless Audio Certification丨Stereo eight speakers|Dolby Atmos丨Spatial Audio
WeChat/QQ call recording丨HD recording 2.0丨Multi-scene sound pickup丨Speaker/headphone noise
reduction MP4, MKV, WEBM, 3GP playback
HDR 10, Dolby Vision supports high dynamic range display for video contentNumber of
microphones: 4 Number
of speakers: 8
sensor
Accelerometer|Gyroscope|Front ambient light (color temperature) sensor|Rear ambient light sensor|Hall sensor丨Side fingerprint丨
ToF sensor| Geomagnetic sensors | Status indicator | Z-axis linear motor
Add-in features
Keyboard magnetic contact connection Pen charge magnetization
operating system
MIUI Pad 14 (based on Android 13)
Packing list
Tablet host/power adapter/USB Type-C data cable/instruction manual (including three-pack voucher)
* This list is only for the packaging of the whole machine, according to the sales package, the accessory set provided outside the packaging of the whole machine is slightly different, subject to the user's choice at the time of purchase.
Color box
Length (with packaging): 339.5mm, width (with packaging): 227.5mm, height (with packaging): 53.0mm
Unit weight (including packaging): 1450g
Exterior dimensions
Length: 318.58mm Width: 206.1mm Thickness: 6.53mm

Weight: 750g
*The above data is Xiaomi laboratory test data, depending on the measurement method in the industry, the actual results may vary slightly.
Imaging system
Main camera: 50MP 1/2.76" 1.28μm fusion pixel
f/1.8 PDAF

Secondary camera: Depth of field lens

rear video shooting frame rate
4K Video Shooting 30 / 60fps
1080P Video Shooting 30 / 60fps
720P Video Shooting 30fps

Short Video Recording丨Portrait Mode丨Director Mode丨Front and Back Double Scene丨Super Night Scene 2.0丨Document Mode 丨AI Watermark丨Portrait Blurring丨
AI beauty丨ID card photocopying mode|Voice subtitle丨Video filter丨 Video beauty丨Video stabilization丨Dynamic photo丨Countdown photo丨HDR丨Custom watermark丨
Voice control photography

Front 2000 million pixel ultra-wide lens
IMX596 1/3.4" 1.6um fusion large pixel f/2.2

front video shooting frame rate
1080P video shooting 30 / 60fps
720P video shooting 30fps

Short Video Recording丨Portrait Mode丨Front and Back Double Scene | Voice subtitle丨Video filter丨Countdown to take pictures丨AI beauty 丨Portrait bokeh丨Dynamic photos丨Voice control photography
Energy efficiency labels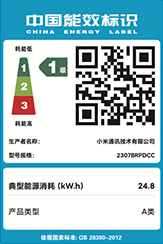 Special note: *USB3 data cable needs to be purchased separately, the data cable in the whole color box does not support USB3 transmission

* Memory and capacity, the actual available capacity will be reduced and different due to many factors:

because the operating system occupies part of the memory (RAM), the actual free space is less than the identified memory capacity; Since the installed operating system and pre-installed programs occupy part of the flash memory (ROM), the actual available storage space is less than the identified flash memory capacity.

*The screen drawings and product description display drawings provided by this website are all reference diagrams, and the actual situation is subject to the actual product.

*Product pictures and models, data, functions, performance, specifications, user interface and other product information are for reference only, Xiaomi may improve the above content, please refer to the product and product manual for specific information. Unless otherwise specified, the data contained in this website are Xiaomi's internal test results, and the comparisons involved are compared with Xiaomi products.

*The general tablets compared in the page are all Xiaomi-owned tablets. The product station does not specifically point out, are our laboratory data, design technical parameters and suppliers to provide data, the actual situation of the whole site data will be slightly different depending on the test software version, specific test environment, specific version. The structural pictures displayed by the whole site are functional diagrams, not absolute actual structures, and the final physical object shall prevail.

* Tablet repair involves professional fixtures & maintenance environment, some after-sales stores can not be directly accepted, only provide delivery repair services, please consult the store or customer service details in advance before arriving at the store, thank you for your support.
Review the parameters
* All screen content and UI interface on this page are for illustrative purposes only, and will change with system upgrades, and the actual effect shall prevail.
* Supported models for NFC flash transmission include: Xiaomi MIX Fold 3, Xiaomi MIX Fold 2, Xiaomi MIX Fold, Xiaomi MIX 4, Xiaomi 13 Ultra, Xiaomi 13 Pro, Xiaomi 13, Xiaomi 12S Ultra, Xiaomi 12S Pro, Xiaomi 12S, Xiaomi 12 Pro Dimensity Edition, Xiaomi 12 Pro, Xiaomi 12X, Xiaomi 12, Xiaomi 11 Ultra, Xiaomi 11 Pro, Xiaomi 11, Xiaomi 11 Youth Edition, Xiaomi 10S, Xiaomi 10 Ultra, Xiaomi 10 Pro, Xiaomi Mi 10, Xiaomi Civi 3, Xiaomi Civi 2, Xiaomi Civi 1S, Redmi K60 Extreme Edition, Redmi K60 Pro, Redmi K60, Redmi K60E, Redmi K50 Extreme Edition, Redmi K50 Gaming Edition, Redmi K50 Pro, Redmi K50, Redmi K40S, Redmi K40 Game Plus, Redmi K40 Pro, Redmi K40, Redmi K30S Ultra, Redmi K30 Pro, Redmi Note 12 Turbo, Redmi Note 12T Turbo, Redmi Note 12 Pro Express, Redmi Note 12 Pro+, Redmi Note 12 Pro, Redmi Note 11T Pro+, Redmi Note 11T Pro.
No customer reviews for the moment.
Questions
(0)
No customer questions for the moment.
Only registered user can ask a question.
Login