Oppo Find X6 Pro 12GB+256GB Green
| | |
| --- | --- |
| Location: | Asia |
| Possibility to return: | Yes, within 14 days to warehouse in USA / UK or EU |
| Length of warranty | 12 months |
| Warranty Extension: | At promotional terms, up to 24 months (during checkout) |
| Dual Sim | Yes |
| Water resistance | Yes |
| Rom: | Original China Multilanguage (possible Google Apps) |
| Processing time for warranty service from | 6 weeks |
| Processing time for warranty repair to | 12 weeks |
Other variants / accessories
Available delivery options:
Keep track of the price drops on this item. Simply enter your email here and we will send you an email alert.
Invalid email
Watch it
You will get PEN 25.06 in reward when purchase 1 of this product. The reward can be used to pay for your next orders, or converted into voucher code.
Frequently Asked Questions
Welcome to Bludiode.com
We are mobile electronics marketplace seller since 2014, we offer mostly smartphones, tablets and accessories. Our customers have right to return product locally (USA, UK, EU) and execute warranty up to 24 months. All products sold on our website are coming straight from the producers, are genuine and they are subject to the warranty. To learn more click "About us" in the website footer.
Check also these products available at local stock:
Super light and shadow three main cameras
Sculpting light and painting, like a real world
1-inch large bottom wide angle
Ultra-luminous periscope telephoto
Freeform ultra-wide angle
Ultra-luminous periscope telephoto
Let the telephoto span light and dark
Floating prism stabilisation
6x optical quality zoom¹
Hasselblad Moving Image System
Interpret classics with technology
Hasselblad portrait mode
Hasselblad Pro Mode
Dynamic ultra-light screen
Peak brightness, as if you were there
Peak brightness 2500 nits²
ProXDR display
Round and orderly
The beauty of the big vessel
Professional images, as they look
Paying homage to classic camera design, it carries professional images with rounded aesthetics, and its inner strength is recognizable at a glance.
Delicate, precise, exquisite
Visual and tactile synaesthesia
Sophisticated design and precision craftsmanship for exquisite layouts. Delicate light and shadow flow from the eyes to the hands, blending seamlessly.
The flowing light and shadow of the mirror group, colliding with the delicate and restrained skin of the plain skin, takes you into the boundless desert shrouded in moonlight. It is the beauty of the senses, but also the attitude of smiling no matter what complex environment you are in. As long as we adhere to the spirit of "day and night, no matter near and far", we will definitely be able to keep the clouds open and see the moon.
The quiet color and delicate texture seem to take a quiet breath in the rushing forest spring, and the floating dust of the road is purified.
Like the moment a rich mineral deposit was excavated, it was dark and deep, and it exuded a silky luster.
Desert Silver Moon
Flying Spring Green
Cloud inky black
Wade through the mountains and water with a sense of security
IP68 rated dust and water resistant³ for peace of mind on every journey.
The era of
full camera is now on
Super light and shadow three main photography
professional
The leading sensor configuration and excellent mobile optical technology have made an unprecedented leap in the amount of light entering each lens. Far or near, light or dark, open or focused, front or backlight, with professionalism gives you the creative freedom you want.
1-inch large bottom wide angle
F1.8 Ultra Large Aperture
OIS Optical Image Stabilization
High Transmittance Glass Lens
ALC Sub-wavelength Structure Coating
Freeform ultra-wide angle

1/1.56" sensor area
F2.2 large aperture
110° wide viewing
angle freeform lens
Ultra-luminous periscope telephoto
1/1.56-inch sensor area
F2.6 large aperture
hovering prism stabilization4
65mm gold focal length
The 1-inch large bottom wide angle
captures light, "a little" meticulously
The acquisition of light is the starting point of the image. The wide-angle lens features a 1-inch extra-large area sensor paired with an F1.8 extra-large aperture lens set for unprecedented light sensitivity. In low light, you can still capture clear, detailed, and vivid highlight moments.
Ultra-luminous perifocal
vision, day and night
The ultra-large bottom periscope telephoto brings the industry's revolutionary light sensitivity improvement, dark light telephoto, and still has high image quality performance: clear, delicate, vivid colors, and real light and shadow. Equipped with floating prism stabilization, it delivers unprecedented low-light telephoto quality.
Freeform ultra-wide angles
are broad and all-encompassing
The industry-leading sensor size and freeform lenses allow even large scenes to be reproduced clearly.
Super light and shadow three main shots
Vivid, from near to far
The Ultra Light Image Engine
harnesses the light to make the picture vivid and perceptible
Find X series is the most powerful image engine ever, intelligently calling the powerful computing power of MariSilicon X image-specific NPU chip, reconstructing the image processing process, and effectively improving the purity of the ® picture; Original photon matrix map, pixel-level calibration brightness information, restore real light and shadow. Gives the picture a walk-like sense of presence.
Hasselblad Moving Imagery, Scientific Imagery

, Aesthetic Legend
Hasselblad Natural Color Optimization
Professional and more beautiful
Make color, join forces. OPPO Color Science delivers accurate color capture, and Hasselblad natural color solutions restore delicate and vivid colors. Professional partner, excellent shooting.
Every shot of the Hasselblad portrait
is a work
Excellent image configuration, expertly tuned by Hasselblad for a more natural optical bokeh-like effect. With Hasselblad's classic portrait perspective, the work-quality portrait effect is within reach. Where you stand, the best studio.
Hasselblad Pro condenses
light and shadow and interprets classics
Professional mode inherits the color adjustment of Hasselblad cameras for a more natural and professional image texture. Portraits, scenery, people, everything you shoot is a Hasselblad texture. Thanks to the Find X6 Pro's powerful ultra-light image engine, it renders rich details while retaining stereoscopic tones.
One into the mirror
It's cinematic texture
Dolby Vision HDR video recording
comes to life
Want to take a vlog? Now, the shot is cinematic. Find X Series supports video recording with Dolby Vision HDR specifications for the first time, ready to record your higher "dynamic" "dynamics"? Binaural recording 2.0 is also supported5, sound, painting, both like immersion.
Full focal length 4K HD video
With the Super Light and Shadow Triple Main Camera, the Find X6 Pro supports high-quality recording of multi-focal 4K 60fps, bringing richer lens language to your HD masterpieces.
The dynamic ultra-light and shadow screen is transparent and
deep
The brightest screen of the Find X series to date, and probably a new record in the industry. Peak brightness up to 2500 nits2, under the dazzling daylight, you can also see clearly. The high dynamic display reaches a new high, and the picture is lifelike, as if it is about to break through the screen and extend to the real world.
10.7

Billion color display

P3

Wide color gamut

.AI

Bionic brightness adjustment

1~120Hz

Free dynamic refresh rate

High-frequency PWM

Dimming

2
2500nit2

Peak brightness

3168 × 1440

resolution

DisplayMate A+

Rating

Multi-brightness color calibration6
ProXDR displays
on the screen to reconstruct the space of light and shadow
Photon matrix display technology collects more than 1200 million photon information points to accurately restore the light and shadow distribution of each pixel in the picture, achieving up to 8 times brightness improvement. Dark and deep, bright and transparent, layered, real and immersive.
Leading flagship performance
is powerful, efficient and stable
The next-generation flagship performance of the 8nd generation Snapdragon <> mobile platform
35%
CPU performance improvement7
40%
Improved CPU efficiency7
UFS 4.0
New high-speed flash memory
25%
GPU performance improvement7
45%
Improved GPU energy efficiency7
LPDDR5X
Fast data transfer
Cold enough, strong enough
The new high thermal conductivity graphite, the ultra-large area vacuum chamber vapor chamber, and the multi-dimensional directional thermal insulation technology introduced for the first time, make the calm from the inside out.
36%
Increased thermal conductivity of graphite
24%9
The area of the vapor chamber in the vacuum chamber is increased
The ColorOS supercomputing platform
is a breakthrough in performance
Ultimate energy efficiency, long-term smoothness.
16 times8
Memory instantaneous access performance improvement
50%
Improved smoothness of overloaded scenes
48 months8
Long-term use smooth
Stable and enjoyable
e-sports gaming experience
HyperBoost full-link game frame stabilization technology fully unleashes powerful performance. Always steady, always win, and enjoy an esports-level gaming experience with ease.
Fast charging, calm use
Find X6 Pro supports 100W Super Flash Charging and 50W Wireless Flash Charging, which can charge up to 10% in as little as 50 minutes12。 It also supports ultra-low temperature charging, and can still be charged stably in extreme environments at a minimum of -20°C. Equipped with a battery health engine, it can be used for a long time and used for a long time.
1600 times11
Charge-discharge cycle
Intelligent communication, always connected to the world
Six-network synergy
Multi-network switching, always online
Triple network concurrency
7.5Gbps fast download, faster than fast13
Dual 5G communication sharing13
Mobile phones and tablets flow seamlessly, faster and more power-saving
New Wi-Fi 714
Lower latency, stronger anti-interference
ColorOS 13.1
is an efficient experience
ColorOS Wisdom reminds you
ahead
The ticket is booked, and the whole process of ubiquitous service is in place. When is the taxi to the airport? Which movie to watch on the trip? Where is the boarding gate? What carousel is the baggage on? All-scenario intelligent service recommendation, think of you ahead.
Mobile phone search
offline easy positioning, data one-click lock
Even if the device is offline, you can still locate the lost phone with one click15。 Activate "Remote Lock" for greater peace of mind on data security.
Reverse sound field call privacy protection, more secure calls
Dual-diaphragm active call privacy protection technology supports directional audio isolation by canceling sound waves between two audio units for sound leakage from the earpiece during calls. Say something to you, as long as you hear. At work, in the elevator, at the party, the call is calm, embarrassing, and the privacy is worry-free.
Dual-diaphragm adaptive
sound field speaker
Up to 3.5x sound isolation16
ColorOS intelligently interconnects across devices
and streams
The equipment is equipped and the experience is in place. Whether it is an ongoing online meeting or an audio-visual experience, different devices can be connected without feeling, as convenient as multi-device integration17。
10 industry-leading privacy certifications
Full-link payment protection, financial-level security protection
Cooperate with Ant Security Lab to build a financial-grade malicious code identification engine, which protects every transaction and the whole link.
OPPO Find X6 Pro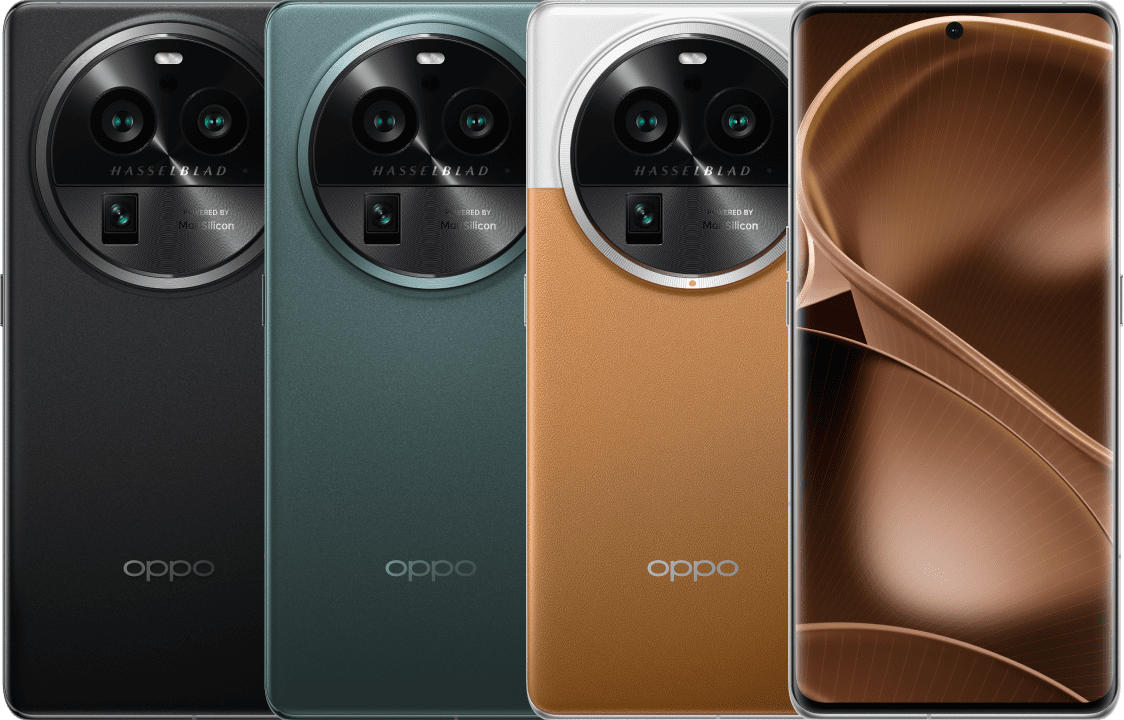 Cloud ink black (glass) | Flying Spring Green (Glass) | Desert Silver Moon (leather)
wide
76.2 mm (glass) 76.3 mm (leather)
thick
9.1 mm (glass) 9.5 mm (leather)
weight
218 g (glass) 216 g (leather)
RAM capacity + ROM capacity
12GB + 256GB,16GB + 256GB,16GB + 512GB
RAM specifications
LPDDR5X
ROM specifications
UFS 4.0
Expand storage
Not supported
size
6.82 inches (diagonal)
resolution
3168 × 1440 pixels, 510 PPI
color
10.7 billion colors with wide color gamut support (P3)
brightness
2500 nits peak brightness2200 nits peak brightness (HDR)1500 nits peak brightness
(HBM typical)
type
AMOLED full screen
1~120Hz adaptive refresh rate, up to 240Hz touch sampling rate

Corning Gorilla Glass Victus® 2
Main camera
5000 million pixels 1-inch large bottom wide angle: ƒ/1.8, 23mm equivalent focal length, eight-lens lens, AF autofocus, OIS stabilization
5000 million pixels Freeform ultra-wide angle: ƒ/2.2, equivalent focal length 15mm, 110° wide viewing angle, seven-lens lens, AF autofocus, 4cm macro shooting
5000 million pixels Ultra-luminous periscope telephoto: ƒ/2.6, 65mm equivalent focal length, 3-lens lens, AF autofocus support, OIS stabilization
photo capture support up to 120x optical zoom, up to <>x digital zoom
support: Photo, Video, Night Scene, Professional, Panorama, Portrait, Time-Lapse, Slow Motion, Hypertext, High Pixel, Cinematic Mode, Long Exposure, Multi-View Video, Moe Shot, AI ID Photo, XPAN
Photo formats: HEIF, JPEG, DNG
Front-facing
3200 million pixel camera: ƒ/2.4, equivalent focal length 21mm, five-lens lens, support AF autofocus
support: photo, video, panorama, portrait, night scene, time-lapse photography, beauty selfie, screen fill light, cute shoot, AI ID photo and other
photo formats: HEIF, JPEG
Main Cameras
4K video shooting: 30fps, 60fps 1080P Video shooting: 30fps, 60fps
720P Video shooting: 30fps, 60fps video slow motion support
1080P, 240fps
; 720P, 480fps Dolby Vision HDR supports up to 4K, 30fps movie mode supports 4K, 30fps time-lapse supports 1080P, 30fps multi-view video recording supports 1080P, 30fps




supports video stabilization shooting
, video shooting supports up to 3x optical zoom , up to 18x digital zoom
Front-facing
1080P video shooting: 30fps
720P video shooting: 30fps
supports video stabilization shooting
, video shooting supports up to 2x zoom
Mobile platforms
The second-generation Snapdragon ® 8 mobile platform, octa-core processor, maximum frequency 3.187GHz

Battery capacity³
5000mAh (typical)
Fast charging
100W super flash charging, compatible with PD, QC fast charging protocol, 50W wireless flash charging, compatible with Qi wireless fast charging protocol
Support fingerprint recognition under the screen and face unlock
Geomagnetic sensor, acceleration sensor, gravity sensor, gyroscope, support step function, ambient light sensor, color temperature sensor, under-screen proximity sensor, rear spectrum sensor, Hall sensor, infrared remote control, laser focus sensor
SIM card type⁴
Nano-SIM card, support dual SIM dual pass
Network band
5G SA: Band n1, n3, n41, n77, n78, n79, n5, n8, n28, n7, n20, n38, n40, n66
5G NSA: Band n41, n77, n78, n79 4G FDD-LTE: Band 1, 2, 3, 4, 5, 7, 8, 12, 17, 18, 19, 20, 26, 28, 66

4G TD-LTE: Band 34, 38, 39, 40, 41
3G WCDMA: Band 1, 2, 4, 5, 8 2G GSM: Band 850, 900, 1800, 1900MHz

2G CDMA: Band BC0
WLAN function⁵
Support Wi-Fi 7 (802.11be), Wi-Fi 6 (802.11ax), Wi-Fi 5 (802.11ac), 802.11a/b/g/n/ support WLAN 2.4G/WLAN 5.1G/
WLAN 5.8G
support WLAN Display, WLAN network sharing, support network overlay: Wi-Fi 2.4GHz 2×2+ Wi-Fi 5GHz 2×2 concurrent
support Wi-Fi 5GHz 160MHz
supports 2×2 MIMO, 8 Spatial-stream sounding MU-MIMO
Bluetooth audio specifications⁶
Support SBC, AAC, aptX HD, LDAC, aptX, LHDC
NFC
Support reading and writing NFC cards (13.56MHz NFC cards), support NFC-SIM (only support SIM1 card slot),
HCE, eSE

Satellite positioning
Support Beidou: B1I + B1C + B2a, GPS: L1 + L5, GLONASS: G1, Galileo: E1 + E5a, QZSS: L1 + L5
other
Support wireless LAN, cellular network positioning, support electronic compass
Host × 1
Data Cable × 1 (USB A to Type C)
Charger × 1 (SUPERVOOCTM Flash Charge 100W)
SIM Cartoon Needle × 1
Protective Case × 1
Quick Start Guide × 1
Product Important Information & Warranty Card x 1
VIP Card × 1
*Note: Users who purchase mobile phone accessories products separately, please keep the original packaging and invoice of the accessories in good condition, if you cannot provide the above vouchers, you will not be able to enjoy the three-guarantee service. The content of the three-guarantee service is subject to national regulations.
1. The size and weight of the mobile phone may vary depending on the configuration, manufacturing process, and measurement method.
2. The actual usable capacity will decrease and vary due to many factors: because the operating system occupies part of the memory (RAM), the actual free space is less than the identified memory capacity; Since the installed operating system and pre-installed programs occupy part of the flash memory (ROM), the actual available storage space is less than the identified flash memory capacity.
3. Double batteries in series, the rated capacity of the battery is 4800mAh.
4. The full Netcom version of the mobile card can be used arbitrarily with Unicom card and telecom card, the main and secondary cards support 5G, and any card can be used as a network card. When two telecom cards are inserted, the non-network card must activate VoLTE services and enable VoLTE HD calls, and the carrier's network must support 4G VoLTE services to use dual telecom cards.
5. Wi-Fi 7 requires OTA upgrade system version.
6. LHDC needs to be used with OPPO Enco X series and OnePlus Buds Pro series headphones.
*In order to make the front vision of the mobile phone more concise, we have made a hidden process for the light sensor hole at the top of the screen. Color, dark color and other films with poor light transmission may block the photosensitive holes and affect the normal use of mobile phones.
April 2023, 4 Worldwide open
Exegesis:
1. Achieve optical-quality 1200x zoom imaging with 6 million effective pixels in the center of the high-pixel sensor.
2. 2500 nits for local peak brightness; When displaying HDR content, the screen has a maximum brightness of 2200 nits; Global peak brightness 1500 nits. In addition, the OPPO Find X6 Pro supports 1440Hz high-frequency PWM dimming.
3. Find X6 Pro is splash-proof, waterproof and dustproof under normal use. Under controlled laboratory conditions, its effectiveness has been tested to IP4208 under the GB/T 2017-68 (domestic) standard. Splash, water, and dust resistance may be reduced by wear and tear from daily use. IP68 waterproof conditions are: (1) no flowing water, water depth 5.30 meters; (5) Test time <> minutes; (<>) The difference between the water temperature and the product temperature is not more than <> degrees Celsius. Do not charge the mobile phone in a wet state, there are differences between the living scene and the experimental environment, and do not completely immerse the mobile phone in water for daily use, or contact with seawater, chlorinated water and other solutions or liquids such as drinks. Damage caused by immersion in liquids is not covered by the warranty.
4. It is normal for the prism in the anti-shake mechanism of the levitating prism to have a positioning shift in the non-working state.
5. Binaural Recording 2.0: Jointly developed with Dolby Laboratories, in mobile phone video recording, with OPPO Enco X2 headphones, to achieve true stereo sound reception of dual headphones. Improve the ability to resist wind noise and record music live, the main sound is clear and loud, and the sense of sound field space is recorded without loss. Video playback with immersive spatial audio binaural rendering.
6. Multi-brightness color calibration: Screen color calibration is performed based on indoor (100nit) and outdoor (800nit) brightness to ensure color accuracy and consistency.
7. The data comes from Qualcomm official, compared with the previous generation Snapdragon 8 mobile platform.
8. Instantaneous bandwidth technology needs to be supported by subsequent versions of OTA; 48 months of smooth use does not mean absolutely no stuttering, depending on the network environment, personal usage habits and other factors, the actual experience may vary.
9. The heat dissipation capacity data is measured by the official laboratory; Compared to the OPPO Find X5 Pro, the OPPO Find X6 Pro's vacuum chamber vapor chamber area has increased by 24%.
10. Find X6 Pro uses dual cells in series, and the battery capacity is typically 2 x 2500mAh (2500mAh is typical for single battery capacity and rated at 2440mAh).
11. The remaining capacity of the actual test battery after 1600 full cycles (full and full discharge) is greater than 80%, and the data comes from OPPO Lab, which may vary due to different test equipment, environment, etc. It may also vary depending on the actual usage style and habits of the individual.
12. 100W Super Flash Charge means that the output power of the charger is 100W, the actual power may vary depending on the environment; The charging time data comes from OPPO Labs, test model: Find X6 Pro, wired charging from 10% to 1% in an average of 50 minutes. Test environment: battery initial temperature 25±1°C, ambient temperature 25±1°C. Test conditions: When the phone is 1% charged, turn off other phone features and services except calls, display the screen, and charge with the standard power adapter. Actual charging speed may vary based on device usage, charging conditions, and other factors; The low-temperature charging environment test data comes from OPPO Lab, and the mobile phone is warmed to above -10°C before charging. Test environment: environment and mobile phone temperature - 20°C±3°C, test environment is closed and windless environment, test conditions: information screen state, with the official standard charger + data cable charging. Actual data may vary depending on factors such as user usage environment and battery consumption status.
13. The network speed value is calculated by OPPO Lab, and the actual data may vary depending on the network environment used by the user; Dual 5G communication sharing needs to be used with the OPPO Pad 2, which needs to be purchased separately.
14. Wi-Fi 7 requires OTA upgrade system version.
15. The device must log in to the OPPO account and have inserted a SIM card to use it, and the function can only take effect when it is powered on and turned on.
16. Audio capability data is measured by official laboratories; Compared with the OPPO Find X5 Pro, the anti-leakage ability on the back of the phone is 3.5 times; Call privacy protection can reduce the sound leakage of the handset to a certain extent, not completely sound insulated, the sound leakage is related to the noi
No customer reviews for the moment.
Related Blog Posts
Questions
(0)
No customer questions for the moment.
Only registered user can ask a question.
Login