| | |
| --- | --- |
| Location: | Asia |
| Possibility to return: | Yes, within 14 days to warehouse in USA / UK or EU |
| Length of warranty | 12 months |
| Warranty Extension: | At promotional terms, up to 24 months (during checkout) |
| Dual Sim | Yes |
| Rom: | Original China Multilanguage (possible Google Apps) |
| Processing time for warranty service from | 6 weeks |
| Processing time for warranty repair to | 12 weeks |
Other variants / accessories
Keep track of the price drops on this item. Simply enter your email here and we will send you an email alert.
Invalid email
Watch it
You will get $ 4.65 in reward when purchase 1 of this product. The reward can be used to pay for your next orders, or converted into voucher code.
Frequently Asked Questions
Welcome to Bludiode.com
We are mobile electronics marketplace seller since 2014, we offer mostly smartphones, tablets and accessories. Our customers have right to return product locally (USA, UK, EU) and execute warranty up to 24 months. All products sold on our website are coming straight from the producers, are genuine and they are subject to the warranty. To learn more click "About us" in the website footer.
Check also these products available at local stock:
Exterior
The evolution of the .
Drawing inspiration from the design of the racing car body, the beauty of speed on the track is transformed into the beauty of technology in hand.
Legendary Edition
track version
sharp edge
The three-color stripes hide the rhombus texture, re-engraving the classic; the combination of white and the classic carbon fiber texture
conveys a more delicate and orderly visual perception.
Screen
The parameters and look and feel are
pleasing to the eye.
E5 Ultra Retina Display
6.78-inch large screen
2D flexible straight screen
120Hz refresh rate
E5 Ultra Retina Display
Watch, swipe, it
It's all alive.
2D flexible straight screen, vivid in front of you, with a screen ratio of up to 92.76%, using a new generation of E5 luminescent
materials , local peak brightness up to 1500 nits, contrast ratio up to 8000000: 1,
while reducing power consumption, it is still clear under strong light , The color is accurate, the visual effect is real and natural.
The "core" in the flagship, the accelerator is full.
The new generation of Snapdragon 8, the flagship configuration, requires the blessing of a powerful internal "core". Kyro™ CPU, the main frequency is up to 3.0GHz, the super core is based on the
new Cortex-X2 architecture, and the performance soars rapidly. With powerful performance in hand, you can output continuously and play high light.
GPU performance boost
AI computing power performance improvement
Process technology
Architecture Snapdragon Listening Technology
More Pro independent "core" partner
New optimization, improved visual effects, and updated game access.
Frame rate boost mode
It can insert the frames of games such as "Decisive Battle of Ping An Jing"
to 120fps, surpassing the native frame rate, reducing
screen smear and stuttering, and the visual effects
are silky and the details are sharp.
High frame low power mode
The independent display chip Pro can effectively
reduce the game screen rendering
pressure of the processor , save power consumption, and make continuous
battles more powerful.
120W ultra-fast flash charge
Immediately return to the field full of blood.
The inseparable 120W FlashCharge technology
can be used for a large 4700mAh battery in as fast as 19 minutes Charge it to 100% ,
full of energy, and quickly return to the battlefield.
Cascade VC Stereo Cooling System
Calm enough, more stable performance.
Large-area VC soaking plate + fitted three-dimensional graphite + split-flow power pump + panoramic portholes form a new
cooling system, allowing the heat to be evenly conducted and diffused from the top to the bottom of the fuselage, just like a waterfall-like water flowing through the
stacked terraces generally. Escort for smooth screen experience and e-sports experience.
Multi-Turbo 6.0
So 6 engines, here comes.
Supported by a number of optimization technologies, it brings dual improvements in speed and
stability .
Visual response priority mechanism


The visual response priority mechanism improves the fluency of foreground application loading in multi-application scenarios , improves the startup and running speed of applications, and reduces stuttering.

Information flow preload

Optimize the loading of image/video thumbnails, improve the
visual effect of browsing pages, and make the browsing experience smoother.
Gaming
Professional gaming
experience starts here.
Omni-sensing control system,
gaming is under control.
Under the screen dual control pressure
Symmetrical Dual X-axis Linear Motor
Closed three-dimensional double lift
Supports pressing on the left and right areas respectively, corresponding to two pressure operations, and two fingers can also perform four-finger operations.
The symmetrical dual X-axis linear motor is upgraded to 9595, the steady-state vibration is increased by 45% , and the large vibrator brings a more crisp "start-stop" experience. In "Honor of Kings" and "League of Legends Mobile Games" , experience the vibration feedback brought by each operation.
Bringing surround sound effects to achieve sound recognition in the game. The bass is fuller, high-fidelity, the sound is louder, and the sound field is wider. With intelligent adaptation to the scene, you can grasp the overall situation of the battlefield in time through the sound.
Stable and smooth connection, no fear of blocking.
Wi-Fi 5GHz has greatly improved the ability to penetrate walls, wide coverage, high speed, better transmission rate and
better delay stability, and is always stable and smooth in the ever-changing game situation.
Your exclusive "e-sports coach".
One-click copy of the God settings
Get the settings of professional players and game gods with one click. Now, you can also
have the same style as a master.
Game Voice Quiz
In the game, you can use the voice assistant to ask questions and get answers, which can be used to search for strategies,
obtain information, etc., and check the strategies. It is so convenient.
Game analysis
Provide intuitive and accurate data analysis for each game to help you
become a game master.
image
This set of photography tools
is firmly here.
main camera
Ultra wide angle
portrait
50MP
Samsung GN5
1/1.57" Ultra Large Bottom
OIS Optical Image Stabilizer
13 million pixels
120° wide viewing angle
12 million pixels
47mm equivalent focal length
2x optical zoom
50-megapixel super-sensitive main camera.
With the powerful blessing of the 50-megapixel super-sensitive main camera, no matter how complicated the picture is in front of you, you can
keep , and every color and detail is so clear and moving.
pure night view,visible,Can shoot.
The with UAR ultra-low reflection coating + self-developed
AI anti-glare algorithm + RAW HDR algorithm, the night scene
becomes pure, reducing ghosting and stray light. Support real-time
preview of black light night vision, the effect of the finished film can be seen in advance.
Low-light video is also high-light.
Even in low light conditions, you can shoot whenever you want. With the powerful autofocus performance of Samsung GN5,
you can unleash your creativity and passion, and you will start shooting at night.
We are always striving to explore more extreme experiences and never stop. The new OriginOS Ocean uses a
simpler and more interesting visual language to take you through the digital world, making technology full of fun and vitality.
Your secret little base.
Whether it is a private application or a file, you can
swipe into it gently at the bottom of the phone, and store things you don't want others to see here.
Your authority,
you have the final say.
When an application calls up the three types of sensitive
privacy , there will be an atomic notification to remind you. You can monitor
the app in real time to call sensitive permissions such as taking photos, recordings, and positioning.
Fulfill you,
even if you do two things.
Swipe inward from the lower left corner of the screen to exhale the small window, and drag the edge of the small window to
freely adjust the size of the window. When not needed, the small window can also be easily
attached to the side of the screen. Make mobile multitasking more handy.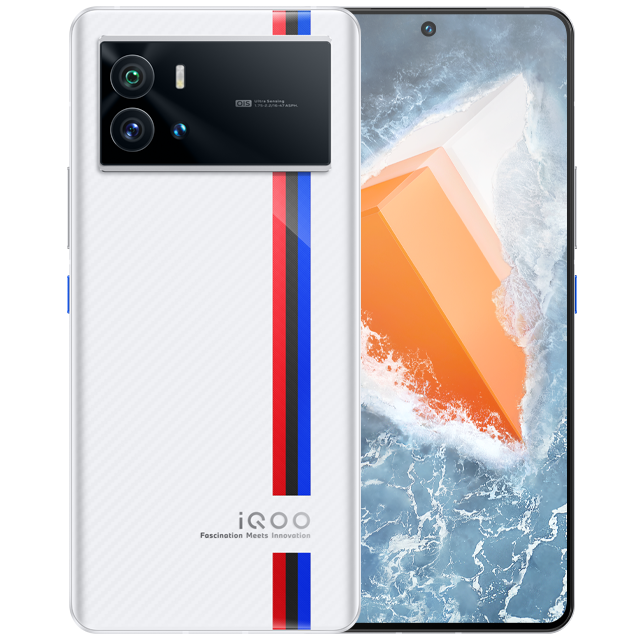 Height: 164.55mm
Width: 76.7mm
Thickness: 8.37mm
Weight: 206.1g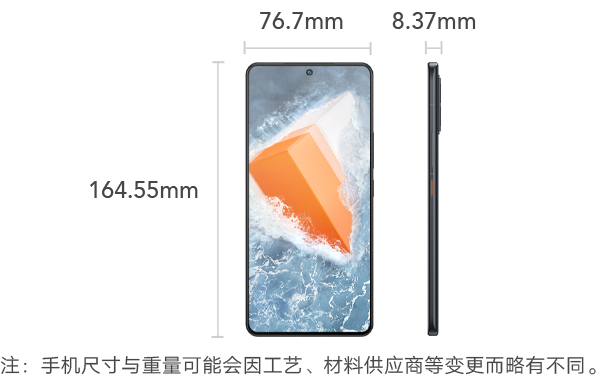 CPU model
The new generation of Snapdragon 8 mobile platform
Number of CPU cores
Octa-core processor
CPU frequency
3.0GHz × 1 + 2.5GHz × 3 + 1.8GHz × 4
GPU (graphics processing unit) model
Running memory (RAM)
8GB/12GB (Since the mobile phone system and pre-installed programs occupy part of the storage space, the actual storage space is less than 8GB/12GB)
On-body storage (ROM)
256GB/512GB (Because the mobile phone system and pre-installed programs occupy part of the storage space, the available storage space is less than 256GB/512GB)
RAM type
LPDDR5 Quad Channel
ROM type
battery capacity
Charging Specifications
Battery Type
OTG reverse charging
Theoretical standby time
2 × 2350mAh (typ.), dual-cell, equivalent to 4700mAh battery energy
120W ultra-fast flash charge
lithium battery
support
Theoretical 4G single card standby time: up to 410.4 hours.
Theoretical 4G Volte talk time: up to 14.1 hours.
Remarks: The data are the test results under the standard environment of our laboratory. The actual standby time varies depending on the actual local network conditions and usage habits.
Display
Dimensions (inches)
6.78 inches
Resolution
screen color
16.7 million colors, P3 color gamut
HDR technology
HDR support
16 million pixels
Front camera aperture
Number of rear cameras
3
rear camera
50-megapixel ultra-clear main camera (Samsung GN5 sensor, 1/1.57" ultra-large base)
13-megapixel ultra-wide-angle lens (120° ultra-wide-angle, with wide-angle correction turned on, the viewing angle is 108°)
12-megapixel portrait lens (47mm equivalent focal length ) )
rear camera aperture
f/1.75 (rear main camera), f/2.2 (rear wide-angle), f/1.98 (rear portrait)
rear flash
support
sensor
CMOS
Anti-shake type
The rear main camera supports OIS image stabilization, and the rear three cameras support video image stabilization
auto focus
The rear main camera supports AF
zoom mode
The rear supports 20x digital zoom
Shooting mode
Front: portrait, photo, video, micro video, dual-view video;
rear: night scene, portrait, photo, video, micro video, 50 million, panorama, slow motion, time-lapse photography, professional mode, smart vision, motion capture , dual-view video, super macro.
Video recording format
MP4
video recording
The rear supports up to 4K video shooting, and the rear slow motion supports up to 1080P
Network Type
Dual SIM Dual Standby Full Netcom
network frequency
2G GSM: GSM850/900/1800/1900;
2G CDMA: BC0/BC1;
3G WCDMA: B1/B2/B4/B5/B8;
4G TD-LTE: B34/B38/B39/B40/B41;
4G FDD-LTE : B1/B2/B3/B4/B5/B7/B8/B12/B17/B18/B19/B20/B26/B28A;
5G: n1/n3/n5/n8/n28A/n41/n77/n78.
SIM card type
Instructions for using dual cards
Note: 1 , SA support capability depends on the available network and software version, and the actual network frequency band usage depends on the deployment of the local operator;
2. The n3/n5/n8/n28A needs to be supported by software upgrade after the operator releases.
1. Card slots 1 and 2 can be arbitrarily switched to data cards;
2. Support SA/NSA dual-mode 5G (5G services can only be used with operator network support), (the data card supports SA/NSA dual-mode 5G when dual cards are used , 5G that is not a data card does not support SA);
3. If the data card is a China Mobile or China Unicom card, the non-data card supports "Mobile 5G/4G/2G, China Unicom 5G/4G/3G/2G, Telecom 2G/4G 5G (required 4. If the data card is a telecom card, the non-data card supports "Mobile 5G/4G/2G, China Unicom 5G/4G/3G/2G, telecom 5G/4G (the VoLTE service
needs to be activated, but the VoLTE service is not activated) cannot register to the network)".
AAC, OGG, FLAC, WMA, WAV, APE, MP3, MP1
Face Wake facial recognition
OriginOS Ocean based on Android 12.0
Support voice, smart vision and other functions
Connectivity:
WLAN
Support WLAN 2.4G, WLAN 5.1G, WLAN 5.8G frequency; support Wi-Fi 6.
Wi-Fi hotspot
support
Bluetooth transmission
Bluetooth Audio Specifications
Bluetooth Apt-X
SBC;AAC;aptX HD;aptX;LDAC
OTG
support
USB interface type
Headphone jack standard
navigation
NFC
GPS
Support (including Beidou/GPS/GLONASS/GALILEO/QZSS)
Gravity sensor
light sensor
proximity sensor
Electronic compass
Physical gyroscope
support
social contact
Common tools
infotainment
Life
Built-in application notes
Sina Weibo
App store, i music, i theme, i housekeeper, file management, game center, cloud service, mutual transfer, vivo browser
Today's headlines, Himalayas, eBooks
Dianping, Alipay, 58.com, JD.com, Taobao, Pinduoduo
The above built-in application list is for reference only, please refer to the actual built-in application.
1.The screen refresh rate defaults to smart switching, which automatically switches the refresh rate according to the scene to reduce power consumption. You can go to the system settings to select the smart switching, 60Hz or 120Hz mode.
2.E5 luminescent material consumes 25% less power than E4.
3.Compared with the Qualcomm Snapdragon 888 Plus, the improvement data is obtained from our laboratory environment test; based on the API interface of Vulkan graphics real-time rendering and display, the peak performance of the GPU has been greatly improved by 60%.
4.Increase frame rate (90 drop 60 insert 120) game support list: Honkai III, Tianya Mingyue knife, decisive battle in Ping'an Beijing; optimize power consumption game support list: Honkai III, Tianyu, Tianya Mingyue knife, Perfect World, Fifth Personality, Relics of the God of War, Onmyoji, Decisive Battle of Heianjing, and Light Encounter.
5.The iQOO 9 series is equipped with the official standard charger + data cable (flash power adapter 20V/6A MAX), which can support up to 120W ultra-fast flash charging; the actual charging power will be dynamically adjusted with the scene changes, please use the actual usage as allow.
6.The iQOO 9 mobile phone uses 2 × 2350mAh (typical value), dual-cell, equivalent to 4700mAh battery energy.
7.The charging data is obtained from our laboratory environmental test. Test environment: ambient and mobile phone temperature 25℃±1℃, test conditions: when mobile phone battery is 1%, other mobile phone services and functions except calls are turned off, and the screen is off. The actual data may vary due to different test environments, different user charging scenarios, different initial temperature of mobile phone charging, and long-term battery wear and tear.
8.The dual X-axis linear motor is upgraded from 0809 to 9595, and the steady-state vibration is increased by 45%.
9.King of Glory only supports Zhao Yun, Sun Bin, Wang Zhaojun, Luban No. 7, Arthur, Lu Bu, Hou Yi, Daji, Sun Wukong, Yu Ji, Marco Polo, Xiao Qiao, Kai, Zhuge Liang, Zhen Ji, Li Yuanfang , Xiahou Dun, Diao Chan, Sun Shangxiang, Di Renjie, Zhuang Zhou, Baili Shouyue, Dian Wei, Cai Wenji, Cheng Yaojin, Zhong Kui, Ming Shiyin, Dong Huang Taiyi, General Mo Xie, Lanling King, Liu Chan, Zhong Wuyan, Xiang Yu, Charlotte, Kuang Tie, Na Ke Lulu, Miyamoto Musashi, Liu Bei, Mai Shiranui, Ying Zheng, Guan Yu, Tachibana Ukyo, Athena, Gao Jianli, Bai Qi, Ake, Yun Zhongjun, Sima Yi, Zhou Yu, Yi Xing , Zhang Liang, Genghis Khan, Bian Que, Cao Cao, Li Bai, Niu Mo, Mi Yue, Xi Shi, Bodhidharma, Han Xin, Yang Yuhuan, Mozi, Da Qiao, Lao Master and other heroes. League of Legends mobile game all-skill direction vibration function currently only supports Merlin Gunner, Fairy Witch, Gunfire Fanatic, Explorer, Clockwork Demon, Vengeful Flame Soul, Inverse Feather, Lava Behemoth, Dawn Goddess, and Heroic Bombing Hand waiting for heroes.
10.After wide-angle correction is turned on, the viewing angle is 108°.
11.The appearance diagram, internal structure diagram and product effect of the mobile phone on the page are for reference only. In fact, there may be differences in details such as color and silk screen due to different lighting conditions and production batches. Please refer to the actual product.
12.Some of the samples are taken by the iQOO 9 Pro machine; the above sample effects are for reference only, the pixels of different shooting modes may be different, and the size of some samples has been cropped for reference only, please refer to the actual shooting effect.
13.Since some specifications, parameters, parts, and appearance details of the product (for example, whether the battery cover has silk screen printing) may change due to supplier replacement or production batch, vivo will update the description on the page in real time according to the adjustment, please Closer look.
14.The screen size is the length of the diagonal diagonal of the screen measured according to a standard rectangle, and the actual viewable area is slightly smaller.
15.This machine has been equipped with a special protective film for screen fingerprints when it leaves the factory. Do not use other third-party protective films to avoid affecting the fingerprint recognition effect or causing other security risks. If you need to replace it, please go to the vivo customer service center or experience center.
No customer reviews for the moment.
Questions
(0)
No customer questions for the moment.
Only registered user can ask a question.
Login